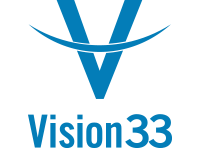 Leading Value-Added Reseller (VAR) for the SAP Business One Application Achieves Amazon Partner Network Competency for Technical Proficiency in a Specialized Solution Area.
Irvine, CA - June 11, 2015 - Vision33 today announced that it has achieved the Amazon Web Services Partner Network (APN) SAP Competency. As a SAP Competency Partner, Vision33 has demonstrated technical proficiency and proven customer success in helping customers implement, migrate and manage SAP on the AWS Cloud. SAP Business One is business management software designed for growing businesses and subsidiaries of large enterprises.
Vision33 further differentiates itself as a member of a select group of the global APN Consulting Partners focused on the SAP Business One application to achieve the SAP competency as an APN member.
"Meeting the requirements for the APN Competency Program took the dedication of a team of our world-class consultants, and is a testament to our commitment to extending the transformative power of SAP Business One to our customers through the AWS Cloud," commented Alex Rooney, vice president, Vision33. "This distinction signals to customers that our certified cloud offering for SAP Business One meets the highest standards."
The APN Competency Program is designed to highlight APN partners that demonstrate technical proficiency and proven customer success in specialized solution areas. In achieving SAP competency, Vision33 offers growing businesses access to a top-quality partner for implementation or migration of SAP solutions to the AWS Cloud for a host of benefits, including security, costs savings, Web-based applications, rapid deployment, scalability and a 99.9 percent server uptime.
"By achieving SAP competency recognition, Vision33 is strategically positioned to offer customers additional valuable solutions on the AWS Cloud," explained Rooney. "As an APN partner, Vision33 demonstrates commitment to the cloud, extended to SAP Business One powered by SAP HANA for an even more powerful solution." At the recent SAPPHIRE® NOW and ASUG Annual Conference, Vision33 presented a live demo of SAP Business One powered by SAP HANA® running on the AWS Cloud.
SAP has certified SAP Business One to run on the AWS Cloud, as well as SAP Business One powered by SAP HANA. The SAP HANA platform offers in-memory analytics, combining database, application processing and integration services on a single platform for real-time operations, smarter decision making and better business results.
Vision33 encourages businesses that are interested in experiencing the benefits of SAP Business One Cloud to register for a live demo of the application and see it firsthand.
About Vision33
Vision33, Inc. (http://www.vision33.com), four-time recipient of the SAP® North America Partner Excellence Award for SAP Business One, is a leading enterprise resource management (ERP) solutions provider, focused on providing the SAP Business One application for growing businesses and subsidiaries of large enterprises. Through offices located across North America, Vision33 provides the right balance of software, world-class consulting and support services to help customers better manage and grow their business.
As an SAP gold channel partner, Vision33 is consistently honored for its notable growth and dedication. Vision33's recent accolades include the 2013 Inc. 500|5000 in Inc. magazine's list of fastest-growing private companies in the U.S.; CRN's Fast Growth 150, an annual ranking of the fastest-growing business and technology integrators, solution providers, resellers and IT consultants in North America; and the VAR 100 list that recognizes the top-tier accounting and ERP software resellers in the country. Additionally, Vision33 has also earned titles and awards such as the SAP North America Regional Partner Excellence Award for SAP Business One; SAP North America Partner Excellence Award: Top Channel Partner – SAP Business One; SAP Business One Partner of the Year, U.S.; Accounting Today's Top VAR 100 List; and has been recognized as a finalist for an SAP Pinnacle Award in the category "SAP PartnerEdge® Global Fastest-Growing Reselling Partner of Year."
Vision33 is a member of the Group zed family of companies. With roots dating to 1992, Group zed (http://www.gzed.com) is a privately owned and operated corporation, which provides its family of industry-leading companies with the strategic vision and tools to deliver on the promise of technology to customers, setting them apart from other industry peers.
# # #
SAP, SAP Business One, SAP HANA, SAPPHIRE, PartnerEdge and other SAP products and services mentioned herein as well as their respective logos are trademarks or registered trademarks of SAP SE (or an SAP affiliate company) in Germany and other countries.
See http://www.sap.com/corporate-en/legal/copyright/index.epx for additional trademark information and notices.
All other product and service names mentioned are the trademarks of their respective companies.