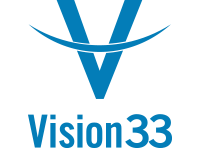 Leading global VAR's impressive revenue growth earns it higher ranking on prestigious list
Irvine, CA - June 11, 2015 - Vision33, a leading global value-added reseller (VAR) for the SAP Business One® application, today announced that it has been named to the 2015 Top 100 VAR list by Accounting Today. Vision33's latest ranking moves its position from 24 in 2014 to 11 this year. The leap is attributed to the VAR's impressive revenue growth in 2015 by adding large-enterprise customers, achieving 78% year-over-year growth. Accounting Today's 2015 Top 100 VAR list ranks the top value-added resellers of enterprise resource planning software throughout North America. These annual rankings have become the industry benchmark for the success of VARs.
"The dynamics of dealing in large enterprises and their subsidiaries versus smaller businesses are quite different, with larger projects with full teams collaborating over an extended period of time," explained Alex Rooney, Vice President, Vision33. "We're growing our team of consultants to meet the demands, and we're not done yet. The current plan is to double the size of the business by 2018 to meet our customer growth needs in a market segment with big opportunities."
Attaining bigger revenue growth and serving bigger customers meant becoming a bigger organization as well. In line with its large-enterprise strategy, Vision33 acquired Canada-based Encaptis Business Solutions in 2014, expanding the company's geographic footprint across North America. "Vision33 has some of the most experienced consultants for small and midsize enterprises in the business," said Rooney. "The acquisition was a great opportunity to ramp up operations and bring the benefits of SAP Business One to large-enterprise customers." SAP Business One is business management software designed for growing businesses and subsidiaries of large enterprises.
Vision33 further differentiates itself as a member of the Amazon Partner Network (APN) Competency Program, and as one of a select group of APN consulting partners to achieve recognition for SAP competency for SAP Business One on the Amazon Web Services (AWS) cloud.
Growth is also attributed to technology trends for cloud computing. "A lot of customers are demanding the cloud infrastructure – to deploy SAP Business One on the cloud. As an APN consulting partner focused on SAP Business One on the AWS cloud, Vision33 is able to grow by satisfying the demands of the customer," continued Rooney. "We started out small with AWS. It hit its stride in 2014, and has matured into a dedicated practice. That's significant because, for years, we were an SAP partner, delivering SAP Business One and consulting and support services but not infrastructure. Now with AWS, we've been brought into the infrastructure picture; we can now provide customers with end-to-end services."
Keeping up with the latest technology trends, Vision33 sees opportunities for more growth in the near future. Vision33 provides products and portals through its sister organization zedSuite, the company's technical arm, which holds all the intellectual property and builds integrated applications on SAP® software. zedSuite's output keeps pace with the increasing sophistication of its customers, who are especially hungry for data insights.
"Vision33 is committed to helping customers leverage technology to take advantage of their data in SAP Business One. With zedSuite, we offer customers the ability to collect data and leverage it further with analytical tools," Rooney said. "And now with the in-memory database of SAP HANA, they can make the required business assessments and business decisions that are inherent and existing in companies today."
About Vision33
Vision33 Inc. (vision33.com) is a business management software solutions provider, focused on reselling and supporting the SAP Business One application. Through its offices located throughout North America, Vision33 is one of the leading global VARs for SAP Business One. The company provides software and consulting services to help small to midsize businesses and large enterprises with subsidiary operations to gain immediate benefits in better managing and growing their businesses.
About Accounting Today
Accounting Today is the information resource the nation's CPAs turn to for news, analysis, research and commentary on accounting, auditing, financial planning, taxes, technology and practice management.
# # #
SAP, SAP Business One, SAP HANA and other SAP products and services mentioned herein as well as their respective logos are trademarks or registered trademarks of SAP SE (or an SAP affiliate company) in Germany and other countries. See http://www.sap.com/corporate-en/legal/copyright/index.epx for additional trademark information and notices. All other product and service names mentioned are the trademarks of their respective companies.
For more information, Press Only:
sarah.coish@gzed.com