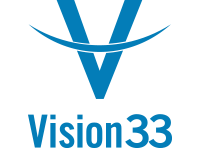 Leading ERP solutions partner to Award Canadian Business with complete solution to accelerate business growth
Toronto, Ontario – October 13, 2015 – Vision33, a leading global enterprise resource planning (ERP) software solution partner today announced the launch of the Business Accelerator Contest. Until November 13, 2015, Canadian business owners can submit their application for a chance to win the Business Accelerator contest grand prize, valued at $50,000. The grand prize consists of the necessary ERP software, cloud hosting, implementation, and support services needed to overcome business growth challenges.
As a fast growing Canadian-based organization, Vision33 is consistently recognized by the industry for its dedication to enabling growing Canadian enterprises to achieve business objectives. Coinciding with Business Development Bank of Canada (BDC)'s Small Business Week in October, Vision33 seeks to assist one Canadian business by removing financial obstacles that may delay the purchase of an integrated business solution. To enter the contest, eligible applicants must submit an online entry form that describes how having the right solution could help them meet achieve their growth objectives and expand their market reach. The deadline for submissions is November 13, 2015. A panel made up of Vision33 executives along with the Business Development Bank (BDC) of Canada will evaluate each submission. The winner will be announced on December 1st, 2015.
"Canada's growing small to midsized business segment is full of innovators and visionaries. The problem is that many have limited cash flow, which can delay the next big step in their company story; moving to ERP," said Stephen Loyd, vice president of Vision33 Canada. "With this contest, business owners can get a head start by accelerating their business growth with the right technology and a world-class consulting partner, Vision33." We are removing any and all barriers to entry for a growing company. Many companies do not have the right infrastructure in place or the IT personnel on staff to fully support ERP. Therefore, we are providing as part of the prize, ERP hosted on a certified cloud solution."
Whether a company is using a basic software accounting package like QuickBooks or a full ERP solution that may be outdated, Vision33 has helped hundreds of businesses across North America succeed with the right technology in place. ERP applications help growing businesses streamline operations by supporting key functions including accounting and finance, sales and customer management, purchasing and operations, inventory and distribution, and reporting and administration. Analytics and reporting tools gather data from multiple sources to generate reports based on company-wide data.
Available on premise or in the AWS cloud, ERP software is designed with flexibility in mind to help SMEs in a multitude of industries innovate and achieve scalable growth.
"We have seen tremendous business growth in Canada for the small to midsized business sector. We are excited to extend this great opportunity to further accelerate business growth," concluded Vision33's Loyd. "This is Vision33's way of recognizing a company's tremendous effort; taking care of the financial commitment up front for a business so it can focus on growth."
For contest rules, eligibility, and other details, visit: http://info.vision33.com/bap.
About Vision33
Vision33, Inc. (www.vision33.com), is a leading enterprise resource
management (ERP) solutions provider, for growing businesses and subsidiaries of large enterprises. Through offices located across North America, Vision33 provides the right balance of software, world-class consulting and support services to help customers better manage and grow their business.
Vision33 is a member of the Group zed family of companies. With roots dating to 1992, Group zed (www.gzed.com) is a privately owned and operated corporation, which provides its family of industry leading companies with the strategic vision and tools to deliver on the promise of technology to customers, setting them apart from other industry peers.
###
MEDIA CONTACT:
Sarah Coish, Marketing Manager, Vision33