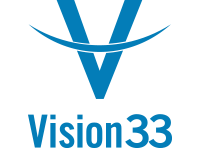 Irvine, California — May 13, 2016 — Vision33, an SAP partner, today announced that it will participate at SAPPHIRE® NOW and ASUG Annual Conference being held May 17–19 in Orlando, Florida in booth 1177A. Vision33 is the only partner exhibitor at this year's conference to conduct live demonstrations of a rapid-deployment solution for integrating subsidiary operations into corporate systems running SAP® ERP using the SAP Business One® application. Attendees are encouraged to visit the Vision33 booth and speak one-on-one with Vision33's executive team about how the affordable SAP Business One can simplify integration with the SAP ERP application and increase visibility across their global enterprises.
This year marks the first time that Vision33 will exhibit at SAPPHIRE NOW and ASUG Annual Conference following substantive global growth into the European market with acquisition of UK SAP partner, Alphagen. Vision33's leadership as one of the largest global value-added resellers (VAR) for SAP Business One signals to enterprises its proficiency in leveraging transformative SAP solutions to maximize the delivery of benefits for large enterprise subsidiary rollouts.
"Vision33 is thrilled to be in attendance for this year's SAPPHIRE NOW conference. To share the show floor with large enterprises that are equally committed to driving value throughout their organizations with SAP business solutions is a company milestone," says Alex Rooney, Vice President, Vision33. "We look forward to meeting attendees and are happy to have a conversation about how large enterprises are achieving accelerated subsidiary deployment with an affordable and unified system from the business solutions leader, SAP. By adopting a two-tier software strategy with SAP ERP and SAP Business One, large enterprises can overcome challenges associated with expanding business into new territories while maintaining visibility across subsidiary operations."
In addition to SAP Business One, Vision33's portfolio of SAP solutions and global implementation support services meet the needs of large enterprise clients regardless of their size, industry or scope. Vision33 is capable of deploying subsidiary operations on SAP Business One, version for SAP HANA®. The SAP HANA platform offers in-memory analytics, combining database, application processing and integration services on a single platform for real-time operations, smarter decision making and better business results. Additionally, as the only SAP partner in the world with Amazon Web Services Partner Network (APN) SAP Competency for delivering SAP Business One, Vision33 provides a cloud offering that meets the highest standards and demonstrated technical proficiency when hosting a subsidiary instance of SAP Business One on the AWS cloud.
Over the three days of the conference, look for Vision33's leadership team at several sessions discussing how large enterprises can leverage the SAP Business One application as a strategic tool for subsidiary intergration. For a detailed schedule visit www.vision33.com.
SAPPHIRE NOW focuses on how companies can enable their digital business strategy and get more from their technology investments. SAPPHIRE NOW and the ASUG Annual Conference are the world's premier business technology event and largest SAP customer-run conference, offering attendees the opportunity to learn and network with customers, SAP executives, partners and experts across the entire SAP ecosystem.
About Vision33
Vision33 Inc. (www.vision33.com) helps you to challenge your business processes and find efficiencies that help you to attain your business goals and vision for growth and success. Vision33 is a business process implementer and the leading global provider of the SAP Business One application for growing businesses and subsidiaries of large enterprises.
Through its offices located worldwide, Vision33 provides software and consulting services to enable each client to gain immediate benefits in better managing and growing their organization.
Vision33 has been consistently honored for its notable growth and dedication, earning consistent multi-year titles and awards such as the SAP North America Partner Excellence Award: Top Channel Partner – SAP Business One; SAP Business One Partner of the Year; Accounting Today's Top VAR 100 List; and INC500/5000 fastest growing company lists.
Vision33 is a member of the Group zed family of companies. With roots dating to 1992, Group zed (www.gzed.com) is a privately owned and operated corporation, which provides its family of industry leading companies with the strategic vision and tools to deliver on the promise of technology to customers, setting them apart from other industry peers.
# # #
SAP, SAPPHIRE, SAP Business One, SAP HANA and other SAP products and services mentioned herein as well as their respective logos are trademarks or registered trademarks of SAP SE (or an SAP affiliate company) in Germany and other countries. See http://www.sap.com/corporate-en/legal/copyright/index.epx for additional trademark information and notices. All other product and service names mentioned are the trademarks of their respective companies.
For press inquiries and more information contact:
Sarah Coish, (709) 722-7213 Ext: 205, sarah.coish@gzed.com