Vision33 is honored to receive three 2021 SAP Awards for helping businesses solve everyday challenges and seize growth and transformation opportunities.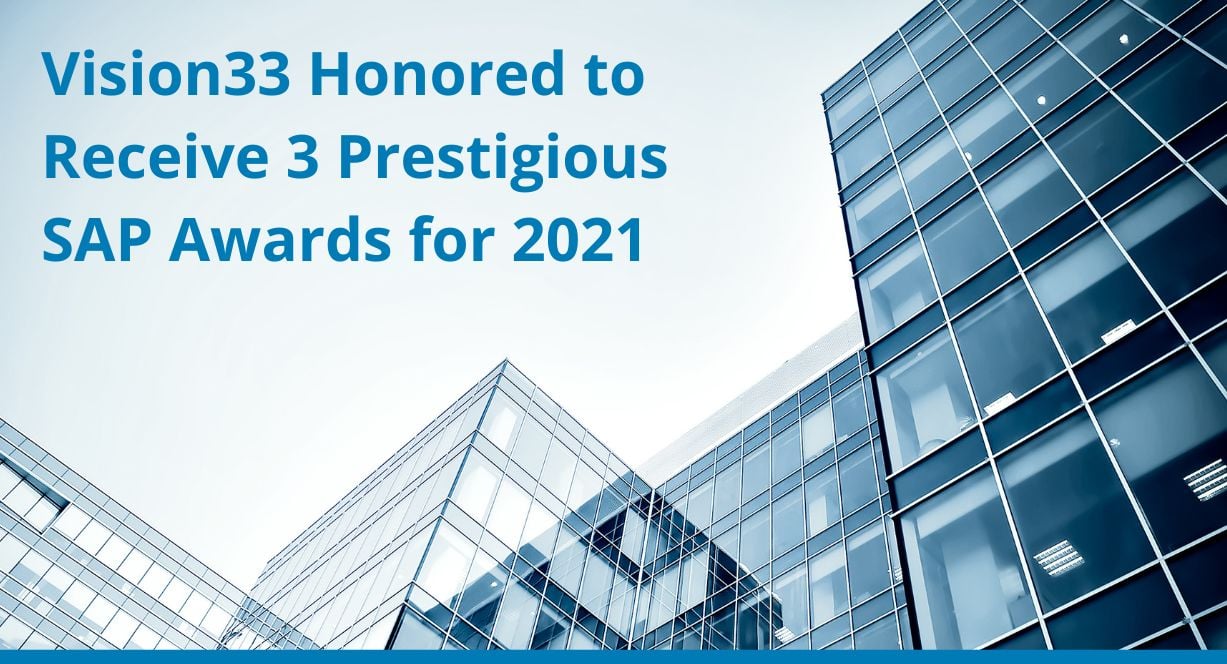 IRVINE, CA – July 20, 2022 – Vision33 is the recent recipient of numerous SAP awards, including the SAP® North America Award for Partner Excellence 2021 in Net-New Names and SAP® North America Award for Partner Excellence 2021 in Maintenance Retention. Vision33 was also named Boyum IT Global Partner of the Year 2021.
"We're honored to receive these prestigious SAP awards," said Dan Kraus, VP of Global Sales and Marketing at Vision33. "These awards are really about our customers. So many growing businesses are investing in the right technology, even during fluctuating economic conditions. These business leaders have a growth mindset and work with Vision33 to integrate their existing systems and generate even greater value from their investments."
SAP North America Awards for Partner Excellence
The SAP North America Awards for Partner Excellence nominations were based on SAP's internal sales data. A committee of regional and global SAP representatives chose winning partners in each category based on criteria such as sales achievement and performance. Awards were in several categories, including overall sales, innovation, technology, services, and solution-specific areas.
The Net-New Names award recognizes that Vision33 delivered on its mission to solve customer business challenges through technology through serving the highest number of new SAP Business One customers. SAP Business One is an affordable, easy-to-use enterprise resource planning (ERP) solution that positions growing small and midsized businesses and subsidiaries for growth in a changing marketplace.
The Maintenance Retention award reflects Vision33's goal to give its customers the best value from their technology. Long-term partnerships and customer care are core Vision33 values. TOTAL Care, the company's industry-leading support program, is one reason for its high customer engagement and retention rates. Implementation is merely the beginning of a customer's journey with Vision33—TOTAL Care ensures ongoing support, training, maintenance, and assistance with discovering everything that's possible with SAP Business One.
Boyum IT Global Partner of the Year Award
Vision33 was also named Boyum IT Global Partner of the Year 2021 and North America/United Kingdom Partner of the Year 2021. Vision33's longstanding partnership with Boyum IT, an SAP-certified software solutions provider, has allowed hundreds of successful SAP Business One implementations worldwide with comprehensive manufacturing and warehouse management solutions.
Vision33 and Boyum IT's award-winning solutions help organizations transform their operations by integrating and automating processes, digitally transforming, and becoming more agile and resilient.
About Boyum IT
Boyum IT is globally known for its best-in-class SAP Business One industry solutions, including Beas Manufacturing, Produmex WMS, B1 Usability Package, and B1 Print & Delivery. These solutions enhance SAP Business One and provide an unparalleled depth of functionality.
About Vision33
Vision33 (www.vision33.com, www.vision33.ca, and www.vision33.co.uk) helps growing companies deliver on the promise of technology through enterprise resource planning (ERP) solutions SAP Business One, SAP Business ByDesign, and Sage Intacct, automation, integration, and proprietary solutions iDocuments, Portals, and The Saltbox Platform. Vision33 has the people, processes, and technology to help businesses solve everyday challenges and seize new opportunities for growth and transformation.
Vision33 partners with leading SAP Business One industry solution providers like Boyum IT to give SAP Business One users greater flexibility and meet their needs with a single partner.
# # #
SAP Forward-looking Statement
Any statements contained in this document that are not historical facts are forward-looking statements as defined in the U.S. Private Securities Litigation Reform Act of 1995. Words such as "anticipate," "believe," "estimate," "expect," "forecast," "intend," "may," "plan," "project," "predict," "should" and "will" and similar expressions as they relate to SAP are intended to identify such forward-looking statements. SAP undertakes no obligation to publicly update or revise any forward-looking statements. All forward-looking statements are subject to various risks and uncertainties that could cause actual results to differ materially from expectations The factors that could affect SAP's future financial results are discussed more fully in SAP's filings with the U.S. Securities and Exchange Commission ("SEC"), including SAP's most recent Annual Report on Form 20-F filed with the SEC. Readers are cautioned not to place undue reliance on these forward-looking statements, which speak only as of their dates.
SAP and other SAP products and services mentioned herein as well as their respective logos are trademarks or registered trademarks of SAP SE (or an SAP affiliate company) in Germany and other countries. See http://www.sap.com/corporate-en/legal/copyright/index.epx for additional trademark information and notices. All other product and service names mentioned are the trademarks of their respective companies.
For more information, press only:
Sarah Coish,
Director, Global Sales and Marketing
Vision33
Sarah.Coish@vision33.com
(709) 722-7213 Ext: 205