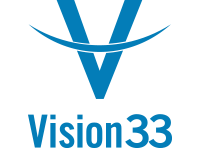 SAP gold channel partner leads as the number one SAP Business One value added reseller (VAR) in America based license revenue in 2015

Irvine, CA - March 11, 2016 - Vision33 today announced that it is once again the number one partner for SAP Business One in the U.S. and also the leading global reseller based on overall software license revenue. Vision33 attributes its success in the enterprise resource planning (ERP) software category to a compelling service offering. Vision33 is focused on delivering customer value to small and midsized enterprises (SMEs) and subsidiaries of large enterprises through SAP Business One solutions.
Last year, Vision33 expanded its geographic reach in Northeastern America and overseas in the UK; strategically positioning itself as a global provider for SME and large enterprise subsidiary localizations of SAP Business One in European markets. In addition, Vision33 recently launched its Global Services team for growing enterprises wishing to expand into international markets. Customers can now rely on a geographically dispersed Vision33 consultant team that can be rapidly assembled and deployed when needed anywhere in the world.

"When we work with customers that are running SAP Business One who are interested in expanding into the European market and elsewhere on the globe, Vison33's Global Services team is there to help facilitate subsidiary expansion - offering a 'Vision33-only' solution," says Alex Rooney, Vice President, Vision33. "North American-based customers can now rely on one partner for all of their global ERP needs for a consistent, formalized SAP Business One implementation."

Vision33's leadership in customer dedication follows a commitment to leveraging transformative technologies to benefit its customer base. "Vision33 approaches each customer with the knowledge that they each face unique challenges in their industry," says Rooney. "We believe that by leveraging innovative technologies such as SAP Business One run in the AWS cloud holds the key in delivering a solution that can meet our customers' goals in a reactive, global economy."

As an Amazon Partner Network (APN) partner, Vision33 offers customers the option to host their domestic operations or subsidiary deployment of SAP Business One on the Amazon Web Services (AWS) cloud. By deploying SAP Business One as part of an overall cloud strategy, business can benefit from a lower total cost of ownership, no IT infrastructure costs, and additional security.
Vision33 is also the only SAP Business One partner with SAP Competency; a prestigious status that signals a company has the necessary skills and expertise to deliver the solution with confidence.
To learn more about Vision33 and its business solutions and service offerings, visit http://www.vision33.com.
About Vision33
Vision33 Inc. helps you to challenge your business processes and find efficiencies that help you to attain your business goals and vision for growth and success. Vision33 is a business process implementer and the leading global provider of the SAP Business One® enterprise resource planning (ERP) solution for growing businesses and subsidiaries of large enterprises.
Through its offices located worldwide, Vision33 provides software and consulting services to enable small to midsized businesses and large enterprises with subsidiary operations to gain immediate benefits in better managing and growing their organization.
Vision33 has been consistently honored for its notable growth and dedication, earning consistent multi-year titles and awards such as the SAP North America Partner Excellence Award: Top Channel Partner – SAP Business One; SAP Business One Partner of the Year; Accounting Today's Top VAR 100 List; and INC500/5000 fastest growing company lists.
MEDIA CONTACT:
Sarah Coish, sarah.coish(at)vision33(dot)com
# # #
SAP, PartnerEdge and all SAP logos are trademarks or registered trademarks of SAP AG in Germany and in several other countries all over the world. All other product and service names mentioned are the trademarks of their respective companies.