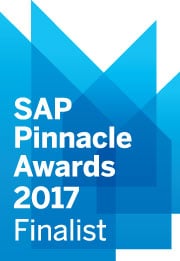 Leading Global SAP Business One partner Vision33 named SAP Pinnacle Awards 2017 finalist; recognized for growth and helping customers achieve goals
Irvine, California — April 21, 2017 — Vision33 today announced that SAP has recognized it as a finalist for an SAP® Pinnacle Award in the SAP Business One® Partner of the Year category. The annual SAP Pinnacle Awards acknowledge the contributions of leading SAP partners that have excelled in developing and growing their partnership with SAP and helping customers meet their goals. Finalists and winners in 19 categories were chosen based on recommendations from the SAP field, customer feedback and performance indicators, including a Customers' Choice award, which recognizes a customer-nominated SAP partner.
"Vision33 is honored to receive recognition as a finalist for an SAP Pinnacle Award," says Alex Rooney, Vice President, Vision33. "This recognition is graciously accepted on behalf of our team of nearly 400 professional men and women who are committed to delivering transformative SAP solutions to businesses around the globe."
Out of the thousands of organizations across SAP's broad partner ecosystem, only 36 achieved the status of being an SAP Pinnacle Awards finalist. Being recognized as a finalist showcases Vision33's elite status of excellence in driving SAP business and co-innovation, helping mutual customers to run simple.
"Vision33 first became an SAP partner in 2004 and has since then maintained an exclusive focus on the resale and support of SAP Business One," explains Rooney. "14 years later, our consultants have developed the insight necessary to maximize each customers' investment in ERP solutions and help them achieve their goals for growth and success."
With the SAP Pinnacle Awards, SAP shines a spotlight on its most distinguished partners that have demonstrated their commitment to teaming with SAP to help mutual customers run simply.
"Underpinning Vision33's continued growth is recognition by more and more large-enterprise customers that SAP Business One can be effectively employed to manage subsidiaries for a consistent global platform," says Rooney. "Additionally, Vision33's continual investment in its portfolio of industry solutions for SAP Business One has garnered substantive growth in vertical and micro-vertical industries with exclusive solutions like e2o for engineer-to-order businesses."
About Vision33
Vision33 Inc. (www.vision33.com), is a global leading reseller of SAP Business One and is focused on providing the SAP Business One application for growing businesses and subsidiaries of large enterprises. With offices located worldwide, Vision33 delivers value by bringing the right balance of software, world-class consulting and support services to help customers better manage and grow their business.
Vision33 is a member of the Group zed family of companies. With roots dating to 1992, Group zed (www.gzed.com) is a privately owned and operated corporation, which provides its family of industry leading companies with the strategic vision and tools to deliver on the promise of technology to customers, setting them apart from other industry peers.
# # #
SAP, SAP Business One and other SAP products and services mentioned herein as well as their respective logos are trademarks or registered trademarks of SAP SE (or an SAP affiliate company) in Germany and other countries. See http://www.sap.com/corporate-en/legal/copyright/index.epx for additional trademark information and notices.
All other product and service names mentioned are the trademarks of their respective companies.
For more information, contact Sarah Coish +1 (709) 722-7213 sarah.coish@gzed.com