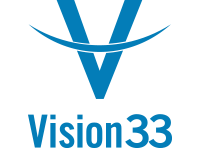 IRVINE, CA - September 22, 2015 - Vision33, a leading global VAR for the SAP Business One application, today announced that it has been named to the The Channel Company's 2015 CRN® Fast Growth 150 list. Based on their gross revenue over the two-year period from 2012 to 2014, The Fast Growth 150 list ranks solution providers based in North America with significant economic growth. According to The Channel Company, "In a turbulent IT economy, these companies have shown exceptional prowess in growing their operations and constantly providing essential services to their customers."
This year, Vision33 moved from the 77th position to 47th, representing an 85.43% increase in growth year over year from 2012 to 2014. As one of the largest SAP gold channel partners headquartered in North America, Vision33, is consistently recognized by the industry for its dedication and commitment to empowering customers through SAP Business One. Its impressive growth this year follows a global growth mandate that has seen company expansion across North America as well as entry into the large enterprise market.
"Vision33 is thrilled to be recognized by The Channel Company for its commitment to growth, driven by a world-class team of consultants and transformative SAP solutions including SAP Business One and SAP Business One powered by SAP HANA," explained Alex Rooney, vice president, Vision33. "As one of the largest SAP channel partners headquartered in North America, Vision33's impressive revenue growth is forecasted to continue, with planned expansion doubling the size of the company over the next three years."
"Cloud computing, mobile and big data technologies are making the industry both more exciting and more challenging than it's ever been," said Robert Faletra, CEO of The Channel Company. "Solution providers recognized in CRN's Fast Growth 150 list are rising to meet the challenge and are thriving as a result. We are pleased to recognize these firms as leaders in today's IT channel."
"Vision33 listens to customers' needs and now offers SAP Business One hosting on the AWS cloud," added Vision33's Rooney. "As a member of a select group of global Amazon Partner Network consulting partners focused on the SAP Business One application to be recognized for SAP competency as an APN member, Vision33 is constantly looking for ways to leverage technology to the benefit of our customers. Cloud continues to be instrumental in Vision33's continued growth."
The Fast Growth 150 list is highlighted in the October issue of CRN and can be viewed online at http://crn.com/fastgrowth.
Tweet This:@TheChannelCo names @Vision33 to the @CRN Fast Growth 150 list #CRNFG150 crn.com/fastgrowth
About Vision33, Inc.
Vision33, Inc. (http://www.vision33.com), four-time recipient of the SAP® North America Partner Excellence Award for SAP Business One, is a leading enterprise resource management (ERP) solutions provider, focused on providing the SAP Business One application for growing businesses and subsidiaries of large enterprises. Through offices located across North America, Vision33 provides the right balance of software, world-class consulting and support services to help customers better manage and grow their business.
Follow The Channel Company: Twitter, LinkedIn and Facebook
About The Channel Company
The Channel Company, with established brands including CRN®, XChange® Events and IPED®, is the channel community's trusted authority for growth and innovation. For more than three decades, we have leveraged our proven and leading-edge platforms to deliver prescriptive sales and marketing solutions for the technology channel. The Channel Company provides Communication, Recruitment, Engagement, Enablement, Demand Generation and Intelligence services to drive technology partnerships. Learn more at http://www.thechannelcompany.com.
###
SAP, SAP Business One, SAP HANA and other SAP products and services mentioned herein as well as their respective logos are trademarks or registered trademarks of SAP SE (or an SAP affiliate company) in Germany and other countries. See http://www.sap.com/corporate-en/legal/copyright/index.epx for additional trademark information and notices. All other product and service names mentioned are the trademarks of their respective companies.
The Channel Company, CRN®, XChange® Events and IPED® are registered trademarks of The Channel Company, LLC. All rights reserved. All other brand names, product names, or service names that appear herein are trademarks or service marks of their respective owners.
Vision33 Company Contact:
Sarah Coish
Marketing Manager Vision33
1.709.722.7213 ext. 205
sarah.coish@gzed.com
The Channel Company Contact:
Melissa Weil
The Channel Company
508.416.1112
Mweil@thechannelcompany.com