What is wholesale distribution software? Find out about the features and benefits in the latest article from Vision33. Read more.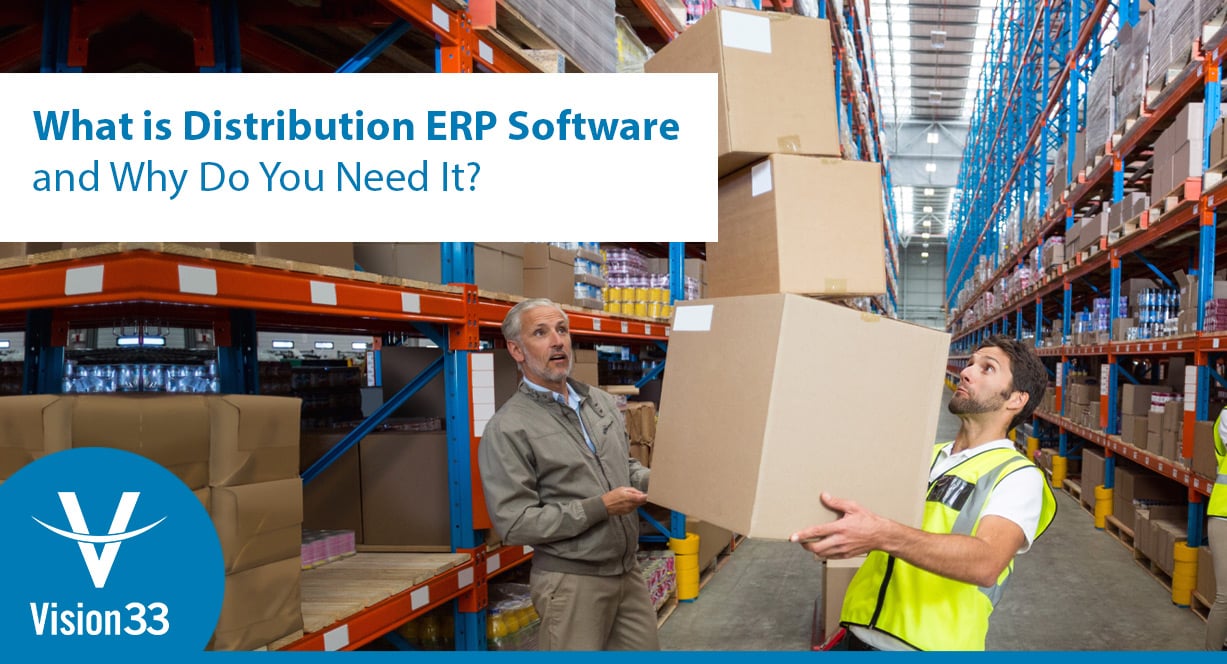 What is wholesale distribution software?
If you're a small to midsized enterprise that's quickly outpacing the capabilities of your accounting software and other inventory management applications, your business's growth will be restricted by the limitations of that software. Today, we'll look at how these restrictions manifest in businesses, define distribution ERP software, and explain why it should replace your current system to overcome those limitations.
Growth Challenges?
Signs that your current system can't keep up with your business growth include poor supply chain visibility, unexpected inventory stockouts, and tight cash flow. The most successful wholesale distribution companies overcome these hurdles by finding a way to run operations more efficiently. To achieve this, you need a single, transparent view of all your warehouse and distribution operations, helping you deliver goods on time, boost customer satisfaction, and optimize inventory.
What is Wholesale Distribution Software?
As a distributor, you may deal with big-box retail stores, online retailers such as Amazon, or have an eCommerce platform to sell directly to your customers. Once-complicated operations become simple with wholesale distribution software. Built on SAP ERP software for the midmarket, wholesale distribution software helps you communicate with customers and suppliers through electronic data transfer (EDI) and/or a fulfillment platform. This is where siloed programs like accounting software fall short, and where SAP Business One, an SAP distribution software for the midmarket, can help.
SAP Business One Distribution & Wholesale Solution.
The inventory management tools in SAP Business One help your growing company manage detailed warehouse data, track and record stock movements, affordably manage your supply chain, and enhance customer satisfaction. With SAP Business One, you get reliable, real-time information about inbound and outbound shipments and inventory data so you can extract insights and exceed customer expectations.
What are the Benefits of SAP Distribution Software?
Here are a few benefits reported by Vision33 customers who chose modern wholesale distribution software:
Greater efficiency
Improved customer service
Reduced inventory costs
Increased profit margins
Better visibility
Faster time to delivery
SAP Business One is the solution of choice for growing distributors for a reason. Whether you distribute soft goods, hard goods, heavily regulated products, or fresh produce, SAP Business One has all the features you need to gain control of your inventory with improved planning strategies and control processes.
Want to Learn More? Download the Warehouse Management 4.0 Guide
To learn more about how you can use wholesale distribution software like SAP Business One to optimize inventory processes, streamline warehouse operations, and drive more growth, download the free Warehouse Management 4.0 Guide today.