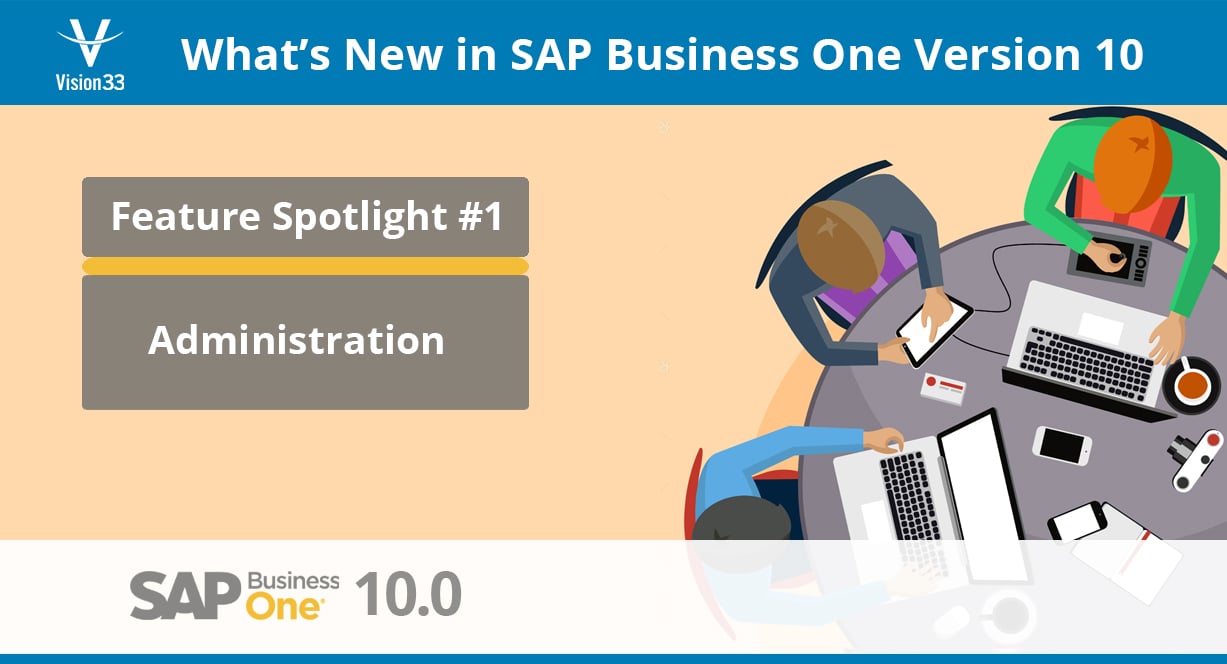 The highly anticipated release of SAP Business One version 10 is coming up, and we're excited to share some of the highlights of this major upgrade. SAP Business One version 10 is more than just a further development of the mid-market enterprise resource planning (ERP) solution – it embodies emerging trends in enterprise technology for a more connected business, including intelligent ERP and process automation via elements like machine learning and the internet of things (IoT).
In the What's New in SAP Business One Version 10 series, we'll look at the feature highlights of the anticipated release in these areas:
Administration
Sales, purchasing, and service
Financial management
Project management
Inventory and distribution
Business partners
Cross modules topics
Lifecycle management
Administration in SAP Business One Version 10
Today's article focuses on the highlights from Administration feature upgrades. For those of you who administer SAP Business One in your organization, you'll be happy to learn about the many new features that will increase efficiency and provide greater visibility and control.
Brexit Impact on SAP
Many users are wondering how Brexit (the UK moving out of the European Union) will affect SAP Business One. In version 10, there's a new localization that's separate from the EU for the United Kingdom of Great Britain and Northern Ireland.
Office 365 Integration
You can now use the SAP Business One Office 365 Integration feature to export documents, reports, and queries to Microsoft OneDrive as Microsoft Word or Microsoft Excel files, and view them online. You can also design export templates.
Approval Process
Version 10 offers greater control of the approval process by enabling authorizers to update pending document drafts.
Printing Preferences
You can print and mail service calls and contracts and export them to PDF immediately after creating them. This extends the printing capabilities in areas that were lacking.
Authorizations
It's now possible to define different access rights to different tabs in the Item Master Data and Business partner 'Master Data windows' for your users or user groups. For years, SAP Business One users have wanted to keep everyone away from the terms code, and now you can because it's in a separate tab.
Posting Periods
In the Posting Periods window, version 10 allows you to:
Sort the data in any column using the mouse and keyboard or the Sort Table window.
Search for data in the (first) sorted column using the Find field.
Automatically set the 'Due Date To' date of the new posting period to the last day of the selected month of the next fiscal year.
Display Username
Sorting by user code or username is now supported, and the Username field is now available in the Administration, License, License Administration, Allocation, Assignment, Administration Add-ons, Add-ons, and Administration User Preferences tabs. These features make it easier to administer SAP Business One version 10 across your organization, especially when you reach ten or more user licenses.
Hide Toolbar
You can reduce the toolbar at the top of the screen while it's not in use to increase your working area.
Change User or Switch Company
The Username and Company Name are now at the top center of the SAP Business One screen. Clicking it opens the Choose Company window directly for changing the user or switching the company.
Screen Display
In the past, many SAP Business One windows couldn't be adjusted for size or shape. In version 10, you can adjust the screen display size for menus so you don't have to scroll to see information.
SAP Business One Version 10 Release Date
SAP Business One version 10 was made available as part of an Early Adopter Care program in November 2019, although SAP hasn't said when the upgrade will be available to all in 2020. While you wait, watch our recent Vision33 Wednesday Web chat recording, hosted by Vision33's Carl Lewis, to learn more about the many new features users can look forward to in SAP Business One version 10.