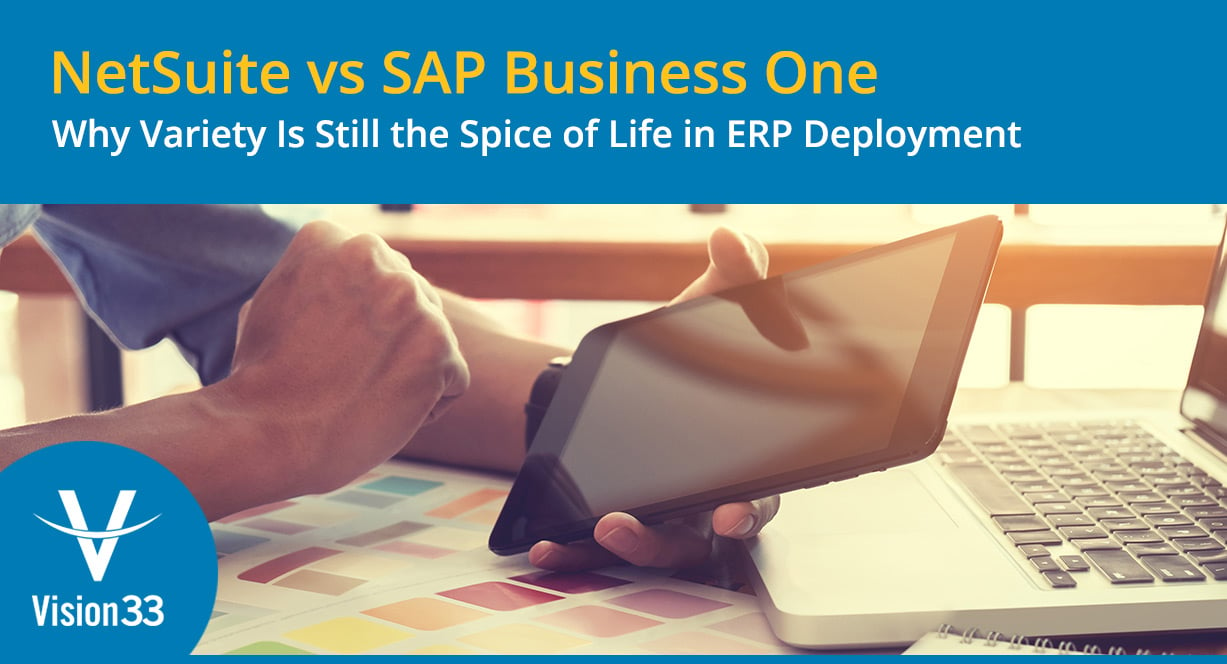 Have you evaluated options for a new enterprise resource planning (ERP) system and discovered NetSuite ERP doesn't offer the flexibility you need? To maintain control over your data rather than accessing it from a cloud-based ERP solution, consider this: NetSuite was built for the cloud and doesn't offer an on-premise alternative. For businesses that need to access their data without internet access, SAP Business One provides greater flexibility with cloud, on-premise, and hybrid deployment options through Vision33, a global professional IT services company.
Why Would My Business Need an On-Premise instead of Cloud Deployment?
While many businesses can utilize the benefits of cloud deployment, there are still cases where Vision33 customers require greater flexibility and variety than cloud deployment offers. For an example of issues regarding a lack of ERP deployment flexibility, consider a company with field workers.
Field workers without cellular access
Without consistent access to a cellular network or Wi-Fi hotspots, the company field workers (e.g., engineers examining remote infrastructures and salespeople) can't complete their tasks because they can't access the system, which means keeping manual records and sending data to your ERP after internet connectivity is reestablished. Manual recordkeeping is fraught with opportunities for errors; transposed numbers, illegible handwriting, and other mistakes prevent you from obtaining insights into your operations and negating one hallmark of ERP: real-time visibility.
Intermittent internet access in your warehousing
Another common challenge for manufacturing and wholesale distribution customers is internet connectivity in large warehouses. Warehouse workers using handheld devices and scanners are subject to the limitations of Wi-Fi hotspots throughout their warehouse; whether it's accessing a customer order from a computer terminal or using a handheld device to scan a barcode, intermittent access to the internet can negatively affect warehouse productivity.
Less control over your data control
NetSuite doesn't have an on-premise offering, so you can't host or store your data in your building or on your hardware. For larger companies that wish to maintain control over their data, cloud-only NetSuite offers no flexibility; the solution is accessible only via an internet browser and needs 24/7 internet connectivity to access data.
SAP Business One: An ERP Solution with More Flexibility than NetSuite
With SAP Business One, you can deploy your ERP in the cloud, on-premise, or via a hybrid approach. SAP Business One offers greater control and access to your data and allows your business to leverage internal hardware and existing IT infrastructure and resources. It also requires less dependence on always-connected internet, allowing you to work in the software while offline and have your data sync when you reconnect, eliminating manual record keeping errors.
When you're ready, you can seamlessly move from an on-premise model to a cloud model. Vision33 offers SAP Business One Cloud powered by Amazon Web Services (AWS) as an affordable, integrated ERP solution that scales with your business, allowing you to run live while offering a lower total cost of ownership. From financials and sales to inventory and production, SAP Business One Cloud gives you real-time data from all areas of your business, allowing you to make smarter business decisions, anywhere, anytime.
SAP Business One offers more than just deployment flexibility; there are many advantages to choosing this ERP solution. Read SAP Business One vs. NetSuite to learn the top nine advantages SAP Business One offers businesses over the cloud-only NetSuite ERP.