Modern wholesale distribution companies must overcome hurdles by running operations more efficiently with enterprise resource planning (ERP) technology.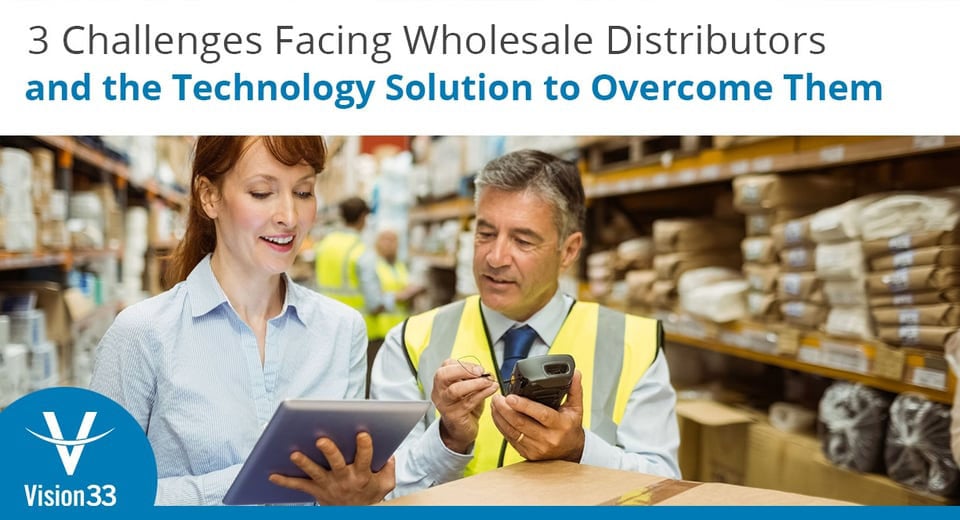 Technology continues to be instrumental in supply chains as new standards require wholesale distribution industries to evolve or lose out on business. Working with customers in omnichannel retailing, or food and beverage industries for example requires meeting differing customer needs. While the products you carry and the prices you charge are certainly important considerations, so are the robustness and flexibility of the technology that supports your business.
For the modern wholesale distributor, success means overcoming hurdles by finding ways to run operations more efficiently. More and more, growing wholesale distributors are overcoming their business challenges with enterprise technology. But what are the challenges that wholesale distributors seek to overcome? Vision33 asked its customers to weigh in and here's what we found were some of the common challenges business sought to overcome with enterprise technology.
1) Lowering Your Margins to Stay Competitive
Wholesale distributors are no stranger to thin profit margins. But when your margins are lower than you calculated, it may signal that you have inefficient workflows, low inventory turns, or data entry redundancy. Not having a solid forecasting tool as part of your business system reduces ability to foresee spikes and dips in inventory. You're going on gut, intuition, and spreadsheets; this is a pain that any wholesale distributor faces as they look at product lifecycle management (PLM). As a product gains market acceptance, the variances in demand changes. This could be anywhere from six months to an even longer lifecycle of 10-years, making sound forecasting very important.
2) Inefficiencies Due to the Use of Disparate, Non-Integrated Software
In a disparate business system environment, small to midsized enterprises (SMEs) may use a combination of accounting applications like QuickBooks and spreadsheet software like Microsoft Excel to manage their inventory. Alternatively, some businesses may use QuickBooks with an inventory management application that does not possess strong integration.
Data is in multiple locations, with paper forms being an additional component that the company's employees need to enter or reenter to reconcile in the system. Entering an order requires printout pick tickets, and packing slips. The company will put these pick tickets on the shop floor and separate them into bins or baskets. Next, a picker will go through the folder and choose the ones they want to pick. This results in added manual labor and manual sorting. Because the system is manual, once a product is sold, the inventory must be updated; then a separate task must take place to update the accounting tool and create an associated invoice. Duplication of effort ultimately leads to costly data entry errors.
3) Lack of Integration with Online Retailers like Amazon
SMEs, specifically those engaged with retail channels or influenced by Amazon, have been particularly affected by business technology. While their offerings may be drastically different, these businesses all face similar challenges.
At regular intervals, wholesale distributors receive reports from Amazon, that tells them how many products have been sold. It's the wholesale distributor's job to invoice Amazon for the products sold. The downside is that this arrangement extends the level of days outstanding for invoicing. Amazon pays net 60, however, it takes two weeks to get an invoice to them and another 3 to 4 days to get that invoice back to them. Wholesale distributors effectively extend their payment terms from 60 to 75 days, and every day that the invoice is sitting out there it costs the company more money.
Additionally, in non-integrated business system environments, you need to ensure that Amazon has enough product to fulfill their orders as they're coming in. Otherwise, they'll look to another vendor to fulfill the need. As product demand starts to grow, an SME's sales can go from 100 units a week to 1000 units a day. If a wholesale distributor is behind that market trend, it could be a disaster; meaning that if inventory runs out, then the company can't capitalize on it – the end consumer isn't going to wait around either.
Overcoming Wholesale Distribution Challenges with Enterprise Technology
To do this, you need to gain a single, transparent view of all your warehouse and distribution operations – helping you deliver goods on time, boost customer satisfaction, and optimize inventory. This is where siloed programs like accounting software fall short, but advanced enterprise technology excels. If your wholesale distribution company identifies with any of the above challenges, then you will likely benefit from leveraging wholesale distributor enterprise technology. Adopting enterprise technology is one of the most important decisions that your business will make, and equally one that has the potential to transform your business.
Vison33's New eBook for Wholesale Distribution Companies
In the latest eBook from Vision33 titled The Technology Solution for the Modern Wholesale Distributor, we delve into more detail about the challenges facing the wholesale distributors and the enterprise technologies to overcome them. We go into depth about how these technologies work and then demonstrate how they can be leveraged to benefit your business. Access the eBook today and learn how to create a more efficient operation, access new business channels, improve operational efficiency, achieve compliance, and gaining greater insight into your profitability.