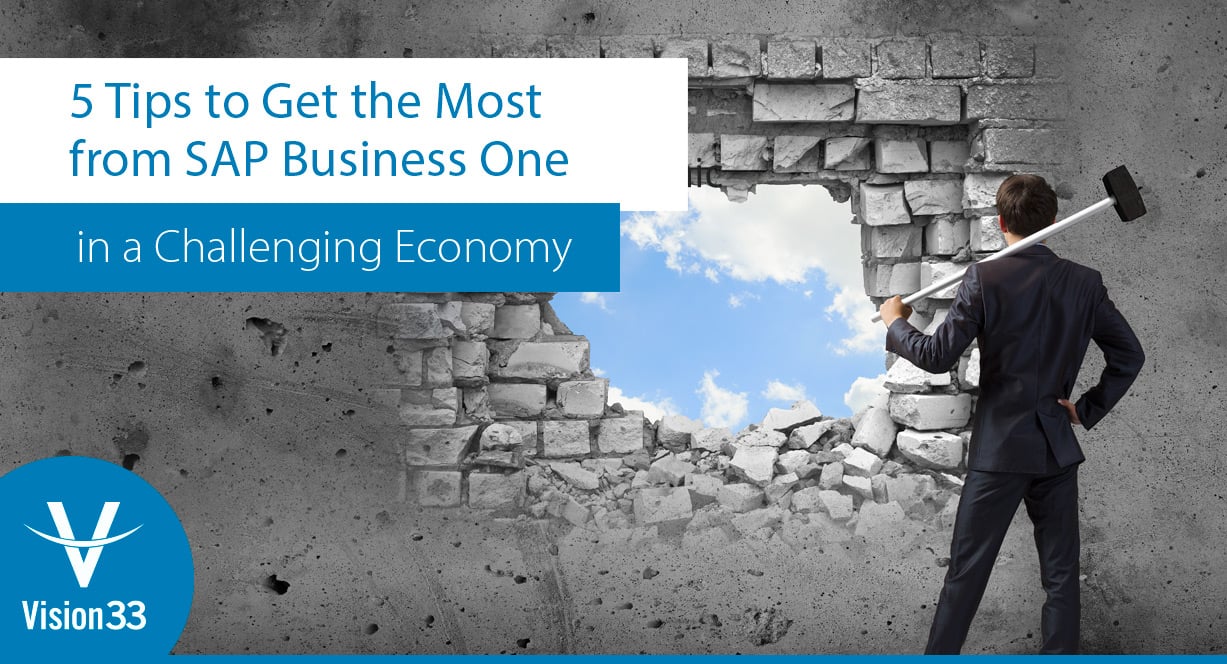 Welcome to the year 2020, where your company needs to be the most efficient it's ever been. When I say efficient, it doesn't mean simply cutting costs and coping the best as you can. That is wishful thinking and won't work in the long-term. As external forces like coronavirus aren't going anywhere any time soon, your company must change and adapt like never before. You need to build immunity in your business and protect yourself the best way you can.
If you watch the news, every company is trying to save money wherever possible. It's important that any decisions you make are based on real data and not from fear or following what others are doing. You already have SAP Business One in place. That puts you one step ahead. You have the data points available to form a strategy rooted in business intelligence, and not in wishful thinking.
As an SAP Business One Consultant that has worked with growing clients throughout the U.S., the following top 5 recommendations are based on my own experience and where I have seen other clients be successful during times of crisis:
1. Move your SAP B1 environment to the AWS cloud
The "cloud" is your best friend right now if your company is lucky enough to be on the cloud before this pandemic. You're seeing the main benefit which is having 100% remote access to your environment once you have an internet connection from your home. Also, from a security standpoint, AWS provides a lot of data redundancy that you can't get from a "on-premise" environment. Accessing your "on-premise" environment remotely is not the same thing. Ask yourself, what happens if your office loses internet or power, what happens if ransomware affects your local network? How quickly can you spin back up your SAP B1 environment and how much will it cost you? Yes, AWS cloud subscription is a recurring cost, but it's money well spent. Vision33 now offers the cloud on a multi-tenant environment which can help fit smaller budgets to move.
2. Eliminate "manual" order entry by 100%
If you have customers that still email or call in orders, you need to pivot quickly and give your customers another way to order. Your customers are at home and need to be able to communicate with you in different ways. Orders should be entered in the system without human intervention to make the most of your resources. This means either via a web portal connected to SAP Business One, an online shopping car solution like Shopify or using integration solutions like Saltbox. This will eliminate wasted employee time and also improve 100% order accuracy. You might think you're saving money by not investing in any software, but in the long run, your company is less efficient.
3. Having a CRM add-on/tool is a must
As the economy opens back up, there's no "business as usual" anymore. If your company provides a service or product, your previously loyal customers are going to be more demanding than ever. Whoever pivots to provide the most value will get their business. You can't try to save every customer (nor should you). Otherwise you will chase your tail in circles. What you need to know is each customer's profitability percentage that they bring to your company. Thankfully, you have this data already inside of SAP Business One. However, CRM is a must-have to communicate with customers, understand sales performance and be able to offer the right discounts at the right times to your most valued customers to maintain customer loyalty. It's also critical to be able to see the activities of your sales team members at any given moment.
4. Turn on Key Performance Indictors (KPIs) & dashboards and create new ones that can help with quick decision making
With SAP Business One, you have access to many tools and dashboards to keep the data that is most important to you in view at any time. If you haven't created alerts or dashboards, now is the time to do this or contact a Consultant to help. Data points will continue to change daily. To be agile in your decision-making, you can't stick your head in the sand. You need instant access to the KPIs specific to your organization.
5. Try to adjust your SAP processes/workflows to follow social distancing's six (6) feet apart recommendation whenever possible
In this new normal, rules related to social distancing may be around even after physical business spaces re-open. That means if your company has warehouse or manufacturing operations; you will have to make the warehouse layout or production staging area adhere to social distancing. This means having signs of 6 feet apart, similar to what you see in grocery stores today. It sounds simple, but it can affect how your company manages "day to day" basic operations. Some examples to think about include physical workspace spacing, sharing PCs amongst employees or using shared printers for key reports.
Vision33 is here to continue to support customers and help companies design their 'new normal' business strategies. With the right technology implemented for specific processes, you can come out the other side of this – and be a more resilient business than you even were before.