Improving your small business efficiency with ERP software. Vision33 provides 5 ways ERP software can improve your SMBs efficiency.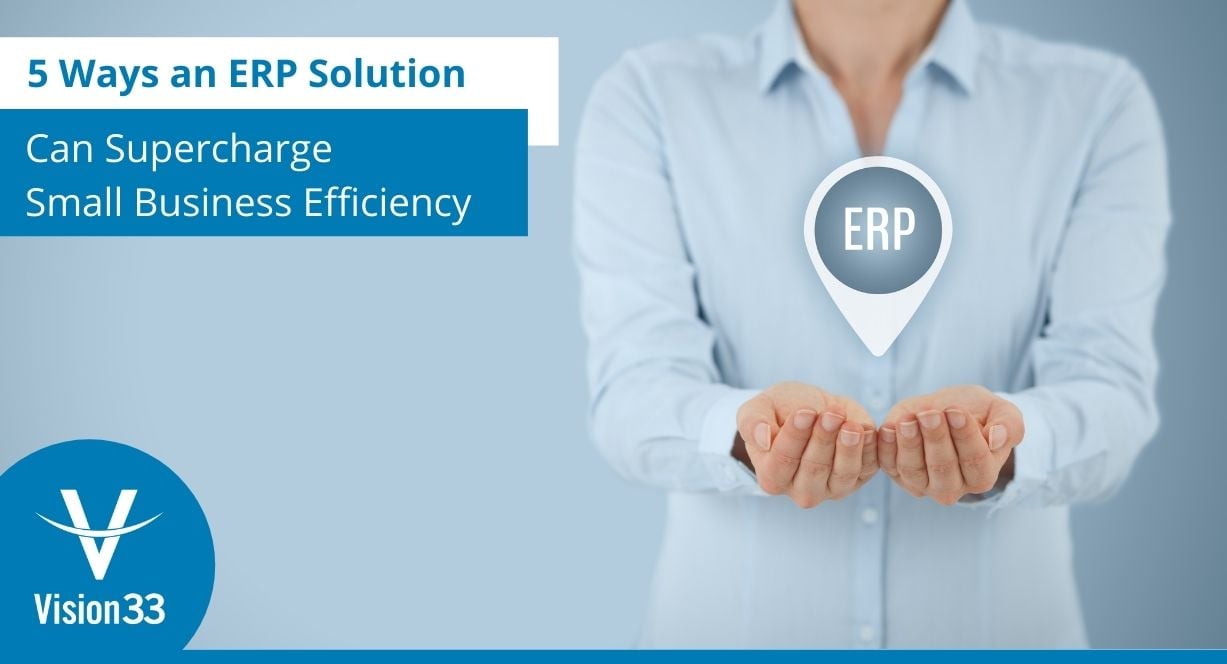 You can't get lost time back, so this expense follows you – and accumulates.

Increase the efficiency of your IT operation, and the benefits will be felt across your business. With small business ERP software like SAP Business One, you can turn technology into a competitive advantage – regardless of the business you're in – by freeing up your IT team and your end users to focus on the high-impact projects that will move your company forward.

Here are five ways an ERP solution can help you can gain a competitive edge in the marketplace:
1. Win new business and retain existing clients
Relationships may be the key to business development, but they are fueled by accurate information. With
SAP solutions
, for example, you'll have all customer details at your fingertips, enabling you to move forward confidently and effectively when servicing current clients, penetrating existing accounts, or pursuing new opportunities.
2. Optimize your supply chain
Coordinate supply chain processes easily and efficiently. Small business ERP software should allow you to manage the entire supply chain more easily through a user-friendly environment. Your business users will spend less time working with the software and more time doing their real jobs. Your team will be able to adapt to changing requirements quickly and with minimal disruption.
3. Keep complexity from creeping up on you
The curse of growth is complexity: there are more moving parts to be managed. Bookkeeping becomes more difficult, and you'll need to move to an accounting solution that can handle your new workload. Financial and accounting management tools in your ERP software should be designed to grow with you and
integrate with your core business processes
to give you a single, up-to-date-view of your financial condition.
4. Shorten your sales cycle
There is plenty of waste in the average sale cycle that is just waiting to be cut. You can eliminate redundant data entry, make it easier to monitor inventories, and deliver up-to-the-minute customer information with only a few clicks. Your sales team will spend less time hunting for information and be out in the field more, interacting with leads and customers – with the benefits of better information!
5. Supercharge your service department
The best sales and marketing tool you have is customer satisfaction – which is especially true for smaller businesses. Customer satisfaction leads to increased orders, loyalty, and referrals. A happy customer is a growth engine. To ensure that your customers remain delighted with your products and services, equip your employees to deliver. Use ERP software to provide easy access to contracts, warranty information, and previous customer interactions. Your team will answer customer questions faster and remedy problems more thoroughly. Your customers will receive the service they need to use your product effectively, reducing the time it takes to help them.
Learn More
To learn more about how an ERP solution can supercharge your small business's efficiencies, access our ERP beginner's resource guide. Explore videos, on-demand webinars, FAQs, blogs, eBooks and other downloadable assets.