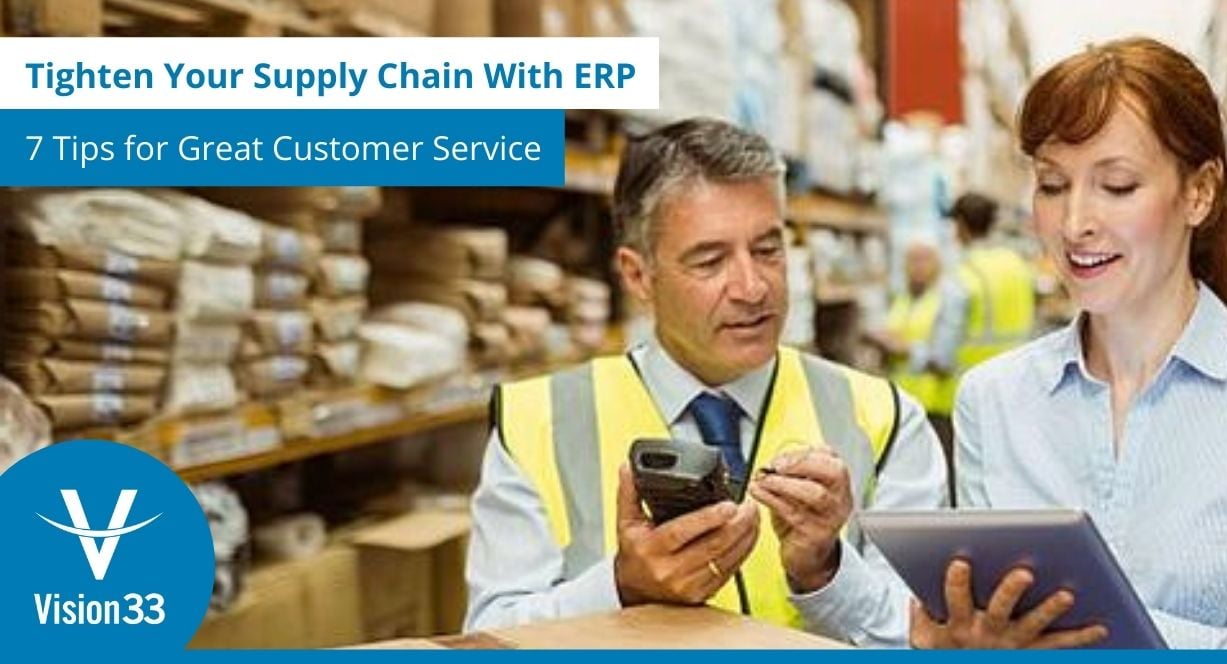 Superior customer service can often form the basis of sustainable competitive advantage in markets where there are a multitude of businesses vying for the number one spot. When it comes to wholesales distributors competing on narrow margins and competitive pricing means a lack of transparency in purchasing activities and inventory management often comes at the expense of customer service.
Achieving great customer service can be a challenge. Our recommendation? Tighten your grip on your supply chain by moving to an enterprise resource planning (ERP) solution so that you can turn your attention from micromanaging your supply chain to turning your attention to where it should be – on the customer.
Here's 7 ways that you can tighten your supply chain with an ERP solution:
1.Inventory Tracking
ERP solutions offer comprehensive inventory tracking systems to help businesses better control and manage their stock. With ERP, businesses can categorize their inventory, and manage detailed warehouse data and record various stock movements. This provides managers with a better understanding of what inventory is on hand and where it is at all times. This can help reduce stock outs or anticipate peak customer demand.
2.Cycle Counting
Cycle counting is an inventory process where a small subset of inventory is counted at regularly scheduled intervals. An ERP solution supports this function, allowing managers to note any discrepancies during counts and adjust them within an integrated accounting function of the ERP solution. Cycle counting can help businesses by reducing errors in transactions, but also assists in planning for inventory replenishment.
3.Just-In-Time Inventory
A just-in-time (JIT) inventory strategy enables companies to increase efficiencies by receiving materials just as they're needed for production which reduces inventory costs. ERP facilitates the adoption of this strategy through the automation of inventory counting. This ensures that a business can determine what they need to order and when, while reducing carrying costs. Less disruptions in the supply chain means goods are delivered on time to the customer.

4.Real-Time Reporting
Manual reporting means businesses report less frequently because of the labour intensive and manual process required to gather data from across the business and its supply chain. This leads to decisions made on largely out of date or inaccurate data. When you move to an integrated ERP solution, you get access to accurate real-time information about your company's performance. Decision makers can now better track the movement of goods and materials, and use this data to improve operational efficiencies in their supply chain.

5.Improved Vendor Relationships
To have better relationships with your end customers, requires better relationships with your vendors. Improved vendor relationships ultimately mean products can get to customers quickly, more efficiently, and less costly. An ERP solution can help provide vendor portals that empower vendors to access their account information they need. With connected systems and automated processes, businesses can improve collaboration and coordination with their vendors, and ultimately strengthen working relationships.

6.Warehouse Automation
Relying on manual processes can slow down the distribution process and obstruct information flow through the supply chain. By implementing ERP, various functions such as notifying a warehouse manager of stock levels, would become automated. Automating warehouse processes can enhance operational efficiency, ensuring inventory is optimized, sales orders are timely, and reporting is accurate.

7.Materials Requirement Planning (MRP)
Material Requirements Planning (MRP) allows businesses to maintain an optimal production plan for multilevel production processes. Using MRP offers supply chain managers the ability to schedule and manage items that are to be produced or purchased. This process provides consistent availability of the right materials, minimizes inventory levels, reduces carrying costs, and streamlines production.

If you'd like to learn more about how your business can benefit from flexible and tightly integrated business processes that are perfectly adapted to your specific requirements download Vision33's ERP solution for Manufacturing .