Learn what EDI is, how it works and how EDI and SAP Business One can help you strengthen supply chain relationships.
With the onset of globalization, managing supply chains has become more complex and business-critical than ever before. When a company's operations are under its own control, there are fewer moving parts. However, in an environment that has become increasingly global in nature, there are more parties involved and less information available at any point in the production process. This makes it much harder for companies to stay ahead of the competition.
Having worked with over 800 customers across the globe, we have seen our customers' fair share of managing parties and operations in the supply chain process: the resources needed to turn raw materials from a supplier into a finished product for their customers and the challenges unearthed during the process.
Challenges include lack of traceability, inability to forecast demand and inventory stockouts - all of which can be avoided with lean and agile supply management processes.
That's why more and more businesses are turning to an Enterprise Resource Planning (ERP) tool, such as SAP Business One, to keep their supply chain simple and efficient. SAP Business One is a flexible, affordable and scalable solution designed to help your small business better manage every aspect of your company – from sales to financials and operations.
Check out the full infographic below to learn more about the 8 ways SAP Business One can simplify your supply chain management.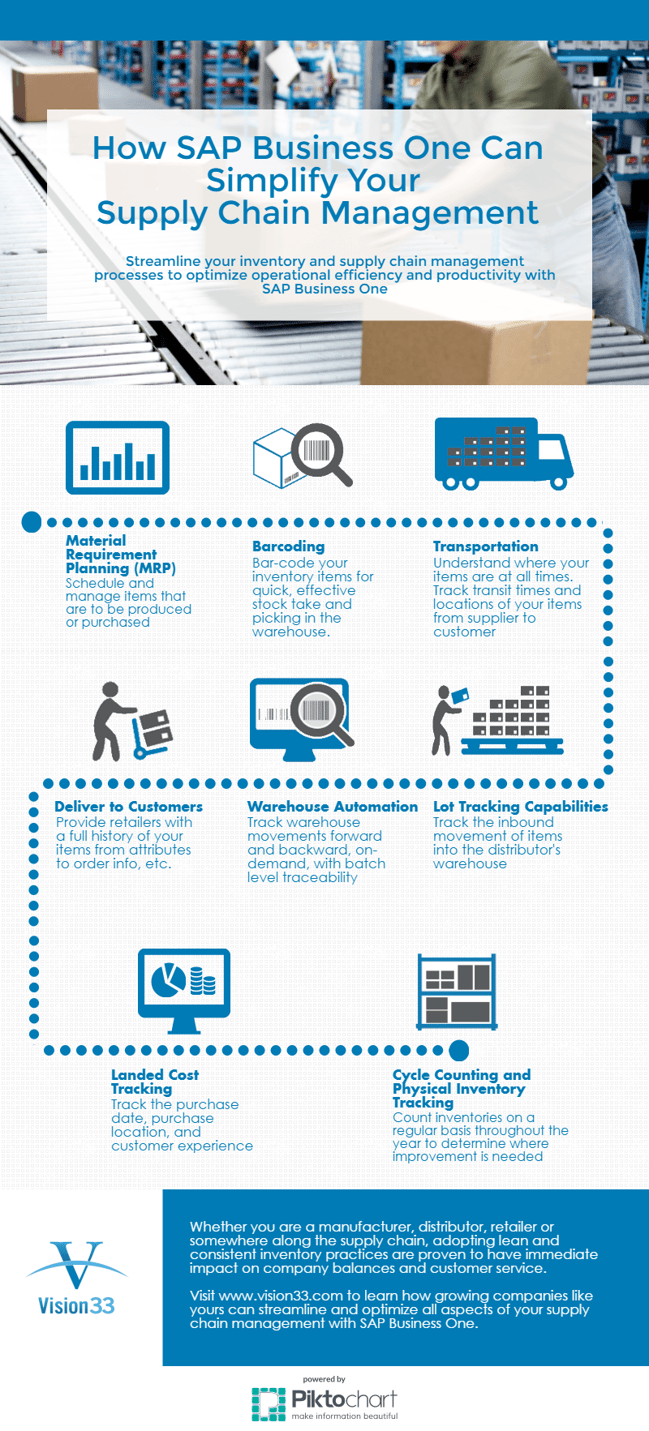 No matter where you are along the supply chain, adopting lean and consistent inventory practices are proven to have an immediate impact on company balances and customer service. Be sure to read our other articles on supply chain management such as how cutting corners in your supply chain can be a good for your customers and 5 ways SAP Business One can help with order fulfillment.
For more information about how SAP Business One can help you improve supply chain relationships and save your company time when working with your trading partners, contact us.