ERP Go-Live Is Just the Beginning. Find out how MRO automation processes can further leverage your investment in ERP. Read the article.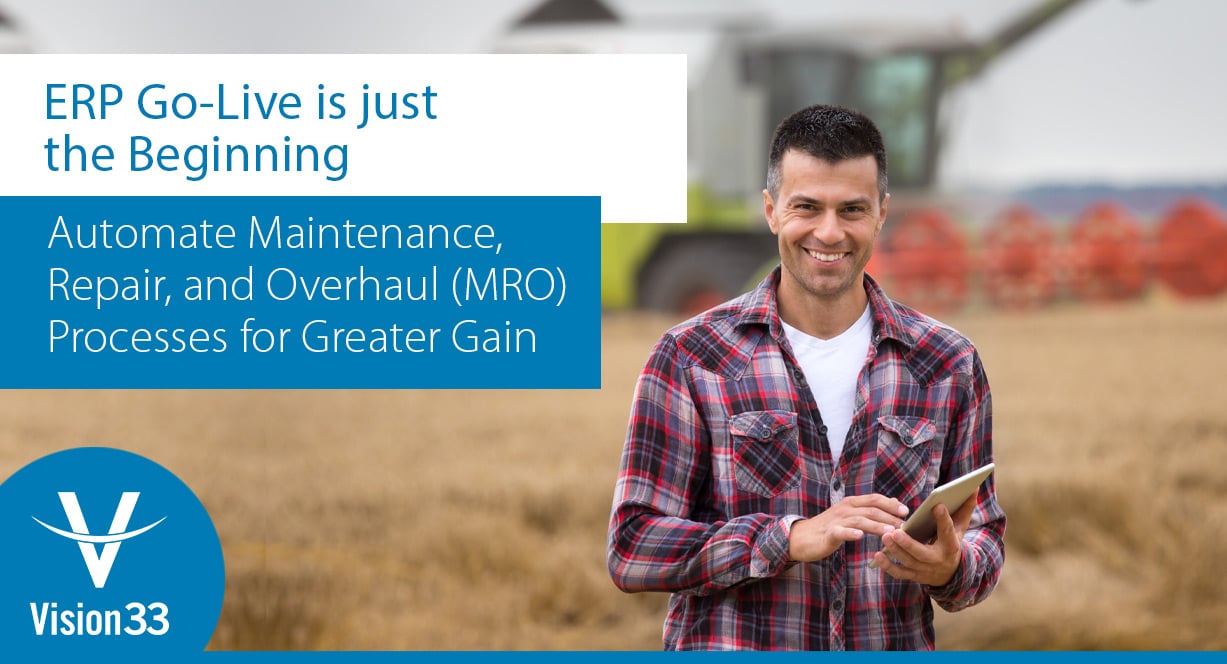 Your manufacturing company has moved to an enterprise resource planning (ERP) application like the SAP manufacturing solution, SAP Business One. It required an investment of your business's time, effort, and resources, but you and your trusted ERP partner reached go-live and have a shiny new ERP system to run your business more efficiently. But this is just the beginning – the real payoff of your enterprise technology investment will continue to reveal itself for years if you can overcome 'implementation fatigue' and take the next step: process automation.
Process Automation Is Where Real Business Growth Occurs
Manufacturers often ignore process automation (e.g., barcode scanning) because they're still using features that simplify their businesses' previous status quo of operations. A qualified ERP partner can explain how to leverage your new technology to adopt process automation in a way you couldn't with your legacy software.
Manufacturers Need to Maintain Their Equipment Regularly
Assume a manufacturer has a lot of equipment/machinery like CNC machines, lathes, bottling machines, or motor generators. Whether the responsibility for maintaining the equipment is shared throughout the company or given to one person, maintenance, repair, and overhaul (MRO) processes are perfect for manufacturers who use such equipment.
If rolling assets like trucks or bulldozers are involved, maintenance is based on mileage. If it's a machine with a blade that requires sharpening to operate within a threshold of quality cuts, maintenance is based on time, be it every 90 days or a specified number of hours of use. If it's a meatpacking plant with a cellophane wrapping station, maintenance is based on a schedule, and unscheduled maintenance is costly because they must halt production.
Without process automation, maintaining an MRO schedule is done manually – and where manual processes exist, the potential for human error exists.
Limiting Human Error in Your System
An ERP solution like SAP Business One, when properly automated, can streamline MRO by sending automated alerts to notify the responsible party when scheduled maintenance is coming up. Without these alerts, an MRO schedule is full of guesswork and prone to errors – and too much or too little MRO is costly.
How Manufacturers Can Automate Their MRO Process
As a manufacturer, you want to avoid unscheduled maintenance. This is difficult without a system to notify you of upcoming maintenance. ERP solutions like SAP Business One automate alerts and allow you to do work orders, (indirect) inventory, oil, and oil filters to keep them current; you can also book time and keep things current on maintenance. Vision33's SAP Business One Manufacturing Solution also works with tablets to mobilize your workforce.
Mobilize Your Workforce with Tablets
SAP Business One enables your manufacturing company to set up mobile devices such as tablets so your workers can log in and get work orders, view previous work orders, see how often a machine has been worked on, and learn what was maintenanced already (was it the Johnson switches or the bearings?). Forget the guesswork – use a tablet to look up the last work order and find the answer in real-time.
Tablets are indispensable because you can see employee profiles and assign the maintenance to a worker with the skills to match the equipment. You can release indirect inventory (the inventory you keep for machine maintenance), issue new work orders, and take pictures. If you're a food and beverage manufacturer, you can do PNLs to determine how costly it is to maintain your agricultural equipment versus other conveyor machines in the factory. Your employees can view a maintenance schedule and send it to a maintenance manager at a moment's notice for greater visibility.
Learn More About Automating Your Manufacturing Company's MRO Processes
Whether it's scheduled or unscheduled maintenance on fixed and rolling assets post-go-live, it's possible to further leverage your ERP investment with process automation – but far too many companies continue to do things manually.
Automation post-go-live is truly a best practice and inexpensive way to manage; it also offers a strong ROI. SAP Business One Manufacturing Solution has alerts you can set to help manage scheduled maintenance with a tablet-based schedule and dispatch application to manage activity.