SAP Business One is an enterprise resource planning (ERP) solution tailored to meet the needs of manufacturers and the Opportunity to Invoice process.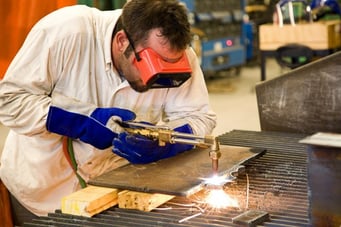 Let's say your company has received a new opportunity from a new prospective customer. You have to track the opportunity through the sales cycle, develop an estimate for a new part, publish a quote, and convert the quote to an order then it has to be approved by the prospect. But what do you do when your current software systems aren't sufficient to streamline these processes together?
Job shop manufacturing companies are typically faced with the challenge of disjointed and outdated systems. Legacy systems and spreadsheets aren't enough to track make-to-order opportunities, there is a lack of visibility across all departments and processes are not aligned to get the job done quickly and efficiently.
The "Opportunity to Invoice" process requires an integrated solution that automatically unites your operations from accounting and sales to production and delivery. SAP Business One is an SAP product designed specifically for growing small-midsize companies and tailored to suit the industry requirements of made-to-order manufacturers. Here is a quick breakdown of the comprehensive and automated opportunity to invoice steps in SAP Business One:
Opportunity Identified – Sales

Log new opportunity for a new prospect and capture opportunity details.

Develop Quote – Engineer

Engineer builds an estimate of materials and operations that includes both existing and new components/materials.

Publish Quote – Sales

Sales reviews the estimate, prepares the quote, and publishes quote to prospect.

Convert Quote to Sale Order – Customer Service

Customer service receives a PO from the prospect, converts quote to order and publishes an order acknowledgement to buyer.

Release Work Order – Production Planner

The planner reviews the order and prepares a work order created automatically and through to assembly.

Manufacturing – Shop floor operator

Operators pick parts to fill the order, warehouse receives the order to move the finished goods to its assigned warehouse location.

Warehouse – Warehouse Manager

At due date, system automatically issues pick, and ship orders.

Accounting

Controller opens invoice and views profitability of order and compares to estimate.
See What SAP Business One for Manufacturing Can do For Your Company
Watch the latest video from Vision33 to see how a high performance generator manufacturer was able to focus on the growth of their business by implementing a fully integrated ERP solution. With the help of a built-in product configurator, they were able to accurately quote customers, empower their salespeople, get a handle on order management, and provide traceability from the warehouse through to service care.