SAP Business One User Guide book is now available. Learn how you can get the most out of your ERP from Vision33's SAP Business One expert, Carl B. Lewis.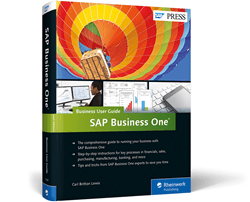 Vision33, the largest global SAP Business One partner, is happy to announce the release of the SAP Business One User Guide book. Written for SAP Business One users that want to get the most out of their investment in ERP, the book offers a comprehensive look at everyday tasks in SAP Business One.

The SAP Business One User Guide provides step-by-step instructions for all critical business processes including areas such as financials, sales, manufacturing, and banking. What's more, the book was authored by SAP Business One Partner Advisory Council members - led by none other than chief SAP Business One ambassador for Vision33, Carl B. Lewis!

Over the years, Lewis' leadership role within Vision33 has aided the company in extending SAP Business One expertise to growing businesses through the Vision33 TOTAL Care customer support program. This world-class customer enablement program provides businesses with access to an expert team of certified SAP Business One consultants with decades of experience in successful ERP implementations. And now it's that same expertise that fills the pages of his new book.

"If you're new to SAP Business One I am confident that no other resource will deliver as much value when trying to first learn about SAP Business One," says Lewis. "Together we have shared our tips and tricks and all the secret handshakes we have discovered through the years."

The SAP Business One: Business User Guide is available both in eBook and print formats and provides users with valuable insight into how you can do your job even better within SAP Business One. Read the full press release to see some highlights from the book or to find out where you can purchase your own copy today.