Fast-growing businesses that use QuickBooks face many roadblocks. Find out how you can get back on the road to success with an ERP solution.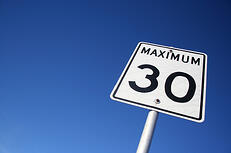 There is a reason why 89 percent of small businesses use QuickBooks to manage their financials; Intuit's de facto standard accounting application provides businesses with the tools they need to support small business finances – getting them from 0 to 60 in a short timeframe. However sooner or later, growing businesses that decide to maintain status quo find that their competitors that run on an enterprise resource planning (ERP) solution are quickly passing them by. Today we'll take a look at QuickBooks vs SAP Business One.

It's no secret that QuickBooks isn't designed to meet the need of small to midsized businesses (SMEs) beyond a certain point in their growth and business process maturity. According to an article from Forbes on the topic of Outgrowing QuickBooks, Jonathan Meltzer, Enterprise Product Marketing Executive, Intuit stated that "...businesses with a couple of hundred employees is really the sweet spot we're looking to service. Only in a small minority of cases does a business go beyond that, and we're not looking to ride with those folks all the way to the top."
Additionally, businesses that think the quickest and most cost effective way to maintain their growing business' momentum is to patch holes in QuickBooks' functionality with third party applications, better think again. The costs of maintaining status quo with manual integration with third party applications to support functionality that QuickBooks is not designed to handle results in many hidden costs. Take a moment to familiarize yourself with some potential roadblocks that growing SMEs face when they delay shifting gears from QuickBooks to an ERP solution like SAP Business One.
Manual - Not Automatic.
There are a number of inefficiencies associated with continuing to use QuickBooks despite surpassing its small business functionality. Since QuickBooks does not integrate very readily with other critical business applications, the result is duplication of effort and manual processes that take up valuable seconds on the clock and result in data entry errors. Without the ability to automate processes, QuickBooks cannot provide your growing business with real-time financial view of your company's day to day operations.
With a fully integrated ERP solution, your business can address this by integrating data in one system instead of a multitude of disconnected applications and spreadsheets – eliminating duplicate data entry, costs, and related errors. This gives you a clear visibility into how your business is performing.
Seats 30.
For businesses that are growing exponentially - hiring new human resources to support the expansion of their businesses into new markets or for new offices and warehouses, you will have to drive business forward within the limitations of QuickBooks. That is, up to 30 concurrent users of QuickBooks Enterprise Solutions. Beyond that, you will not be able to provide additional access to your employees and empower them with the information that they need to do their job.
While your business will continue to exceed the limitations of QuickBooks, an integrated ERP solution will enable you to adapt the application to meet your business' changing needs and integrate with other systems using intuitive technology that is able to support hundreds of users. These solutions are fully scalable to meet changing needs well into the future.
Doesn't Handle Well in Traffic.
Most companies that use QuickBooks soon discover that with an increased number of customer orders, and large volumes of account activity, QuickBooks can sometimes slow to a crawl. The length of time it takes to run queries, to create reports or open menus is slowed with an increase in data traffic. With a slow system, the application is prone to crashing or to kicking users out from the system to handle complex operations. In worst case scenarios, this results in lost customer or financial data, and employee productivity.
On the other hand, an integrated ERP solution provides your businesses with scalability to support your business with the functionality it needs now. It has the ability to then adopt additional business functions to meet your changing needs as you continue to grow. This means that as your business grows you can easily add support for customer relationship management (CRM), inventory and distribution and finance– without compromising on system performance.
Only Comes In One Size and Color.
Since QuickBooks was designed to meet the needs of many small businesses, accommodating industry specific needs of growing SMEs can be a challenge. Many SMEs that continue using QuickBooks find that they face difficulty with industry specific issues such as the need to support GAAP compliance for accounting firms.
Because every business is different, integrated ERP solutions provide your business with flexibility so that you can customize and extend the application to overcome specific business and industry challenges using a software development kits (SDK). Companies can seamlessly integrate with hundreds of preexisting add-on solutions built by partners to extend the application to meet your evolving needs.
Although Intuit's QuickBooks application provides small businesses with what they need to get started, it will takes more power to reach the top. This is where an integrated ERP solution comes in. If QuickBooks is holding your company from reaching the top, learn more about the benefits gained by switching to an integrated ERP solution like SAP Business One.