Many measures that SMEs take to improve QuickBooks performance are unsuccessful. Find out if your business is delaying the move to an ERP solution.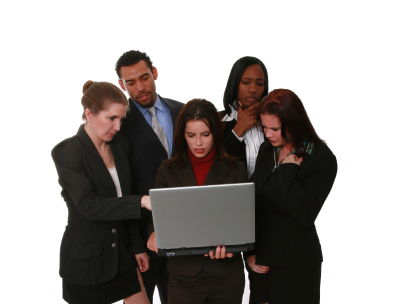 If your company has reached a stage of business maturity, where it has outgrown the limited assortment of features and database performance offered in QuickBooks, you're not alone. While the application does typically meet the needs of entry level businesses, offering an easy-to-use accounting application, the simplicity of its feature set supposes an important caveat. Lacking complexity, QuickBooks cannot simultaneously meet the needs of growing small to midsized enterprises (SMEs) that do require more functionality and better performance to support their growth. Know the difference between QuickBooks vs SAP Business One.
In speaking with many Vision33's SAP Business One users, that have outgrown QuickBooks, it was found that there are hundreds of crucial features absent from their former accounting application, as well database performance issues. Despite being resolved to moving to a new business solution, once businesses have reached the end of QuickBooks' lifespan, many take measures to delay the transition to an enterprise resource planning (ERP) solution like SAP Business One, and attempt to improve system performance amidst their burgeoning growth – albeit unsuccessfully.
If your business has already employed some, if not all, of the following measures, know that in the majority of cases you will be faced with diminishing returns. The amount of time, expense, and effort spent only delays the necessary transition to a new business management solution. Many of our customers described how they took some or all of the following measures to improve QuickBooks performance, but realized the cost of doing so:
1) Updating to the Latest Version of QuickBooks - No Noticeable Increase in Speed.
Businesses will often update QuickBooks to the latest version to try to improve system performance. Patches released by Intuit often fix complicit system bugs that result in slow performance. However it is important to note that even ensuring that QuickBooks is up-to-date may not be the root cause of slow system performance or produce a noticeable increase in speed. Generally, system file size over 30MB or transaction levels that surpass 32,000 are more likely the cause of persistent system performance issues as opposed to the current version installed.
2) Turning Off Alert Preference Settings – Ongoing System Performance Issues.
Alerts, reminders, auto refresh reports and other features found in QuickBooks such as the 'beep when recording transaction' sound can be useful for small business owners, however use of these features come at the expense of system performance, often causing freezing of the system altogether. By unchecking boxes in the general preferences, users can make the system a little less annoying...though seldom does it really make the system faster.
3) Defragmenting Computer Hard Disks – Operations Still in Pieces.
As files are written and rewritten to your workstation computers' hard drive, data becomes fragmented on your hard disk slowing down your system performance as well as QuickBooks' operation. By running the system tool, Disk Defragmenter, QuickBooks data is rearranged sequentially so that your hard disk can work more efficiently. However, since QuickBooks does not support all key business areas, operations remain scattered and filling QuickBooks functionality gaps with 3rd party applications can result in slower performance.
4) Upgrading Hardware When Software is The Real Bottleneck.
By replacing computer processors, adding additional/faster RAM into each computer terminal that uses the application, businesses can achieve additional performance though the price may not necessary be proportionate with the increase in system performance. This is especially apparent with QuickBooks' lack of additional support for business functionality such as inventory management, which requires manually integrating additional applications.
5) Switching to QuickBooks Single-User Mode While Everyone Waits Their Turn.
Some businesses run QuickBooks single user mode which will allow the primary bookkeeper to perform major accounting functions with faster system performance, and then once prioritized activity has been completed, switch back to multi-user mode – to allow for additional user access, granted with slower performance.
When It's Time to Evaluate A New Business Management Solutions.
If your business has considered or tried any of the above measures and still faces system performance challenges, then it may be a good idea to start evaluating a new business management solution outside of the QuickBooks family of products. While Intuit will recommend moving to QuickBooks Enterprise, the application only offers some performance improvements, though not very much new functionality.
At this point, many of our customers recognize that their time is better spent evaluating other business management solutions. With SAP Business One, businesses have the flexibility in choosing between; on-premise, on-demand or cloud-based deployment options enabling your company to start using it from day one with the functionality you need and then as your business grows, you can customize and extend the solution to meet your business' evolving needs. With scalable performance and system performance no longer an issue, your business gets access to real-time information for better decision making.
In the end, outgrowing QuickBooks' feature set and system performance is good news – it demonstrates that your business is growing. But it is also signals that it is time to prepare to move to a new solution. If you are still having trouble identifying whether or not it is time for your business to search for a new business management solution, then sign up for the Free Graduating QuickBooks: Enter a New Program with SAP Business One eBook and learn how ERP solutions provide the flexibility to meet the needs of businesses regardless of their level of growth.