Your accounting system is failing if it hinders progress and steals valuable time. Consider a powerful cloud financial management solution like Sage Intacct.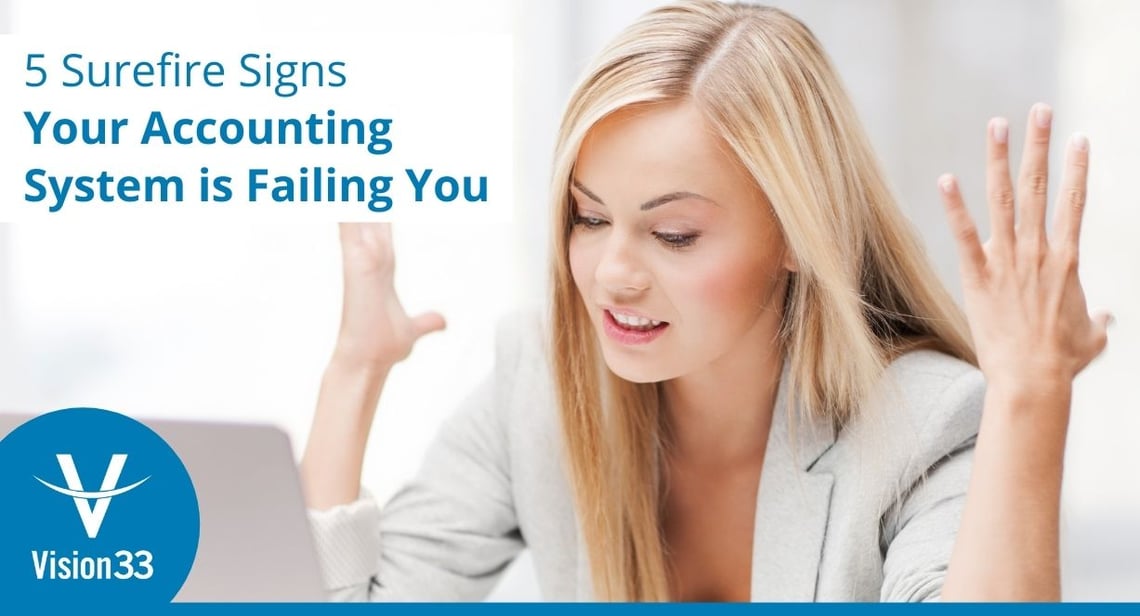 Business growth is exciting, but with the rewards come challenges. Suddenly, there aren't enough hours in a day to get things done. Do you know what's eating up your time? It's probably your small business accounting application.

The accounting system that got your business started has run its course. Growing companies with complex operational and financial needs can't survive with outdated data, error-prone spreadsheets, and time-consuming manual data entry.

You need real-time information and complete visibility into your business's financial performance to make bold decisions about the future – and outdated, inadequate technology can't help. If your current system is hindering your progress and stealing your valuable time, consider a powerful cloud financial management solution like Sage Intacct.

Here are the five surefire signs your accounting system is failing you:
You're on an Old Accounting System Release
Your finance team is so busy they may not even realize how outdated your software infrastructure has become. An old and possibly unsupported software platform is risky because it can lead to significant downtime and security breaches. It's also expensive to maintain a legacy solution – not to mention that maintenance is just putting a band-aid on a bigger problem.
Disconnected Systems and Processes are Gumming Up the Works
Finance works best when data flows seamlessly between departments and systems. Small business accounting applications can't easily integrate with your other mission-critical systems, so you're constantly entering and re-entering information in multiple systems – something you don't have time for.
Business Expansion Is Causing You Anxiety
As you add business units, office locations, or products and services, the burden on finance can be crushing. Seemingly overnight, you're dealing with different currencies, tax jurisdictions, regulations, and pricing structures. Small business accounting applications can't handle complicated financial functions like multi-entities and consolidations.
New Business Requirements and Regulatory Compliance Are Difficult
Many businesses are experimenting with new revenue models and alternative business structures, like the subscription business model, where organizations focus on long-term relationships rather than transactions. This requires more complex billing, revenue recognition, forecasting, metrics, and regulatory requirements – placing even more demand on finance. Many of these options didn't even exist when your legacy accounting system was developed, and retrofits are either tedious or impossible.
A Lack of Visibility Is Affecting Your Decision-Making
To be successful, you need a clear view of everything that's happening in your business – financials, available capacity, inventory levels, and more. Small business accounting applications don't provide real-time information so you can course-correct and make confident decisions on the fly. Instead, you're grappling with spreadsheets, and the information you manage to piece together is already outdated.
There's a Better Way
Resisting change and continuing to use your old system is costing you more time and money than you realize. Today's dynamic, growing businesses are moving to cloud financials, and it's never been easier or more affordable.

Sage Intacct is a modern, born-in-the-cloud solution built for financial professionals by financial professionals. Sage Intacct provides:
A best-in-class financial management solution
World-class infrastructure
Flexible integration options
Anytime, anywhere productivity
Touch-free upgrades
Fast deployment
Outstanding ROI
Learn More
Download our eBook to learn more about Sage Intacct and why 82% of CFOs surveyed wish they had switched to Sage Intacct sooner.