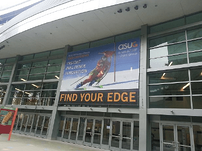 In collaboration with the ASUG SAP Business Objects User Conference, the 2013 ASUG Business One Summit saw a record number of organizers, partners and customers flock through the doors of the Anaheim Convention Center in Anaheim, California this fall. The Summit was chalked full of events ranging from SAP Business One training classes hosted by SAP Solution Experts and SAP Partner presentations from leading SAP Business One add-on and usability providers to a Downtown Disney Shopping spree and entertainment compliments of REO Speed Wagon; there was something for everyone.
Richard Duffy from SAP performs live demo of #HANA performance #Vision33Insider #ASUGB1Summit http://t.co/qPSuICSnMJ

— Vision33 Inc. (@vision33_SAP) September 10, 2013
The opening day of the Summit provided a variety of complementary training classes for SAP Business One 9.0, as well as, networking and speaking opportunities for SAP Business One users and advocates. The doors were open for the Business One community to express their thoughts, ideas and experiences regarding the small business ERP solution. To personify the purpose of the Business One Summit; to bring together anyone and everyone involved with SAP Business One, Mark Smith, President and Founder of Envelopments took the stage to tell his story of how SAP Business One changed his business and strengthened the relationship between his employees, suppliers and customers. Envelopments success story acted as a prelude to the much anticipated opening day spotlight event hosted by the Leadership 2.0 Panel on change management. The discussion provided insights as to how small business owners can overcome the challenges associated with business growth and change.
Mark Smith @envelopments a #vision33 customer explains how #SAPB1 helped their business scale and improve efficiency! http://t.co/pvDwm0M1D7

— Vision33 Inc. (@vision33_SAP) September 10, 2013
The second day of the Business One Summit revolved around Lewis Schiff's keynote address topic of becoming "Business Brilliant." With a plethora of workshops and breakout sessions featuring small business leaders such as Core Systems, zedSuite, N'Ware Technologies, Leading Results and b.e.a.s, attendees were equipped the knowledge and tools to improve not only their SAP Business One experience, but all areas of their business including mobility, sales, marketing and social media, reporting, process analysis, manufacturing and CRM. The sessions left business owners inspired to achieve "Business Brilliance" and showcase what they do best for their customers, partners, shareholders and employees.
@leadingresults social media for dummies web chat #1: http://t.co/N01MESHIDR #Vision33Insider #ASUGB1Summit

— Vision33 Inc. (@vision33_SAP) September 11, 2013
The final day of the Business One Summit concluded with additional SAP Business One 9.0 training sessions and discussions that focused around the benefits of ASUG mebership. A panel of experts comprised of SAP Vice President, Rinse Tamsma, Vision33 TOTAL Care General Manager, Carl Lewis and SAP Business One customer, Mark Smith discussed how ASUG fosters relationship building, knowledge and solution sharing and provides additional value-added membership benefits not available with any other user group.
@CarlBLewis & his panel of SAP,SSP,Resellers,Customer discuss the core values & benefits ASUG deliver http://ow.ly/i/38lrj #Vision33insider

— Vision33 Inc. (@vision33_SAP) September 12, 2013
With events such as the Business One Summit, the ASUG community brings together users, resellers, SAP and SSPs to promote networking, education and knowledge sharing leading to the further development of SAP; creating better business solutions for small business owners.
Not an ASUG member? Read the benefits of becoming one: