Learn more about SAP Business One. Here's part 1 of our SAP Business One for Sales. Outlining the features and benefits of Sales Quotations.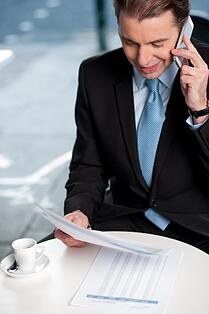 When it comes to sales, SAP Business One is your most powerful tool for capturing, analyzing and processing sales opportunities. Equipped with SAP Business One, small to midsized enterprises (SMEs) and their sales force have access to real-time information such as key contact data, meeting notes, negotiation terms, email correspondence, sales documents and potential project earnings. By leveraging this robust functionality, sales people can more efficiently manage the entire customer life cycle from initial contact to final sale.
The Sales Process in SAP Business One contains 4 steps: Sales Quotation, Sales Order, Delivery and A/R Invoice. In part one of the Basics of Business One for Sales, the focus will be on providing an overview of the SAP Business One Sales Quotation feature and how it is used to move opportunities through the sales pipeline. Future installments will look at more functionality so that SMEs and their sales force can maximize the utility of SAP Business One for sales.
SAP Business One Sales Quotation
A Sales Quotation is a non-legal binding document that is sent to a prospective client or customer outlining your company's product and service offerings. The Quotation can be seen as the first step in the sales process as it is merely informational; gauging the clients interest in your offering. In order for a Sales Quotation to be created, the opportunity must first be created as a Sale Opportunity and added to the List of Business Partners in Business One.
The Sales Quotation window has 4 tabs that contain all of the information you need about your client. These tabs include: Contents, Logistics, Accounting and Attachments.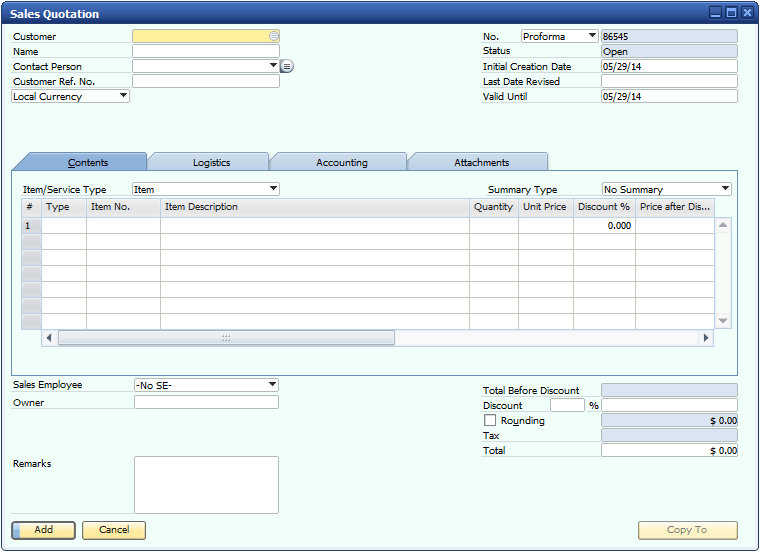 Contents
The contents tab is where you indicate which products or services you are going to quote for your client. To start a Sales Quotation, select a client from the Business Partner Master Data in the Customer field. Once selected, the Name, Contact Person, Status, Initial Create Date, Sales Employee and Owner fields will automatically populate with information. When quoting for an Item, use either the Item No. or Item Description fields to populate the quotation. Optionally, you can manually enter Quantities and Discounts if warranted. For Services, select a G/L Account that the service belongs to and enter in all the information required if it hasn't already been automatically populated.
Logistics
Logistics contains all information related to shipping and billing products and services to the client. The Ship to and Bill to fields are automatically populated with data entered in the Business Partner Master Data for the client.
Accounting
Accounting houses all the financial data applicable to the client such as the Journal Remark, Payment Terms, Payment Method, Payment Due Date and Federal Tax IDs.
Attachments
The attachment tab allows you to upload any documents that are relevant to the opportunity. These can include: meeting notes, negotiation terms, email correspondence, business cards, etc.
Once all of the desired fields are entered, you can download or print the Sales Quotation and send it to the client using the Document Generation Wizard or Document Printing in the Sales – A/R module.
So, how can you leverage the Sales Opportunity feature in SAP Business One to move opportunities through the sales pipeline? The answer is simple; with the information gathered on the opportunity and entered into Business One you are able to provide them with a complete document that lists the products or services that they need along with how, when and where they will get it.
Subscribe to the Vision33 blog for upcoming entries in the Basics of SAP Business One for Sales article series. The next installment will provide an overview of Sales Orders and how they are used in the sales process.
This resource is hosted in our Vision33 Resource Library. Gain free access to this resource by signing up. You will also have access to Vision33's extensive enterprise technology library of training materials for SAP Business One. Inside you'll find ERP tips and tricks, video demonstrations, product brochures, and many more enterprise technology resources. Select from ERP functional areas to expand your knowledge of specific solutions like SAP Business One as you grow your business. Signup today.