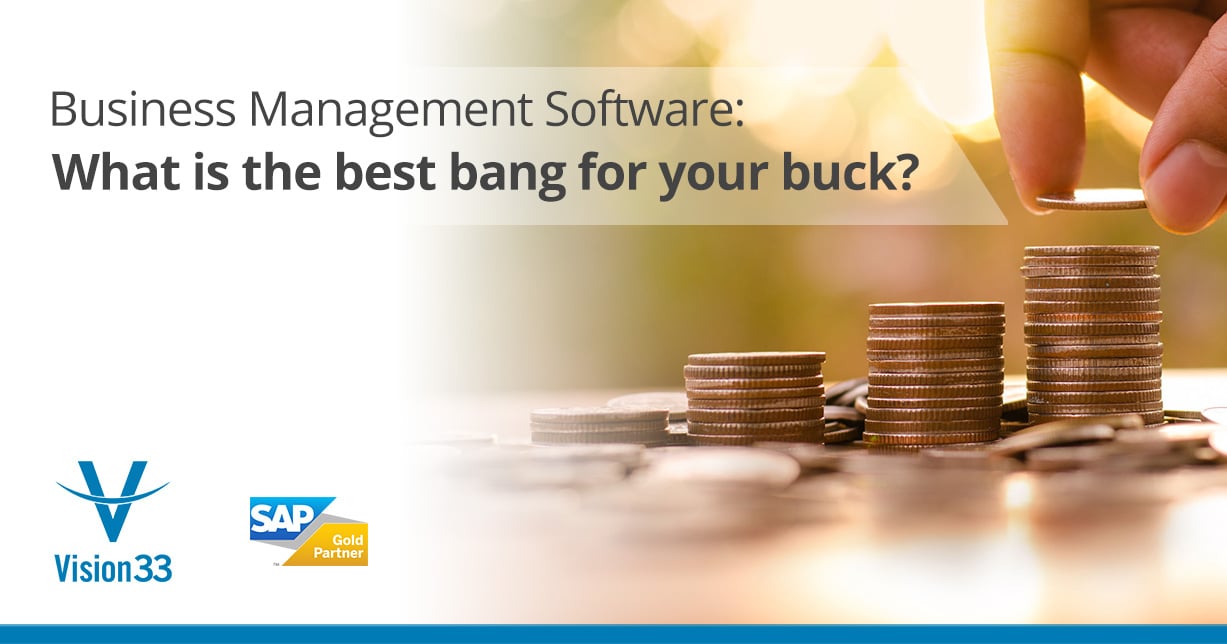 In 2018 growing small to midsized enterprises (SMEs) have access to more business applications than ever before to manage their operations. With so many applications on the market, it can be difficult to decide which will maximize a financial investment in enterprise technology; of all available options, which one will give a business the biggest bang for their buck? Vision33's Carl B. Lewis asked guest speaker Cindy Jutras, ERP researcher and president of Mint Jutras, during a recent webinar to find out.
Defining ERP and other Business Management Solutions
Based on findings from the 2018 Mint Jutras Enterprise Solution Study, Jutras points out that the answer depends on how SMEs define enterprise resource planning or ERP. While she contends that ERP solutions should be at the top of any SMEs list of alternatives, the boundary between small business software and ERP can be unclear in the eyes of SMEs at earlier stages of business expansion.
Jutras stressed the importance for growing SMEs to get their back offices running smoothly. But not all SMEs perceive a difference between the business management software they presently use and ERP solutions. This presents difficulties in understanding why the benefits of moving to an ERP solution outweigh the initial investment. As a result, some SMEs may maintain the status quo of accounting software, such as QuickBooks, without looking for alternatives.
Hidden Costs of Small Business Accounting Software
Although small business accounting software may seem affordable, by continuing to use it beyond the early stages of growth comes with hidden costs as well. While small business accounting software supports the accounting function, what about all the other many processes and functions that a business needs to support?
Think of all the manual processes, spreadsheets, and web apps that must be manually integrated by sharing files between employees' desktops for instance. Bridging the gap between manually integrated modules and applications results in data entry errors while walking around to manage a business costs valuable time that could be better spent making important decisions. As Jutras puts it, the same software that got you where you are today, may not be the same solution to get you to the next stage of growth.
Recognizing the Impact of ERP Solutions
Jutras' research reveals that high growth companies are 64% more likely to recognize the impact ERP can have on the growth. This is a good start since the first step to overcome growth challenges is recognizing how much of an impact ERP can have on a business. Looking at areas such as CRM, financial planning and budgeting, supply chain management, sales and operations, human resource management, business intelligence, corporate performance management shows that companies perceive ERP to have the highest impact on growth.
Jutras' findings demonstrate that of the businesses surveyed, ERP benefits realized are considerably higher than those anticipated preceding the implementation of an ERP solution. What this says is that ERP provides great value that exceeds expectations in many areas including total cost of ownership. When you consider the anticipated versus realized benefits that SMEs experience once they move to ERP, it's clear that ERP offers business the best bang for the buck. Watch the webinar recording to for more compelling reasons why ERP solutions offer the best value for financial investment for an SME.