Many SMEs run their backend with software, but not all software is created equal—nor does it all support every growth stage. It's time for ERP.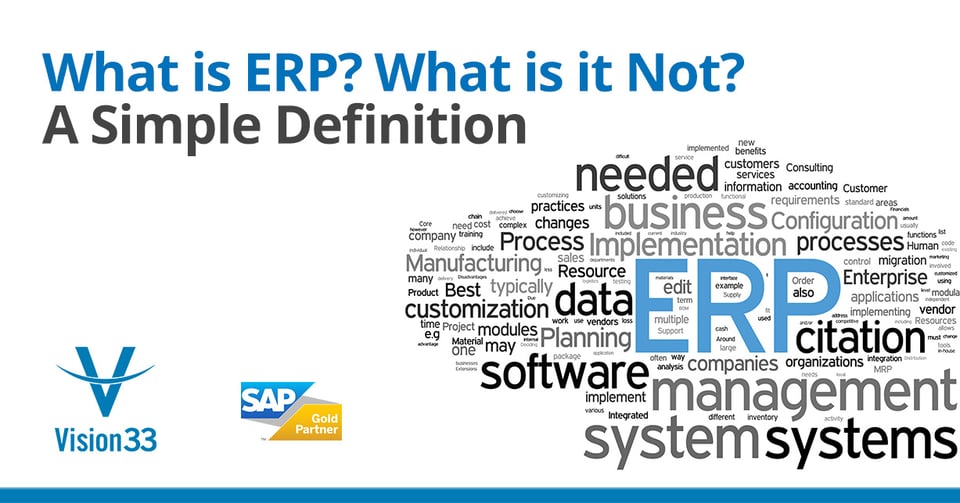 American economy's most dynamic segment – independent small and midsized businesses (SMEs) – is also one of the fastest growing. At Vision33, we understand how technology can be used to support SMEs growth. However, there exists ambiguity surrounding business management software terminology such as "ERP." While many SMEs use software to run their backend, not all management applications are created equally, nor do they support a business at each stage of growth.
ERP (Enterprise Resource Planning) Applications
What is the simplest definition of ERP? Although not everyone defines ERP the same way, in simple terms it is a category of business management software; an integrated suite of modules that form an operational and transactional system of record for a business. Consider the processes that a company needs to run its operations: finance, HR, manufacturing, supply chain, services, procurement, and others. At its most basic level, ERP integrates these business processes into a single, integrated system.
Unlike other business management applications, world-class ERP solutions are anything but basic. The right ERP solution provides visibility, analytics, and efficiency across every aspect of a business. Using the latest technology, ERP solutions facilitate the flow of real-time information across departments, so businesses can make data-driven decisions and manage performance.
What Type of Business Management Software Are SMEs Running?
During a recent Vision33 guest speaker webinar, enterprise researcher, Cindy Jutras, president of Mint Jutras, shared early findings from a 2018 Mint Jutras Enterprise Solution Study. Jutras asked SMEs what business management software they used to run their business. 64% of SME respondents claimed they presently use an ERP solution.
However, when asked about the level of support for business functions such as marketing, financial planning, sales, and supply chain management, many of the respondents answered that these functions were "not well supported" by their current solution. These responses imply one of two things: that respondents haven't fully embraced the functionality of their current solution, or the more likely scenario - they're using a small business accounting application instead of a true ERP solution.
Let's Further Define What is ERP Software
In understanding ERP, it is important to understand that not all business management applications on the market are considered ERP. Although an SME may be presently running business management software, it isn't necessarily ERP. The distinction to be made here is that small business accounting software packages such as QuickBooks are not classified as ERP, since they only perform a limited number of functions – primarily accounting.
QuickBooks and other business management solutions are used during the earlier stages of business growth. However, as Jutras points out, sooner or later businesses outgrow them and are underserved by their functional limitations. The fact that SMEs are underserved with their current software means that there must be other applications used as businesses continue to grow and add support for greater functions. As a result, the number of SMEs that report that they're using ERP is misleading.
Challenges Associated with Business Management Solutions
The biggest complication associated with delaying the implementing an ERP solution is when a SME tries to plug the function gap with spreadsheet software like Microsoft Excel. Spreadsheets are problematic because they can disrupt audit trails and put into question the validity of data stored in them.
As spreadsheets files are passed around from employee to employee, it introduces the risk of human error in the data. Entering the wrong formula, or accidentally erasing cell's containing important financial data, makes reporting difficult and time consuming as an SME continues to grow. Soon, none of the applications talk directly to each other, and businesses becomes very inefficient and manually integrated.
Amidst the growth that the SMEs experience post-start-up, businesses eventually outgrow their small business accounting applications. As Jutras says in the webinar, "the system that got you where you are today may not get you and support you where you need to go" in the next stage of business growth.
Learn More in the Beginner's Guide to ERP
For fast-growing businesses, the time to shift from small business accounting software (e.g. QuickBooks) to an ERP platform may already be upon you. But how do you know for sure and where do you begin sorting through your options?
These are challenging and often complicated questions to answer, and in most cases, the available resources online don't clarify anything. For that reason, we consolidated all our early stage ERP resources in one place.