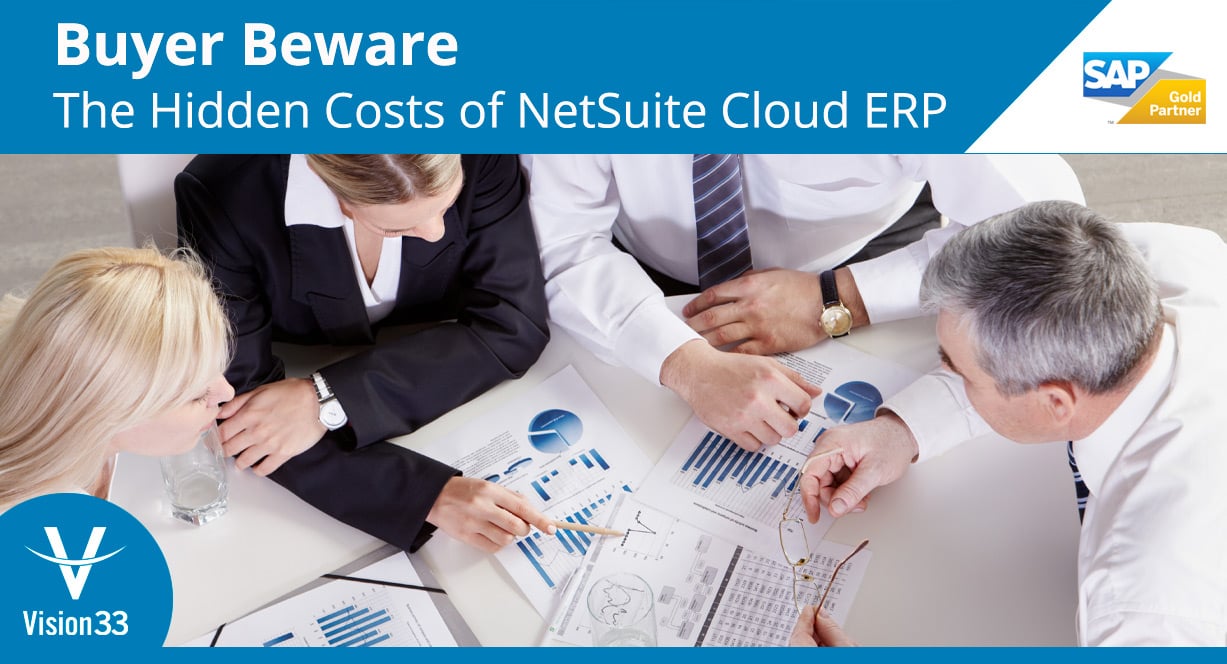 When choosing a new enterprise resource planning (ERP) solution for your company, cloud deployment offers many advantages over on-premise deployment – simplified IT, better security, and a lower total cost of ownership. And for businesses with a limited budget, cost is crucial when choosing an ERP.
Don't jump for the first inexpensive price tag you see, however – if the initial price looks too good to be true, it probably is. Many businesses are surprised to learn about the hidden costs of ERP solutions such as NetSuite.
Consider these areas before using price as the deciding factor for your next cloud ERP solution.
Missing Features? Add Some Modules – For a Price.
Your chosen cloud ERP may not be as robust as you think. One way vendors can offer low initial costs is by removing basic out-of-the-box features and selling them as add-ons. The NetSuite starter edition, for example, is a very scaled-down cloud ERP that offers financial features but not much else. The features you expect, like CRM, are available only as add-ons; getting them requires purchasing more software to fill the gaps, which increases the price.
Change Requests, Change the Price Point Too.
Sometimes it's difficult to anticipate what you'll need later. A barebones cloud ERP solution may look cost-effective, but the costs of change requests and new features add up quickly. SAP Business One Cloud offers a robust system from the get-go, including many of the essential business features you'll need today and tomorrow. You can 'turn-on' the modules and business functions when you need them without change requests, additional software vendors, or substantial modification to the initial system configuration.
Dealing with Multiple Software Partners Can Mean Dealing Out More Money.
Another hidden cost of cloud-based ERP implementation is software integration. It's crucial to consider the underlying ERP solution for your cloud-based ERP implementation, as not all solutions are equal. NetSuite charges customers on a connection basis and can't connect to apps that aren't native to the core NetSuite ERP solution (e.g., e-commerce sites and electronic data interchange) without third-party partners and expensive middleware platforms. The result? Mounting prices.
If you choose SAP Business One Cloud offered by Vision33, you get the benefits of working with a single ERP partner for the entirety of your ERP implementation, which reduces the number of vendors and decreases the cost of the implementation. Vision33 enables integration between existing applications and SAP Business One with solutions like Vision33 Interconnect. You can launch custom web applications and easily enable application-to-application (A2A) integration to ensure all company data resides in a secure, centralized location: SAP Business One.
The Price is Right with SAP Business One Cloud.
SAP Business One Cloud powered by AWS is an affordable ERP solution that scales as your business grows, allowing you to run smarter and drive profit. From financials and sales to inventory and production, SAP Business One Cloud gives you real-time business information from all areas of your company, allowing you to make smarter decisions – anywhere, any time.
Vision33 is the only SAP Business One partner worldwide that holds the AWS SAP Competency. With Vision33 as your global SAP Business One Cloud implementation partner, you can lean on our team to maximize your investment and take advantage of available features. Read SAP Business One vs. NetSuite to learn more about why SAP Business One Cloud offers greater value than NetSuite.