Embracing next-generation technology puts your business in position to leapfrog the competition. Choose the road to SAP HANA. Read the article.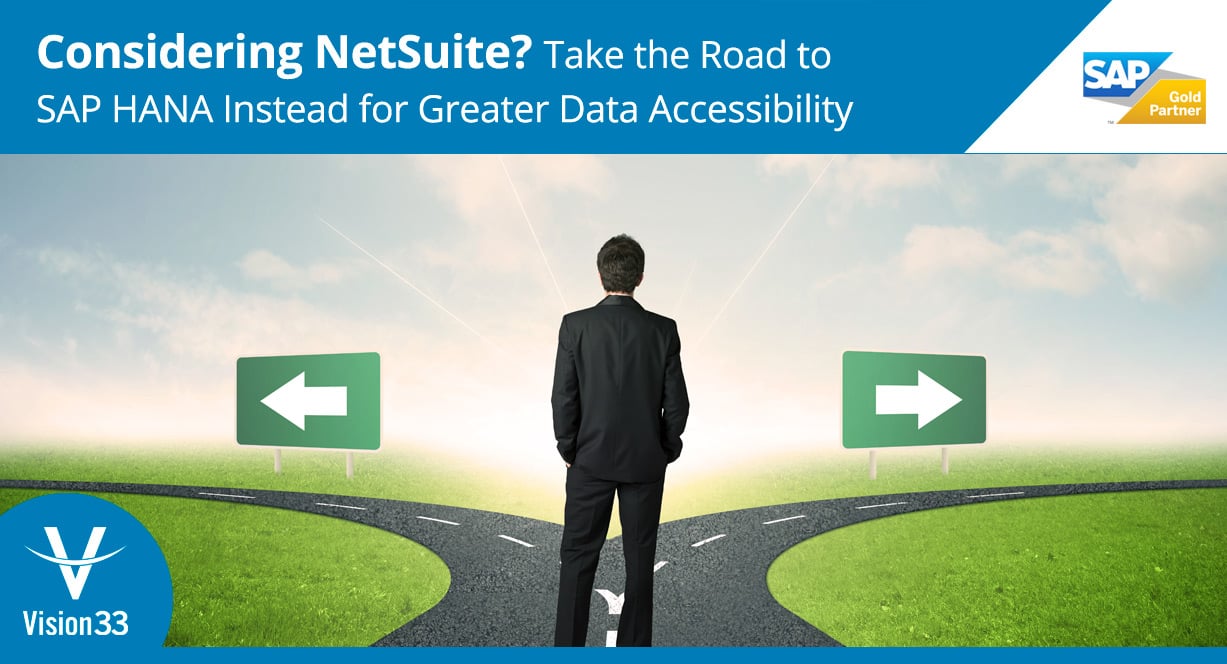 Embracing next-generation technology puts your business in position to leapfrog the competition – but when faced with options for your next business management solution, the optimal route may not be obvious. Many thorough ERP shortlists include cloud ERP solutions like NetSuite vs.SAP Business One HANA. NetSuite offers an affordable business management solution deployed exclusively on the cloud. SAP Business One HANA offers new architecture for information processing that can be built with your choice of deployment options on SAP's midmarket flagship ERP solution, SAP Business One HANA.
To help your business make an informed decision about your next ERP solution, step back and learn why SAP Business One HANA is the optimal choice for your business.
How Did We Get Here?
Business management systems have always served two masters. First, as systems of record, capturing transactions at market speed, processing and classifying them accurately, storing them reliably, and retrieving them quickly. This is called 'online transaction processing,' or OLTP, without which global commerce would grind to a halt.
Second, they function as business management systems, providing management a view of the past, present, and future state of their business. The systems do this by analyzing data collected in the system and presenting it insightfully. We know these management information systems as 'analytics' or 'business intelligence.'
But there's a catch: the processing needs of these two tasks are so different that enterprise IT has always created two separate avenues to conduct each one at scale. Originally, this was done by replicating data from the OLTP and reorganizing it to support the analytics/business intelligence. The data management cycle to handle this relocation and restructuring is typically called 'extract, transform, load,' or ETL, and it introduces delays, errors, and compromises.
The significant breakthrough of the SAP Business One HANA database is that it supports both OLTP and Online Analytical Processing (OLAP) simultaneously by keeping all the data in one copy, all in memory, all the time. This means different programs can look at data through different lenses and use the same data elements without delays, transcription errors, or compromises.
Why Big Data is a Big Deal
Analyzing data to obtain greater insight into business performance happens at breakneck speed. The SAP Business One HANA Difference Series explains how SAP Business One HANA server supercharges the already extensive and in-depth reporting capabilities of SAP Business One HANA. For now, the critical distinction between SAP Business One HANA and NetSuite is that tomorrow's business landscape will be dominated by businesses better equipped to leverage their data.
NetSuite's cloud ERP solution is a web-based application subject to consistent internet access. While this isn't an issue for businesses with high-speed internet, it's a problem when the solution has many third-party applications to build out the feature set to support business processes. For example, assume a business starts with an entry-level package of NetSuite. While the price tag might appear to fit the business's budgetary requirements, there's more to consider than price.
For every additional web application added to your base solution, requests for information are pulled into your version of NetSuite. This takes time out of your employees' workday each time they run a report or access a record. And while waiting only seconds per action seems minor, it adds up to too much lost productivity. There's nothing more frustrating than waiting for information you're supposed to be accessing in real time and losing money to lost productivity.
The platform upon which your ERP solution is built plays a vital role in your business growth. NetSuite is a pure cloud solution extendable through third-party integrations that slow access to your data, whereas SAP Business One HANA represents the centerpiece of SAP's innovation agenda for more than a decade. It's the core enabling platform upon which a universe of next-generation applications will be built, some by SAP, some by independent software vendors and systems integrators, and many by in-house enterprise IT teams around the world.
SAP Business One HANA is here to stay, and the cost-benefit analysis will continue to outweigh other cloud-based ERP solutions that aren't equipped with the intuitive and insightful analytic reports available exclusively in the platform. Run advanced predictive analytics, and you can out think – and out compute – your competition.
Transform Your Business' Analytics Capabilities
SAP Business One HANA has the in-memory computing power to supercharge your business's ability to analyze data in real time and boost speed performance. SAP Business One HANA eliminates the layers of complexities and unnecessary business costs common in legacy IT architecture and endemic in cloud-based ERP solutions like NetSuite – so your business can run smarter, faster, and simpler.
Read SAP Business One vs. NetSuite: A Software Comparison to learn why you should choose SAP Business One HANA.