SAP vs. QuickBooks: what are the differences? Find out why small businesses are switching to SAP's midmarket ERP solution SAP Business One.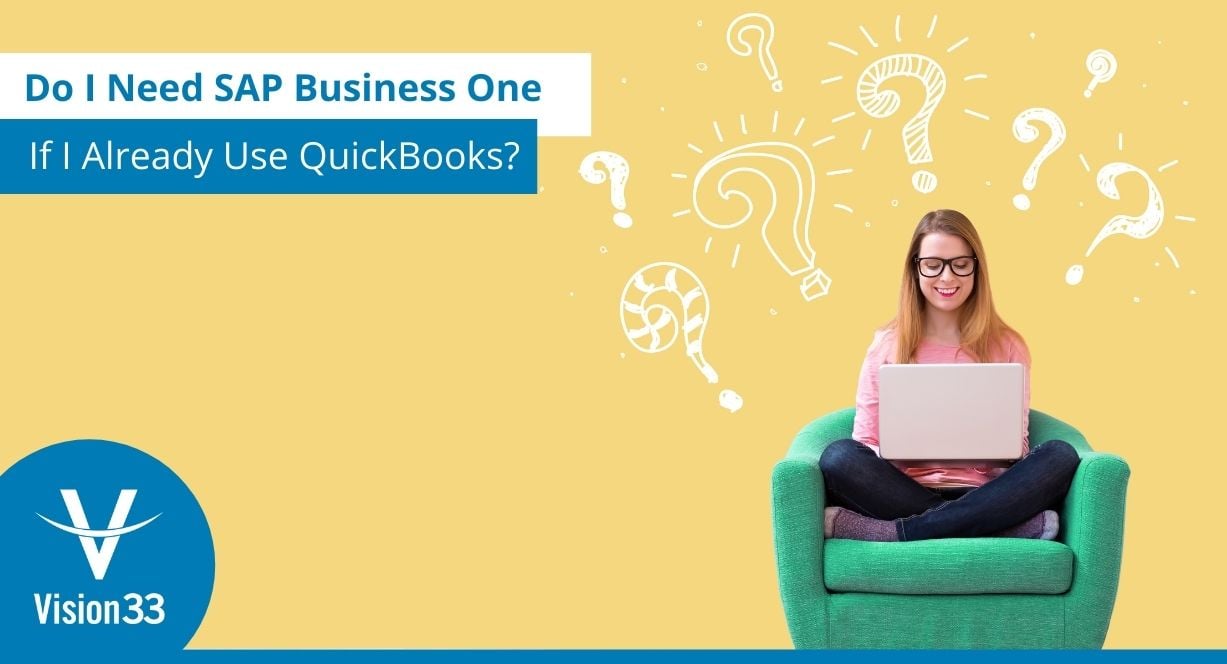 Many startups choose QuickBooks because it's well known, easy to use, and offers straightforward accounting capabilities. It's an ideal choice to get a business up and running, but for many businesses QuickBooks loses its luster once meaningful growth occurs.
Some businesses, however, are satisfied with their QuickBooks investment and question why they would ever switch to a 'big ERP' solution like SAP ERP. They ask, "Isn't that software for large enterprises?"
Today we tackle QuickBooks vs SAP Business One to clear up ERP misconceptions and explain the differences so you understand why so many growing businesses are moving to ERP solutions like SAP Business One.
Is QuickBooks an ERP System?
No. QuickBooks is in a different category – it's accounting software that can be delivered on-premise or in the cloud. It manages accounting processes, tracks expenses and income, and automates business processes to improve how you do business with customers.
But consider your five-year plan and the rate of your business's growth. What processes will you need later? Whether it's more in-depth inventory management, human resource management, or real-time business reporting, your business will become more complex and its needs will continue to evolve.
Outgrowing QuickBooks
From startup to milestones like launching new products/services and hitting higher revenue targets, each stage of business growth comes with a change in process requirements for your business management software. Unlike accounting software such as QuickBooks, which primarily covers accounting functions, ERP grows with you.
What Is SAP ERP?
ERP stands for enterprise resource planning. ERP enables you to connect the core functions of your business, including accounting, manufacturing, finance, and supply chain. A connected system allows you to share information across all departments – from production workers to the CEO – for enhanced visibility into all aspects of your operation. SAP, a financial systems leader, is well known for their ERP solutions, but they don't just publish ERP for large enterprises anymore; they offer solutions for small to midsized enterprises (SMEs) too.
What Is SAP Business One?
SAP's midmarket solution, SAP Business One, isn't a watered-down version of their large enterprise solution. SAP Business One gives growing businesses an affordable way to manage their entire business and is purpose-built for SMEs. So, in addition to the functionality you're accustomed to in QuickBooks, you also get a deeper feature set for accounting, financials, purchasing, inventory, sales and customer relationships, project management, operations, and human resources. SAP Business One streamlines processes and provides greater insight into your business so you can act quickly and make sound decisions based on real-time information to drive profitable growth.
Whenever your business is ready to build out purchasing and inventory control from requesting vendor quotes to creating purchase requests and paying vendors, you can enable that functionality without purchasing additional applications to fill the gap in QuickBooks's functionality.
Understand the Difference Between SAP vs. QuickBooks
While QuickBooks may fulfill your accounting needs today, that may not be the case tomorrow. The next logical step for a business with maturing processes is implementing a business management solution that grows with those processes. With ERP, you won't need to replace your software and disrupt business at each new growth milestone.
To learn more, download Vision33's free, simple guide comparing small business applications like QuickBooks to ERP solutions.