Are inefficiencies arising in your warehouse? Regardless of the size of your business, poor quality data can impede future growth. Learn how manufacturers can increase efficiency by adopting an ERP solution. Read the article.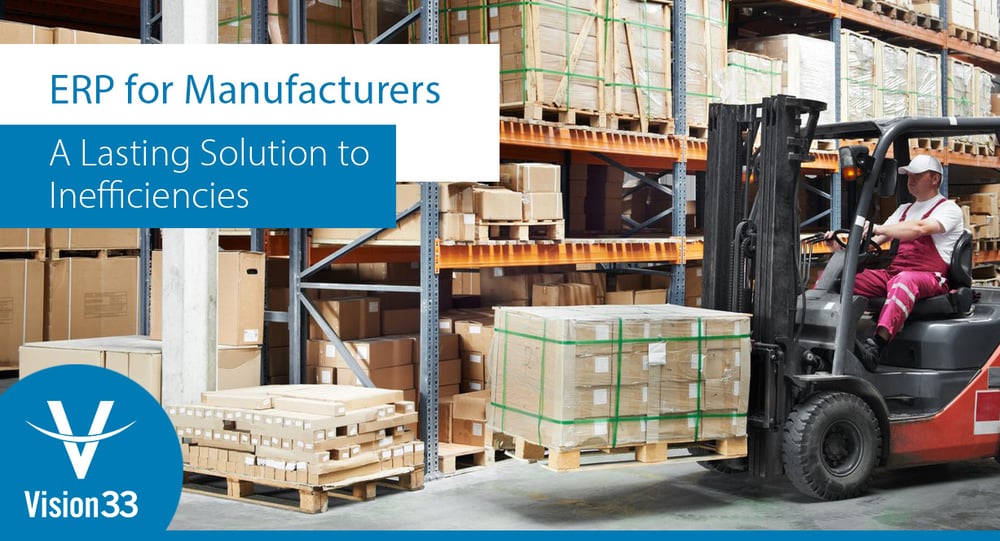 Inefficiency is a key challenge for all manufacturing businesses whether big or small. Inefficiencies can occur at any stage in the manufacturing process and its impact on businesses can be costly. How can a business overcome these inefficiencies and take charge to ensure they don't hamper the momentum of a successful manufacturing operation? Read on.
The first thing to determine is where are these business inefficiencies originating. There could be inefficiencies arising from the use of poor control systems, poor quality data because of disparate systems, or poor machinery amongst others. It is important for every manufacturing business to map out its processes to identify areas of inefficiencies and deal with these without delay, but it can be challenging if the business lacks the suitable technology, or resources to carry out this exercise.
Enterprise resource planning (ERP) solutions are powerful process management programs that manufacturing businesses can use as a lasting solution to drive out inefficiencies from their business. Here's a few of the ways ERP systems supported by an ERP partner can improve efficiency for manufacturers.
1. Integration
ERP systems integrate business processes onto a single database so that departments and functions within a business freely exchange information on a single platform. Manufacturing processes can be quite complex, as it often involves a number of stages to manufacture items from raw materials to the finished product. With integration, it is easier for manufacturing businesses to monitor and manage processes like customer orders and production schedules through to the delivery of goods. Integration also makes it easier to identify areas of inefficiencies within the business.
2. Full Traceability of Resources
ERP systems have built-in features that help manufacturers trace the path of a product right from the supply of raw materials to the production of the finished product. This improves efficiency in many ways; for example, it becomes much easier to identify product defects and other issues that affect production. ERP systems help manufacturers identify these issues early in the manufacturing process which gives them the opportunity to remedy any issues before a product is released to the public or direct customers. It makes it easier to identify suppliers concerned with defective goods and can help manufacturers with performance management. Products can also be traced across single or multiple sites, removing the inefficiencies that arise from spending a lot of time trying to locate products.
3. Limit Data Duplication and Human Error
Manufacturing processes can involve some quite repetitive and mundane tasks. Using an automated ERP system to carry out these tasks, many of which have a predictable pattern and do not require much thought, limits human error and improves the accuracy of critical business data. ERP systems are also able to identify duplication in manufacturing processes. Businesses then can restructure their processes to remove duplication, which contributes to increasing overall productivity and output for the business.
4. Better Decision-Making
ERP systems provide up to date data from all aspects of the business. Decision-making processes become quicker as data from all aspects of the business is available immediately on one user interface. There is also better-quality data that is free from error and gives a more comprehensive picture of the state of the business as opposed to data on limited aspects of the business.
5. Unique Features Tailored to Your Business
ERP systems are flexible systems. They can be designed to fit the unique features and needs of your business. They can also be improved to take into account changes to your business processes as your company evolves.
This is important because using a system that is not well tailored to your business can cause significant business interruption if it is not compatible with your existing systems and processes. The downtime and business interruption that can arise from this is something every manufacturing business should seek to avoid.
To learn more about ERP solutions for manufacturers designed to be a lasting solution against inefficiency and support all of your manufacturing processes, download the solution brief.