Learn how The Saltbox Platform streamlined Fall Creek's global operations, allowing the company to focus on strategy and continued growth. See case study.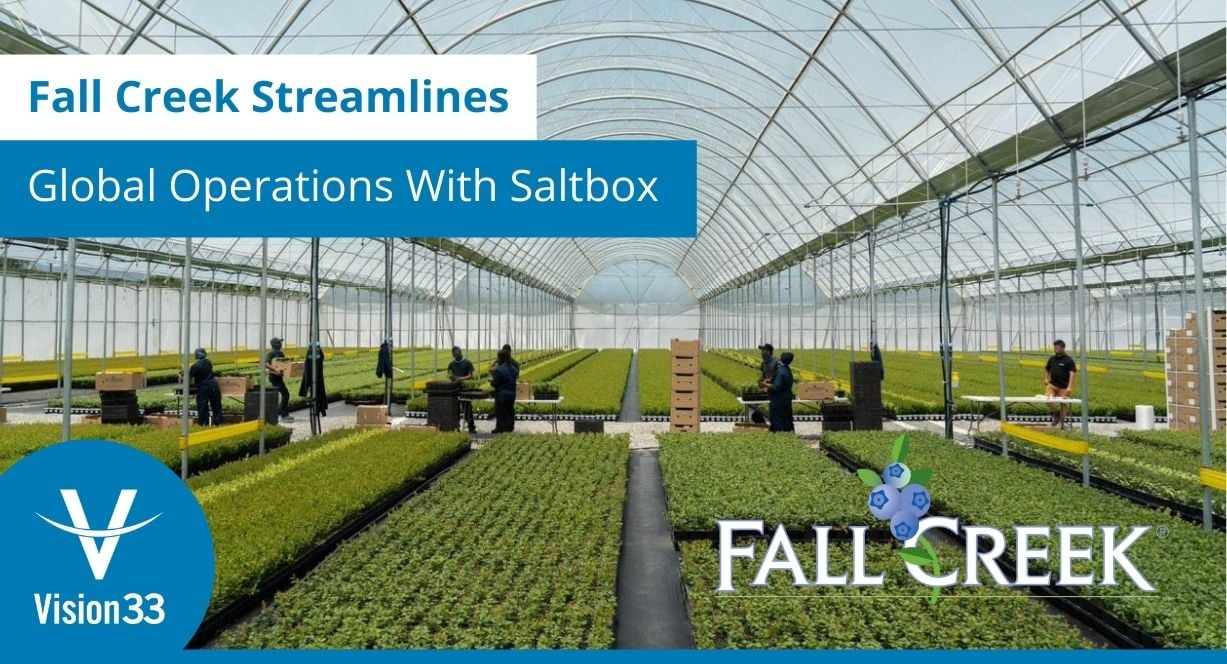 Headquartered in Oregon and in business for nearly 40 years, Fall Creek focuses on blueberry genetics, plants, and grower support delivered to the world's premier blueberry growers. Its primary mission is to serve blueberry growers with best-in-class genetics and plants, technical know-how, and global market intelligence.
Fall Creek runs wholly owned nurseries in Mexico, Peru, and Spain and has a global team of breeders, researchers, propagators, nursery professionals, grower support technicians, sales representatives, and customer service experts. The company serves customers throughout North, Central, and South America, Greater Europe, Asia, and North Africa.
The Challenge
Fall Creek's rapid growth and international expansion led to over-reliance on disconnected systems and six standalone databases to manage inventory, royalty agreements, supplier information, customer data, and country-specific requirements. A lack of integration meant team members logged in and out of all six databases to manually enter data – taking up to 30 minutes for each entry. Because Fall Creek's items can have thousands of codes, the company was wasting hundreds of hours managing its data.
Fall Creek needed an integration solution to connect its databases to SAP Business One, its enterprise resource planning (ERP) solution. Unfortunately, integration options were limited, complicated, and expensive.
A Fresh Solution
Luckily, Fall Creek found The Saltbox Platform. Saltbox, a born-in-the-cloud integration platform as a service (iPaaS) developed by Vision33, is the ideal integration platform for SAP Business One. Vision33 helped Fall Creek quickly implement Saltbox, and the company established a master data repository integrated with SAP Business One.
The Result
Within a few weeks, Fall Creek integrated their master data and replicated it between their subsidiary companies worldwide. Data management that took hundreds of hours per year now takes only 10-20 hours, allowing the company to focus on strategy, continued growth, and its aim to build A World with Better Blueberries™.
And because Saltbox is so easy to use, team members continuously add functions and workflows to the master data integration with SAP Business One. They even plan to integrate financial consolidations and the 'Business One/Salesforce CRM' integration on their own.
Get the Full Story
To learn more, including how much money Fall Creek is saving with Saltbox and the company's future integration plans, download the case study below.