Integration platform as a service (iPaaS) solutions facilitate integrations across tech stacks and deliver unprecedented operational efficiency.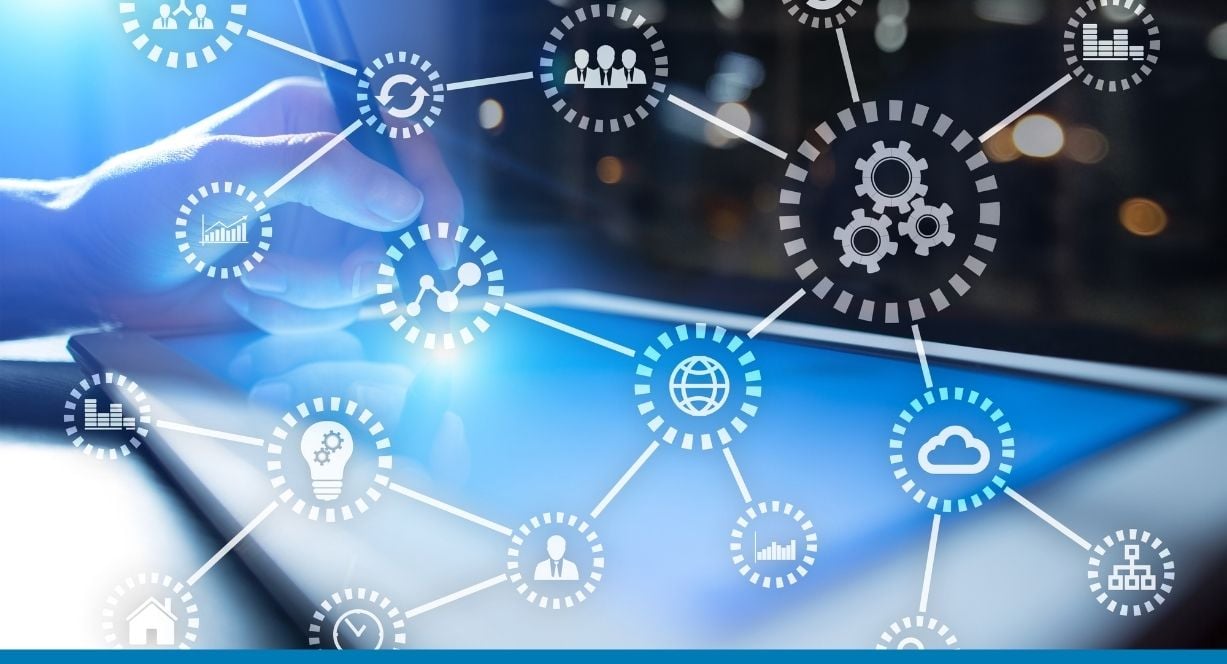 Small and midsized businesses are transitioning to cloud services and adopting best-of-breed software as a service (SaaS) applications in droves. SaaS solutions give line-of-business teams tremendous agility at a lower cost than their less flexible, on-prem brethren. However, when integrating these apps into the tech stack isn't part of the adoption strategy from the start, operational efficiencies and extended value from your investment is overlooked. After go-live, the line-of-business team who "owns" the solution starts dreaming about their wish-list of integrations and automated workflows, only to ask their small and already overwhelmed IT team to make it happen.
Managing these "after thought" point to point integration solutions becomes unwieldy as the tech stack grows, especially for small IT teams. This is why integration platforms as a service (iPaaS) were created – to facilitate seamless integrations across entire tech stacks, harmonize master data sets and deliver unprecedented levels of operational efficiency.
According to Gartner, an iPaaS solution is a suite of cloud services that connects a combination of processes, services, applications, and data within a company or across multiple companies. These platforms, provided by technology vendors offering integration services on a public or private cloud, allow organizations to connect third-party applications, services, and databases to just about any business system, including ERP, CRM, Logistics, eCommerce and more.
A significant benefit of iPaaS is that the solution provider is responsible for maintenance, updates, upgrades, and security. This means that IT resources don't have to worry about broken integrations or workflows every time one of their systems is upgraded. They are actually free to focus their efforts on their core business, and not on becoming integration experts.
Do Integration Platforms Mean the End of Point Solutions?
An iPaaS seamlessly integrates a business's entire tech stack while eliminating the complexity of creating and maintaining numerous (and usually decentralized) point-to-point integrations. However, integration point solutions are valuable in certain scenarios, such as for startups that run only a few web-based apps or retailers that sell their products via a single eCommerce store and outsource fulfillment to a single service provider. For them, an iPaaS may take more time than performing one-off integrations.
Point solutions also make sense when a company's developers feel they can code quickly and create an integration that's easy to deploy and modify. After all, integrations frequently must change when a business expands, adds services or channels, or changes businesses systems. Point solutions also make sense when connecting just a couple of SaaS applications. Many SaaS applications come with targeted integration tools customers can easily configure.
However, customers who use a full-featured ERP system should avoid creating multiple point-to-point connections to SaaS because they can quickly add up and cause confusion, workflow errors, data loss, and high expenses to regain control of the environment.
The Major Shortcomings of Point Solutions
As your business grows, you'll need different, and possibly more systems and applications to operate efficiently. However, with the promise of every new or replacement system comes unexpected challenges.
Having data stored in multiple systems creates volumes of manual work including data downloads, uploads, duplicate data entry and reconciliations. Accuracy becomes a concern for decision makers as well. Mistakes and poor-quality data could lead to bad decisions. Using point solutions to integrate those systems helps solve those operational challenges faced by line of business, but creates a new set of headaches for IT.
Every new or replacement application in your stack may need to integrate with more than one system. A quick exercise of drawing 4 circles, where each represents a business application or data set, demonstrates the dilemma. Once 4 circles are drawn, draw a line to connect each circle. Each of those lines represents one integration. In other words, 4 circles (business apps) resulted in 6 lines (separate points of integration). Repeat that same process using 6 circles and you'll generate 13 separate integrations. Each must be closely managed and monitored, especially as systems are updated or fields of data are added or changed to deliver more control and insights to your business.
What's more, point solutions can't deliver a centralized view of business transactions or performance. Why? Because each integration is individually programmed, data remains decentralized, flowing from one system to another. Business insights can only occur when mission critical data is systematically aggregated in a single place for analysis– an impossible task for point integrations.
So as your tech stack grows, point systems prove to be a labyrinth of challenges which can erode the ROI of your tech stack.
Do You Need a New Integration Strategy?
There are a few classic signs that your business may benefit from a new integration strategy:
Your technology stack is evolving and causing disruption to business processes

You have a strategic initiative to improve reporting or centralize data sets

One or more lines of business want to improve operational efficiency by deploying automations and workflows that cross multiple mission critical systems

Building, maintaining, and troubleshooting integrations and workflows has become a financial and operational burden for the business
Your answers to the following questions could provide additional evidence that a new approach would benefit your business:
Does IT know about and manage all integrations throughout the company? Line of business teams often drive and define department level integration efforts and workflow projects. And they should. They know what they need better than IT does. However, planning and implementing are two different animals. With IT resources at full capacity, desperate LoB teams push forward and get in over their heads, sometimes creating new issues for themselves or IT. It's important that IT catalog and centrally manage any and all integration points.
Are your point integrations and workflows well documented? Undocumented integrations create all kinds of challenges. Each time software is upgraded or a workflow changed, teams must identify which integrations are affected so they can be properly maintained. This gets even harder if the person who built the integrations is no longer with the company -- companies must rebuild that knowledge base from scratch. By carefully documenting how the integration was built and what it accomplished, you'll avoid lots of heavy lifting down the road.
Are the integrations easy to document? Consider every integration you have, including core systems like ERP, electronic data interchange (EDI), sales channels like Amazon and eCommerce stores, cloud-based tools, etc. If the answer is not a clear 'yes,' it's time to consider an iPaaS.

Do we use unofficial integrations or 'shadow IT'?

Modern workers frequently use

unsanctioned cloud services to get their jobs done faster and easier. Unfortunately, integrating shadow IT exposes your company to substantial security risks. In-house central management of all integrations will mitigate some of that risk. Transitioning to an enterprise-grade, SOC2 compliant iPaaS system eliminates it.
Some Key Advantages of iPaaS
Once you've concluded that a new integration strategy would benefit your business, you will want to consider alternatives. This section outlines the pros and cons of Integration Platforms as a Service (iPaaS) to help you decide if they could work for your business.
The functionality inherent to iPaaS solutions delivers a broad range of business benefits from fast time to value, low TCO, increased operational efficiency, harmonized, centralized data and more. It also facilitates the following capabilities:
Company-wide integration. While an iPaaS is a cloud-centric solution, it can extend far beyond the cloud. A leading iPaaS solution connects on-premises and cloud systems, enabling your business to maximize the ROI of your existing investments in CRM, ERP, WMS, eCommerce, and more.
Rapid integrations. An iPaaS solution dramatically reduces, or even eliminates the need for coding to build an integration. Some iPaaS vendors offer pre-built connectors for commonly used business applications and systems or Universal API Connectors that connect with any REST API-enabled application. Even when a pre-built connector doesn't exist, an iPaaS-derived connection requires far less coding than a point solution.
Business agility. When you use an iPaaS platform to manage integrations, you can quickly add and remove apps and services without 'breaking' other integrations and workflows. So, when you want to take advantage of new possibilities, technologies, or partnerships, you can do it quickly and without disrupting your business.
People/Resource agility. One of the key trends in business technology is to democratize traditionally IT-centric technologies, making them easier for the less technical, line of business teams to use. Doing so enables those most intimate with the problem to play an active role in solving it and reducing the burden on IT. Employees with little to no programming knowledge can define and build the business logic they need while under the watchful eye of IT.
Business continuity. An iPaaS provider that delivers the platform as a certified cloud solution will also provide strong service-level agreements (SLAs) to back up the service they provide.
Centralized integration management. Rather than having a separate report for each integration, or in some cases, no report at all, iPaaS provides a single dashboard that displays near real-time stats for each integration, workflow or automation.
Identify and resolve issues quickly. Spotting and troubleshooting issues or failed transactions can be like finding a needle in a haystack. Easily spot failures from the dashboard and drill in to locate the root cause of the problem in a matter of minutes, not hours or days.
There are other factors to consider before choosing iPaaS for your integration needs.
The need to train non-IT personnel. Since iPaaS is easy to use, many non-IT employees can create integrations. Unfortunately, data security breaches and exposure can happen when people integrate data workflows without knowing data compliance rules. Therefore, you must train non-IT users to protect payment card data and comply with CCPA, FERPA, GDPR, HIPAA, and SOC2 rules.
Selecting the right platform and provider. The advent of cloud-based apps and services has given birth to a crowded landscape of cloud-native integration solutions. As a result, it's hard to know where to start so let's begin with a simple premise – integrating systems is not easy. It is complex. An ideal integration partner will know your industry, business systems, common business processes and best practices like the back of their hand. While the technology may be functionally capable of integrating anything, it doesn't mean that it will be done right. Domain expertise will ensure that the right questions are asked before any project begins. It's also important to understand who delivers the integration services. Many vendors deliver services through partners which adds another layer of complexity when something goes wrong. Other critical aspects to understand include what can the solution do, what does the delivery process look like, what are you responsible for versus the provider, what is the level of commitment.
iPaaS in Action: Vietri
Vietri, a high-end home products company selling Italian-made goods via eCommerce, runs its business on SAP Business One deployed in the cloud. Its SAP Business One is backed by electronic data interchange (EDI), a warehouse management system (WMS), and other advanced technologies. Vietri leveraged Vision33's iPaaS solution, The Saltbox Platform, a cloud-native integration platform to integrate their critical business systems and support their migration to a new eCommerce platform, Shopify Plus.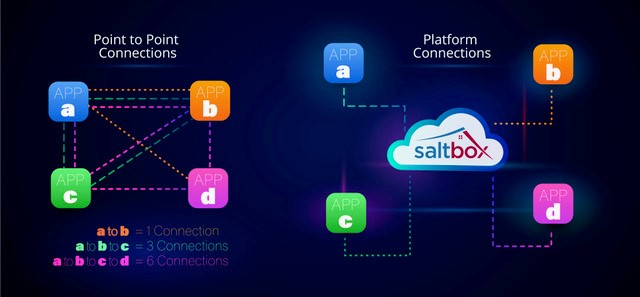 A single system administrator managed the entire integration without a single piece of code and in two weeks, Vietri's new online store was integrated with SAP Business One and leveraging bidirectional workflows.
Then, Vietri used Saltbox to create two additional integrations: one to streamline order fulfillment and another to pick, pack, and ship products. "When you have an intuitive, simple integration solution like Saltbox, you have the knowledge and time to do lots of stuff yourself," said Jody Davis, vice president of customer service and technology at Vietri.
Vietri finds Saltbox so easy to use it plans to simultaneously integrate a new warehouse management system and Logistiview, a new solution for smart picking, packing, and shipping. "We're going to change from N'ware to Produmex WMS for a warehouse management system. We're relying on Saltbox to do two huge integration projects side by side," explained Davis.
It's easy to find iPaaS success stories when reviewing an iPaaS like The Saltbox Platform. To read how businesses across multiple industries use Saltbox, visit the Saltbox customer success page below.