SAP Business One success story: Learn how FRC Group provides those in need with the comforts of home with help of Vision33 UK. Read the article.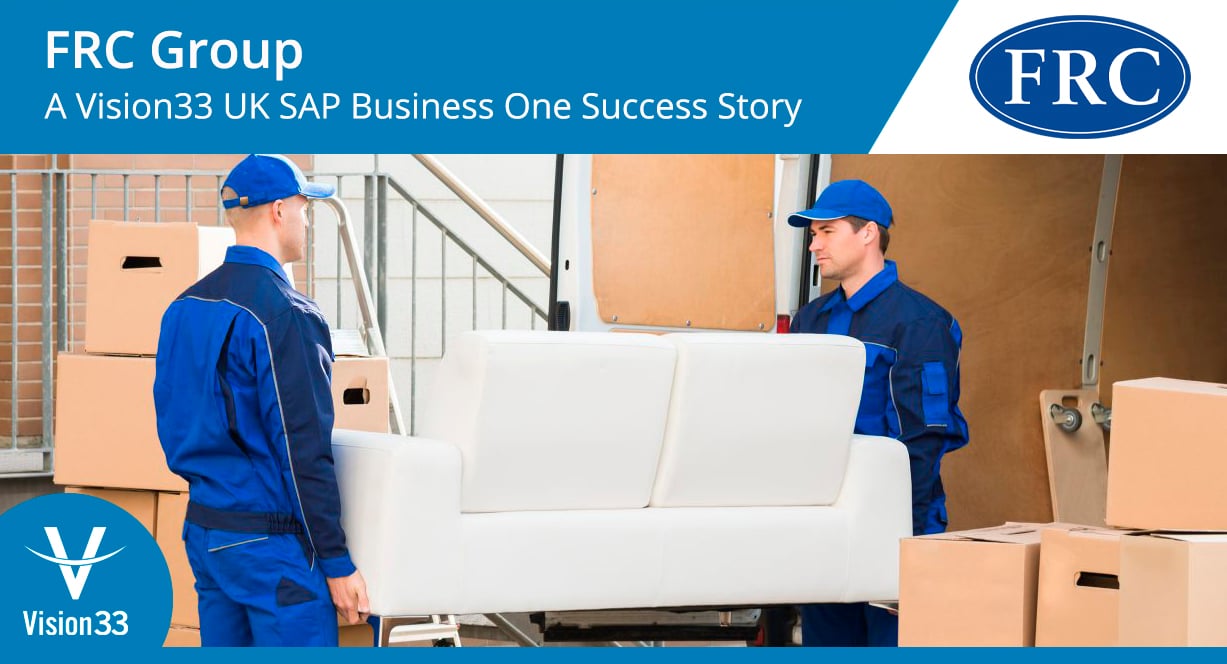 FRC Group is on a mission: to reduce and ultimately eradicate furniture poverty.
Furniture poverty is a hidden issue that affects millions of low-income households. Families are living without adequate furniture and appliances or they have taken on large amounts of debt to purchase the basic items they need. Here's their SAP Business One success story.
"There's more people in desperate situations now compared to 12, 18 months ago", explains Tony Rowan, FRC Group's Finance Director. "We'll outfit a whole house if we can".
Working with housing associations, local authorities and referral agencies, the Liverpool-based nonprofit organisation completely furnishes residences with new and 'preloved' furnishings. And FRC Group doesn't just provide the typical beds, couches and dining sets. They also carefully choose and install carpeting, curtains, and even provide kitchen essentials – making complete, comfortable homes for those in need.
The organisation's work also extends to the refurbishment of shared living environments like care homes and shelters. FRC Group consults with residents to learn what they want, from colour schemes to furniture, and redecorates accordingly.
Tony and his team also step in to help those who have experienced long-term unemployment or are working at low-paying jobs. "We give them opportunities, train them, develop them, and help them get a job elsewhere", Tony says.
A Worthy Mission Requires Powerful Technology
A massive amount of new and preloved furniture comes into and goes out of FRC Group's retail store and multiple warehouses every day. "We've grown quite a bit," Tony says. "And that's part of the reason why we thought we needed to source same-store systems and a new ERP solution".
Another reason was the organisation's old software couldn't track inventory and lacked a much-needed warehouse management system (WMS). It was also impossible to generate different types of reports. "The information didn't come out of our previous system the way we wanted, to enable us to know exactly how much we need to buy from different suppliers", Tony explains. "There was a lot of manual work that needed to go into it. With all of the tinkering around we'd have to do to get the system to deliver, it just wasn't cost-effective".
Realising this, Tony opted to start fresh with a modern enterprise resource planning (ERP) solution that would future-proof FRC Group and allow it to fulfill its mission more efficiently.
Choosing the Right Solution: SAP Business One
On a quest to find the right ERP solution, Tony did a lot of homework. He started as most of us would – with Google – but dug deeper by chatting with other nonprofit organisations to find out what they were using. Many recommended SAP Business One. "They were very impressed with it", Tony says. "And we thought it sounded right for us. It grades well on the warehousing and stock control side".
Finding the Right Partner
"We wanted a long-term partner", Tony explains, "and that's why we put a lot of time and effort into finding the right partner. We didn't want a partner who implemented for us and then left the scene".
Tony again sought the advice of other local charities, and one gave a review of Vision33. An initial discussion between Tony and a Vision33 UK Project Manager took place. "I was very impressed with the honesty and the feedback we got", Tony says. "It was obvious he knew the system inside and out".
A relationship started to form over further conversations. "We really got the impression Vision33 took time to understand our culture, our needs, our aspirations", Tony remembers. "It wasn't just a case of 'what is it that you do.' We felt that the cultural fit was built there between us and Vision33".
Looking Forward
With a solid partnership in place, Vision33 will help FRC Group use SAP Business One's bar coding and scanning capabilities to tightly manage its inventory and better run its warehouses. Real-time information and custom reports will give FRC Group the visibility it needs and will save the organisation time and energy.
With SAP Business One in place, Tony and his team can continue to focus on what they do best: provide those in need with the comforts of home.
What Will Your SAP Business One Success Story Look Like?
Interested in learning more about SAP Business One? See for yourself why over one million businesses in dozens of industries trust SAP Business One to drive profitable growth for their businesses. Contact a local Vision33 consultant today to schedule a live demonstration.