Siloed business systems? Here are a couple of ways to reduce noise in your business' communication channel and get SAP Business One and your systems talking to one another. Read the article.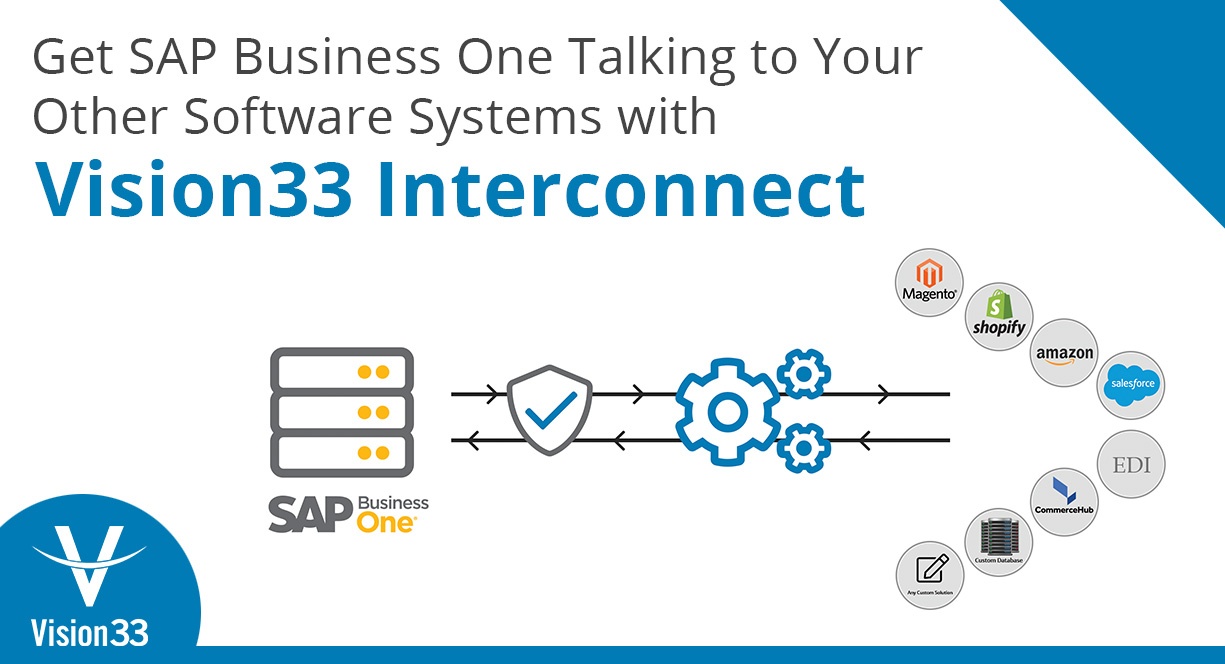 As your business grows and evolves, so too do the need for software to support the addition of departments and business areas. As a result, businesses often end up using multiple applications to support their operations without a way to automate the connection between them. In any communication channel, there's a sender, a receiver, and a pathway along which the data travels. Depending on your integration strategy that pathway might be very manual.
Growing businesses that use a vertical integration strategy for software may benefit in the short-term from the speed at which they can add support for a new function by working with a new vendor. However, in the long-term, this strategy results in noise in the channel which can hamper communications and slow down a fast-growing business.
Short-Term Gain, Long-Term Expense
While it may be less costly in the short term to adopt another non-integrated application to address a growing need for new business functionality, there are caveats. In the long run, cost-of-ownership is substantially higher for siloed systems since there is usually manual integration to standardize data transmission across these systems.

Manually integrated businesses use the physical transmission of data from one system to the next through paper printouts, spreadsheets, and file transfers. When dealing with the manual transmission of large volumes of data every day to and from multiple silos, the probability of data entry error increases exponentially.
Here are a couple of ways to reduce noise in your business' communication channel and get your systems talking to one another.
Limit the Number of Business Applications by Switching to ERP
As global IT professional services consultancy, Vision33, partners with growing enterprises whose communication channel is often manual – employees printing out paper reports and passing it from one person's desk to another for entry into the next disparate system. Manual data entry creates noise in the channel which impairs a business' decision-making. We recommend our customers move from small business accounting software like QuickBooks and great number of other applications to one business management solution, SAP Business One.

From financials and accounting to inventory and customer relationship management (CRM), all your key business areas are integrated to provide clear visibility into your entire business with SAP Business One. By capturing data into a single centralized location, you can access critical real-time information and make fast, informed decisions. You might say, "but what about the existing systems that we have in place that are already working well?" At Vision33, we feel that you shouldn't have to replace an application or process that's working well for your business when you transition to enterprise resource planning (ERP) solution and consolidate your core business processes.
Integrate Your business Management Solution
Vision33 offers Integration solutions for SAP Business One so that you don't have to stop using the familiar systems that are working well for your business. Like fitting together two pieces of a puzzle together, system integration is a process in which separate business applications are connected in such a way to automate and standardize the data as it enters and exits your software. The benefit of integrating your business applications to an ERP solution is well documented.
To learn more about how to remove noise from your business systems channel while keeping the systems what work, read the Vision33 Interconnect brochure.