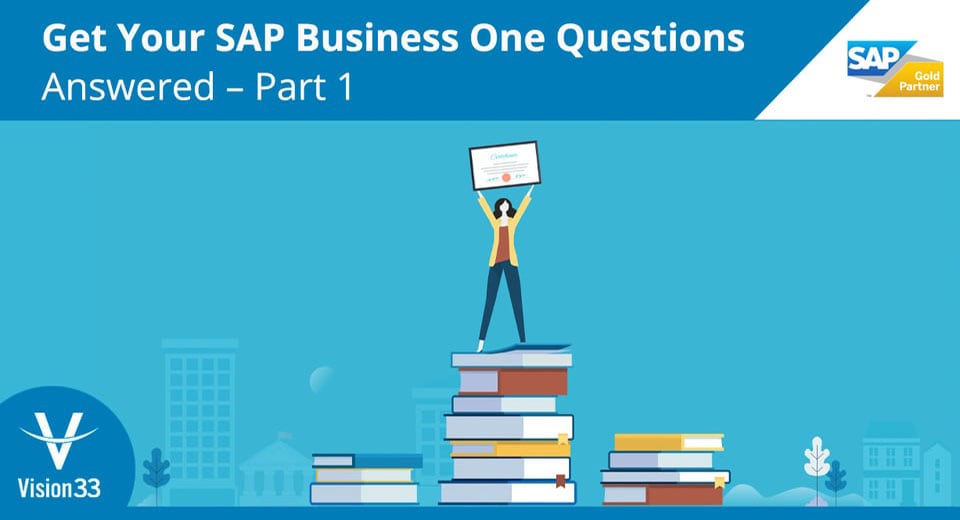 Whether you're new to SAP Business One enterprise resource planning (ERP) solutions or a seasoned veteran, it doesn't matter: everyone can use a little help navigating the solution's robust feature set. In this series, we'll answer the most common questions we receive from SAP B1 users. If you have questions, please leave them in the comments section!
How Much Does an SAP License Cost?
There isn't a simple answer to this, as many factors affect pricing. For instance, do you want a traditional on-premise implementation or SAP Business One Cloud on AWS? The cloud offers a lower total cost of ownership and utilizes a pay-per-use model, so you only pay for the resources you use. As your organization grows, you can scale SAP Business One Cloud to meet your business needs and the size of your employee base. Additional fees may apply to cloud storage beyond the base volume. This is just one consideration that affects the price of an SAP Business One license, so you should contact your nearest Vision33 office for pricing specific to your business.
What is Price List SAP?
Price List SAP is shorthand for the price list in SAP Business One. With this list, you can create different price lists for inventory items, allowing you to offer your customers customized prices. During the creation of sales and purchasing documents, SAP Business One derives item prices directly from a price list linked to a customer (or business partner, as they're called in SAP Business One).
How Do I Add a Price List in SAP Business One?
Follow these steps to add a new price list in SAP Business One:
From the SAP Business One Main Menu, choose Inventory Price Lists.
In the Price Lists window that appears, you can add a list several ways:

Right-click and choose Add Row from the context menu.
Choose >Data>Add Row from the menu bar.

A new active row appears at the end of the list.
In the Price List Name column, enter a name for the new list.
Click the Update button.
After performing one of the procedures below, click OK in the Price Lists window.
How Do I Update a Price List in SAP B1?
When you initialize SAP Business One, you define data for business partners, business partner groups, payment terms, and the price lists for customers and vendors. You'll revise and modify this data over time, resulting in always-up-to-date price information for sales and purchasing.
SAP Business One provides ten default price lists. You can also define new price lists, delete existing ones, and link price lists using multiplication factors. In each price list, you can define up to three prices with different currencies for each item and set different prices for each of the item's units of measurement (UoM). Maintaining different price lists for items makes it possible to set special prices and quantity-dependent discounts in each one, letting you offer your customers customized prices.
What is SAP Best Practices?
SAP Best Practices can mean many things. At Vision33, we offer resources built upon decades of experience with implementing SAP Business One. Through hundreds of successful projects, our consultants have devised best practices for customizing and using the solution to meet the specific needs of customers in multiple industries. We've also built an extensive library of resources to help growing businesses answer questions about the solution and empower their employees to use the application in the Vision33 Resource site.
Get More Enterprise Technology Resources
Take your ERP knowledge to the next level with free access to Vision33's extensive enterprise technology library of training materials. You'll find ERP tips and tricks, video demonstrations, product brochures, and more for enterprise technology. Select from ERP functional areas to expand your knowledge of specific solutions like SAP Business One as you grow your business. Sign up for free access today.