SAP Business One reigns supreme as the go-to ERP for SMBs. Learn about key updates and the benefits of working with an implementation partner like Vision33.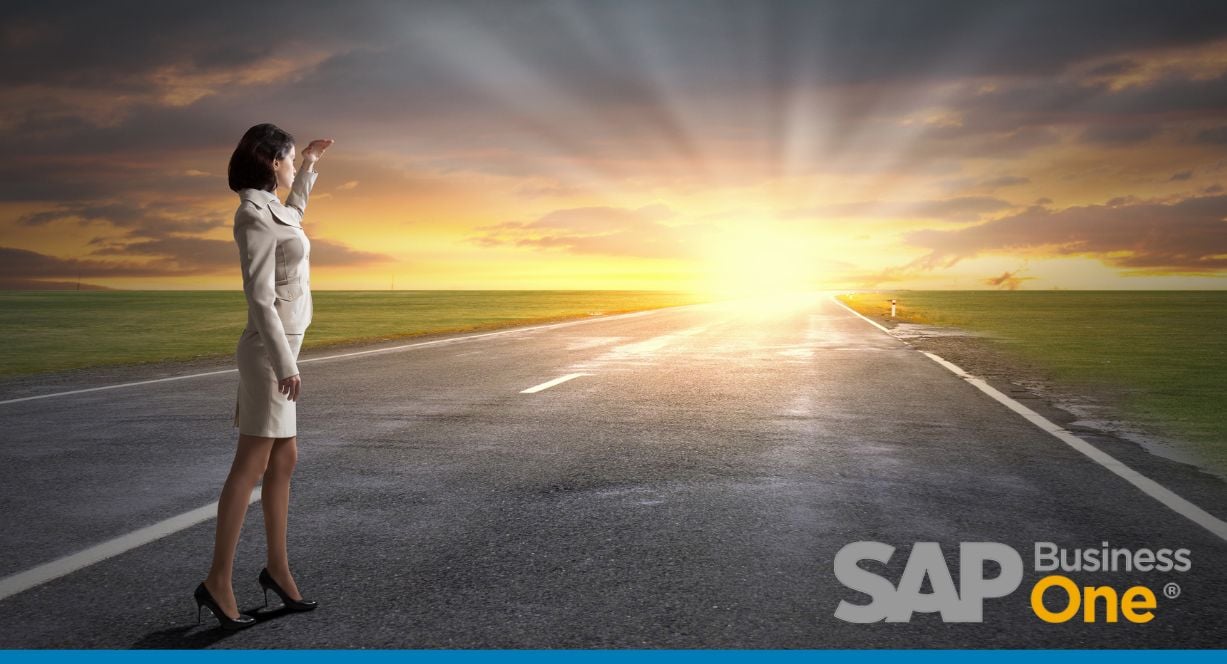 This is the second of two posts about the SAP Business One road map. Read the first post here.
SAP Business One is an affordable, easy-to-use enterprise resource planning (ERP) solution for growing small and midsized businesses (SMBs) and subsidiaries. Over 77,000 companies in 170 countries trust SAP Business One to run their operations.
Rainer Zinow, senior vice president at SAP, recently provided Vision33's SAP Business One customers with an overview of the solution's latest innovations. Our first post detailed SAP's significant investments and enforced security product standards.
Here are more highlights from Rainer's discussion.
Web Client
Web Client allows users to access SAP Business One via a web browser—an experience more users want.
Web Client offers the SAP Business One core business logic and processes in a new experience based on the SAP Fiori design concept. It includes powerful, built-in analytics for improved decision-making.
Business processes currently covered by Web Client include sales and purchasing documents, payments and journal entries, items and business partners master data, inventory documents and bills of materials, document drafts and approval processes, and customer relationship management (CRM), service, and timesheets.
Intelligent Automation
Intelligent Automation for SAP Business One goes hand-in-hand with today's hot topic of artificial intelligence (AI). Rainer says when SAP asks companies what they want from AI, a common refrain is, "We want to do more with fewer people."
And that's what automation allows.
SAP delivers seven automation best practices as part of SAP Business One, including a Product Return Request automation workflow. The automation scripts can be downloaded and activated from the SAP store. Rainer advises users to consult their partners to ensure they get the most out of Intelligent Automation for SAP Business One.
SAP Sustainability Footprint Management
Rainer says the "secret sauce" of SAP Business One is the variety of extensions Vision33 and other partners offer.
SAP also provides new business capabilities, including carbon footprint management, which is especially common in Europe.
SAP Sustainability Footprint Management is built on SAP's business technology platform and integrated with SAP Business One.
This solution, coupled with the creation of energy flow models, allocates how much energy is consumed with each production step and shows the footprint of individual products.
SAP Digital Currency Hub
More companies want to use digital currencies, and SAP is gearing up.
The SAP Digital Currency Hub will allow SAP Business One users to accept and make global crypto payments and control and manage crypto holdings.
Click here to register for an SAP Digital Currency Hub test drive.
Vision33, SAP Business One, and the Cloud
Vision33 is a multi-award-winning SAP partner, and we love helping businesses streamline processes, expand into new channels, and outperform their competition with low-risk technology investments.
We've lived and breathed SAP Business One for over 20 years and have partnered with hundreds of businesses for successful SAP Business One implementations.
Most companies choose a cloud-hosted—versus on-premises—SAP Business One deployment because the cloud is affordable, low maintenance, and secure.
Vision33 offers comprehensive cloud hosting solutions for SAP Business One to protect, optimize, and support customers' SAP Business One systems.
Cloud hosting benefits include:
World-class architecture. SAP Business One is supported by a rich suite of Tier 1 technologies and premium services.
Full management. Everything is taken care of for you, from patching to system health and security monitoring.
Affordability. Hosting that's designed and priced for SMBs.
Robust solution portfolio. Do more with SAP Business One by extending its core capabilities and integrating it with partner solutions.
24/7 support. Access training, unlimited support tickets, and around-the-clock support from the moment of deployment.
Ironclad security. World-class technologies and services optimize performance and protect businesses from downtime and data loss.
Businesses can choose public or private hosting. Click here to learn about Vision33 Public Cloud for SAP Business One and here to learn about Vision33 Private Cloud for SAP Business One.
Dive Into SAP Business One With a Demo
If you're just beginning to explore SAP Business One and how it can drive your business forward, join Vision33 for a live demo to see how it has everything you need to simplify processes, make data-driven decisions, and get more done.