SAP Business One's BOM report demonstrates its potential when used as the basis of an intelligent forecasts. Watch the video.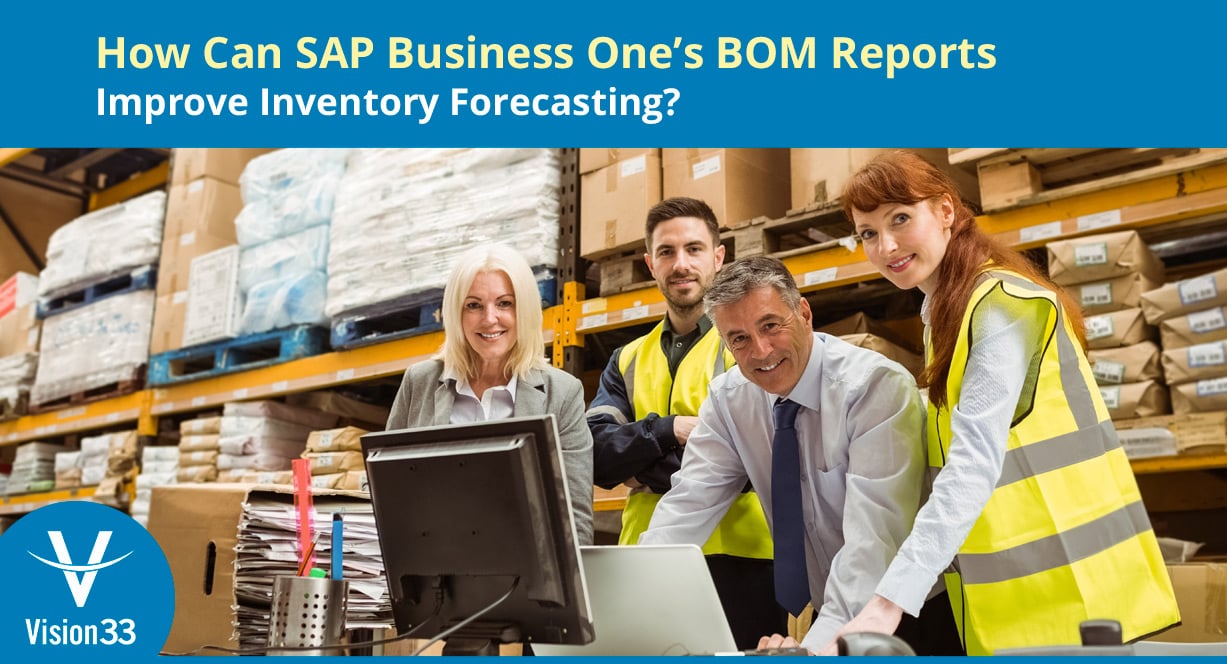 SAP Business One provides growing small-to-midsized enterprises (SMEs) with versatile real-time reporting to multiple areas of your business. The Bill of Materials (BOM) report, which we've covered extensively on Vision33's blog, illustrates this benefit well. The report offers a complete picture of your manufacturing resource planning (MRP) process, while also allowing users to easily find information relevant to their role within the company.
For planners within your organization, the BOM report demonstrates its usefulness when applied as the basis of inventory forecasts. The 'Intelligent Forecast,' report predicts material requirements by looking at previous customer orders and associated BOMs and then using advanced algorithms to provide recommendations on future inventory requirements. In this way, the BOM report doubles as a way to guide your manufacturing process, while also helping your planners make intelligent decisions.
How Does It Work
In SAP Business One's production module, open 'Forecasting', then the 'Item Group' screen. Here you can select the data group you want to use to generate an intelligent forecast. You also have the option to choose the calculation method for the forecast: either 'Triple Exponential Smoothing' (TESM) or 'Linear Regression with Damped Trend and Seasonal Adjust' (LRDTSA), both very powerful algorithms.
This will show your sales history for finished goods with a useful graph to help you visualizes fluctuation over time. Each of the finished goods listed has a multilevel BOM associated with it for greater transparency and a holistic view of production. Using the sales history, you can predict product needs for the future and generate a forecast automatically. With a forecast now in the system, the MRP will provide you with an 'Order Recommendation'.
Order Recommendations
By selecting the 'Order Recommendation' function from the MRP modules, you will get data-driven insights into your production needs. Based on actual sales demand, any work orders received will balance supply and demand across the board - letting you know when to buy materials. Additionally, if a customer places an order with a specific due date, you can create a purchase order with a suggested release date to ensure that you meet the MRP lead time. If there are any due dates in the 'Order Recommendation' report that appear in red text, that means they are past due and require attention.
Regardless of the user, SAP Business One facilitates greater interaction with your company's data by making it accessible to those that need it. Reports are comprehensive and versatile. They provide a complete picture of what's happening without the need to create and reference multiple static reports. To learn more about the intelligent forecast in SAP Business One, watch our video demonstration.