Digitizing your business management systems? Consider SAP Business One Cloud if increasing your resilience is a high priority.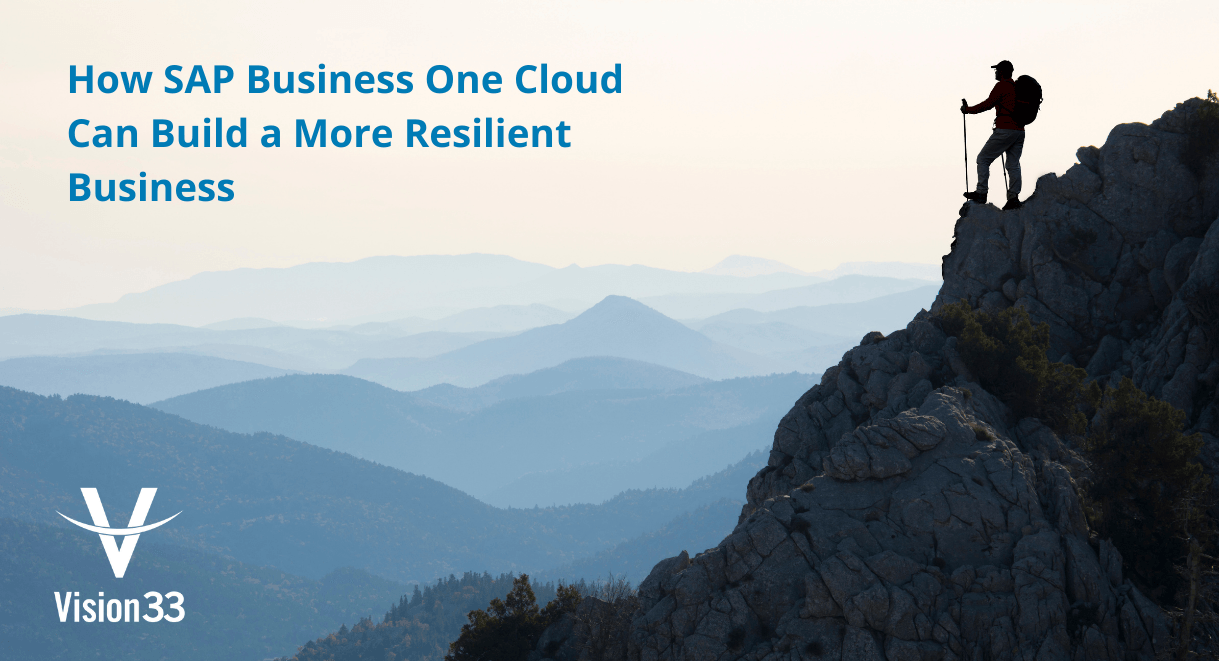 Disruption, risk, change, volatility. Challenges like these affect how small and midsize enterprises (SMEs) strategize during a global pandemic. When remote work is the norm, supply chain disruptions are common, and demands fluctuate in usually reliable industries, it's time to graduate to deploying your enterprise solution in the cloud.
As you contemplate digitizing your business management systems, consider platforms delivered via the cloud if increasing your resilience is a high priority.
Market research company IDC found that adopting cloud technology is a critical ingredient in helping businesses increase resilience. An enterprise resource planning (ERP) solution like SAP Business One Cloud can form a central hub for your business – and a starting point for digital transformation.
The Benefits of Cloud ERP
Vision33 has seen a steady increase in businesses using enterprise technology to pivot their production strategies, shift components sourcing, and deliver reliable, sustainable, and profitable products.
The cloud ERP allows them to:
Improve visibility into revenue, costs, and cash.

Proactively manage the supply chain network.

Provide a flexible and remote work experience that is secure and compliant.
By centralizing your data into one system that manages every aspect of your business, you can comprehend your cash position at a moment's notice, allowing you to anticipate needs before they arise. Cloud-based ERP systems effectively integrate customer activity with operations, order fulfillment, and post-services. The cash-to-cash cycle is visible to management, who are often pressured to make quick decisions – with the appropriate security and control.
Ineffectively managing your supply chain when volatility disrupts the sourcing of raw materials, production, or logistics to fulfill customer orders causes poor customer experiences. Cloud ERP enables SMEs to integrate their enterprise and provides greater visibility to suppliers, which is essential when issues or delays are unavoidable. You can also manage your supply chain partners' expectations with greater insight.
During the pandemic, enabling remote work while maintaining security, permissions, and compliance is challenging. The IDC report highlighted that cloud ERP helps SMEs improve the employee experience by digitally enabling activities like onboarding, collaboration, learning, and performance management. Most importantly, cloud accessibility gives employees the flexibility to work remotely with secure access to mission-critical data.
SAP Business One Cloud
SAP Business One Cloud on Amazon Web Services (AWS) is an affordable, integrated ERP solution that scales as your business grows, allowing you to run live and drive profit. From financials and sales to inventory and production, SAP Business One Cloud gives you real-time business information from every area of your business, allowing you to make smarter decisions, anywhere, anytime.
The cloud offers SMEs flexibility surrounding their business management platform. That's why Vision33 offers SAP Business One Cloud in both a single-tenant environment (i.e., where your business has its own software application and database) and a multi-tenant environment (MTE) (i.e., where multiple businesses share the infrastructure cost).
Read our brochure to learn how SMEs are using SAP Business One Cloud to monitor business health, mitigate risks, and gain valuable insights to move the business forward.