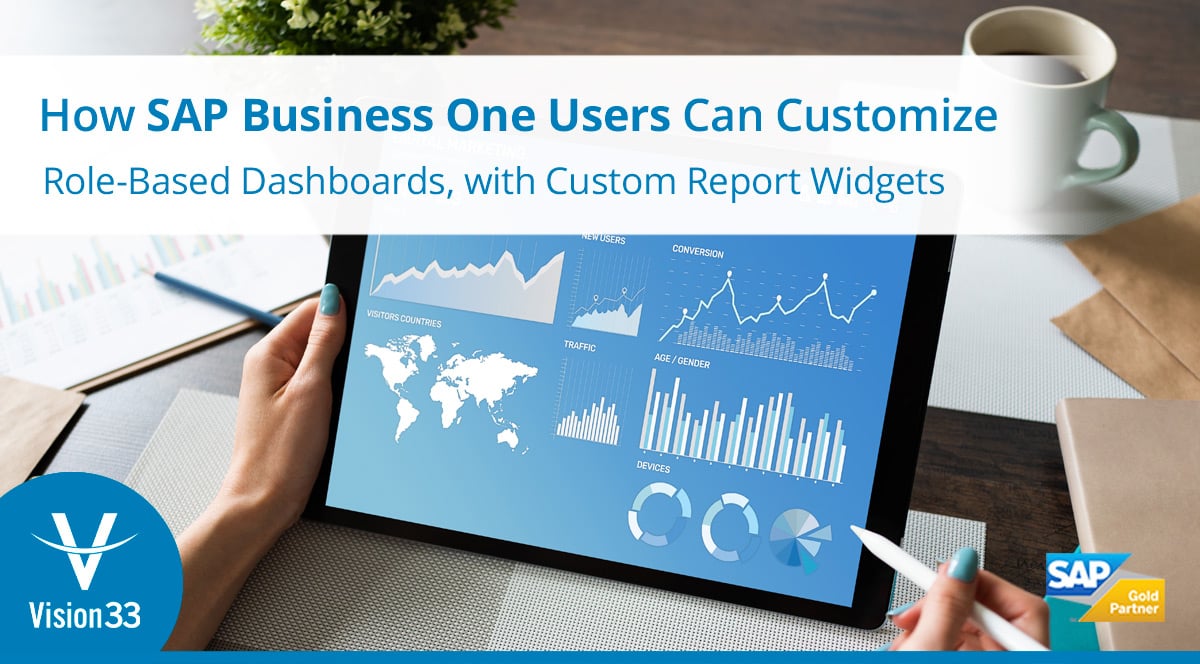 SAP Business One gives users many options to tailor real-time reports to their specific needs and roles within an organization. But many are at a loss as to how they can leverage these dashboard reports when they're away from a computer terminal. Vision33's Employee Portal for SAP Business One was created with the objective of not only extending the reach of information from SAP Business One, but equally, offering users an impressive amount of customization and personalization too.
Managing role-based dashboards in Vision33's Employee Portal gives employees a visual on the data that's most important to them when they're away from the office. Like with all Vision33's portal products, integration is seamless within the navigation and menu structure of SAP Business One. Managers can create dashboards, assign them to specific roles, make edits to default start and end dates, and include date filtering in their reporting.
Make no mistake, unlike other widgets you may be familiar with, these are powered by complete reports in of themselves. Users can leverage pie charts, bar charts, grids, gauges, donuts, geo charts, key performance indicators (KPIs), and more with easily digestible and intuitive graphical representations on screen.
The Employee Portal gives managers a personalized dashboard that outlines the productivity of the sales representatives that report into them. Drop-down menus enable the user to view a specific sales representative's progress. Additionally, employees have real-time visibility into their sales, can track how close they are to hitting set goals, and monitor the 'hot' sales regions.
Here's just a few examples of widget reports in Employee Portals:
Average purchase value
Recent sales orders
Sales revenue map
Quote to close ratio
Sales funnel for sales representative
If you'd like to learn more about the Employee Portal, watch the recent Vision33 demo linked below. In this video, you'll see how extending access to information from SAP Business One can support greater profitability in your organization when your employees are away from the office.