Vision33 offers businesses the Employee Portal which works in conjunction with SAP Business One to extend your reach to the solutions features while you and your employees are away from a computer. Watch the video to learn how.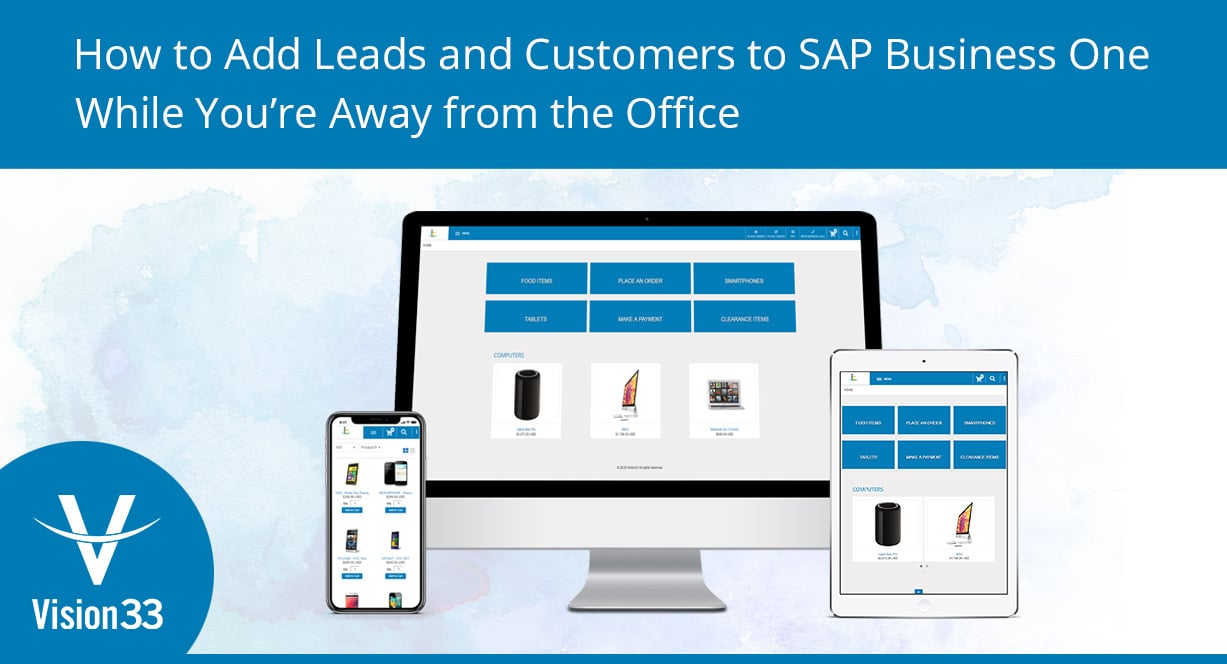 At Vision33, we often talk about how we help companies leverage their investment in enterprise technology like SAP Business One. How exactly do we do that? One way is by offering web portal products that work in conjunction with SAP Business One. Web portals offer a secure, flexible, and personalized self-service gateway; businesses can retrieve and interact with information in a standard web browser. With the Employee Portal, you can give access to your employees to access company data from your SAP Business One database wherever they go. So, how does it work?
Web Portals for SAP Business One
Web portals are secure entry points into a business' ERP database, internally they offer self-service access for employees, and externally they offer stakeholders in their supply chain. Web portals ensure that the right people can easily connect with the data they need, removing barriers that cause inefficiency. Portals are accessible through a variety of methods including laptops, smartphones, and tablets for convenient access from everywhere.
What does Vision33's Employee Portal Sales User Add-on Offer?
SAP Business One users that have the Employee Portal with Sales User add-on can give employees the ability to add leads and new customers information into your database through the convenience of a web portal. Salespeople can manage opportunities, tasks, notes and attachments using the 'Opportunities Dashboard' in the portal and managers can forecast what is expected to sell this month, quarter, and this year.
One neat feature of the Sales User for Employee Portal is the ability to manage your customer accounts while away from the office. The portal gives employees key access to place orders on behalf of customers and view order history, delivery details for signature, and various reports on the web (sales order history, delivery history, revenue by region, etc.). With features like 'Available to Promise' – employees have greater visibility into how much stock is on-hand to sell to a customer.
Empower Your Employees with Mobile Access to Information in SAP Business One
Having access to key SAP Business One information is crucial to facilitate good business decisions. With the Employee Portal Sales User add-on, Vision33 provides yet another way to maximize the benefit of enterprise technology for its customers. Your employees can easily navigate Employee Portal Sales User add-on to manage leads, opportunities and customers – from initial conversation to ordering and delivery.
If you're an SAP Business One user, we invite you to learn more about the Vision33 Sales user for Employee Portal by watching our recent webinar video demonstration. In the video, Sales Channel Manager, Sarah Humphries, demonstrates the many benefits of the Employee Portal add-on for SAP Business One.