Learn why more government agencies are choosing iPaaS solutions to modernize their technology infrastructures and improve operational efficiency.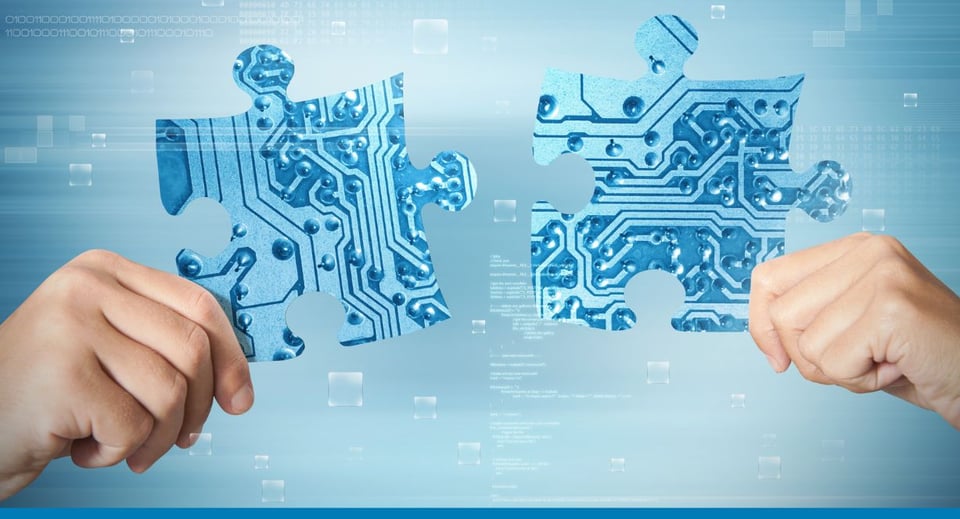 There's a strong demand in the public sector for government agencies to deliver services like the private sector: quickly and exactly how the customer wants.
Meeting this demand is challenging for governments, partly because of the complexity of purchasing and keeping up with the latest technology.
Fortunately, integration helps agencies be more responsive.
Integration has become a big business in recent years. If you bought integration software in the 1990s or 2000s, you had to be a programmer to use it. Connections were made point to point, which required hours of coding, specialized IT skills, operational downtime, and ongoing maintenance.
Today, integration platform as a service (iPaaS) solutions empower even the least tech-savvy users to build integrations between mission-critical business applications. More companies and government agencies are choosing iPaaS solutions to modernize their infrastructures—and they're proving to be catalysts for operational efficiency.
An Example of Government Technology Integration
Your agency can buy off-the-shelf software for permitting, licensing, code enforcement, and service request management and another solution for electronic plan review—and easily integrate the two. And you don't need to host the software yourself.
Let's use Accela and Bluebeam as examples.
The Accela Civic Platform is a cloud-based software solution that accelerates growth, efficiency, and transparency and empowers government agencies to improve citizen services and fulfill growing communities' needs. Accela includes everything governments need to make it easier for citizens to open and run businesses, apply for permits, schedule inspections, and more.
Architects, engineers, and builders use Bluebeam software to finish projects faster, reduce risk, and maximize ROI. Bluebeam standardizes communication and accelerates design reviews.
Here's a real-life scenario demonstrating the value of integrating Accela and Bluebeam.
First, a citizen applies for a residential renovation, and the Accela user processes the application intake, advancing the Accela workflow to a task called 'Plans Distribution.' You confirm that plans have been provided by the applicant and set the task status to 'Routed for Review.' The Accela workflow expands to show the review types, including building, planning, and electrical.
Meanwhile, magic is happening in the background. Your integration is setting up a project and session in Bluebeam, copying documents, adding users, and sending notification emails. References to Bluebeam are saved in the record, and Bluebeam is ready for use.
When reviewers receive notification emails, they log in to Bluebeam Revu and join the session. Reviewers can mark up plan sets and blueprints with Bluebeam's sophisticated feature set, including the ability to use the organization's custom stamps.
In Accela, the back-office user updates workflow tasks for each review, adds reviewed documents to the record, and advances the workflow. If one or more reviewers requires revisions, a second review cycle can be initiated, and the adapter prepares a new working session in Bluebeam—all behind the scenes.
This example is only the beginning of what integration can accomplish. You can also add document flattening, file-type conversion, document augmentation, header and footer modification, and syncing Bluebeam review activities to Accela.
Bottom line? Integration enables you to transfer data between applications at lightning speed while eliminating duplicate data entry and human error.
Maximize Your Government Technology Investment With Saltbox
Vision33's exclusive iPaaS solution, The Saltbox Platform, is an example of a game-changing solution that makes it fast, easy, and affordable for government agencies to connect their entire tech stack.
Saltbox is an enterprise-class, cloud-native, low-code iPaaS solution that empowers agencies to unify and streamline business operations, accelerate digital transformation, and increase the ROI of existing technology investments.
And with Saltbox, your team members can easily create custom connections and workflows using a drag-and-drop visual data mapper, enabling them to be self-sufficient in building and managing integrations.
Learn More
Ready to learn more about the value of integration for your agency? Vision33 has been implementing and integrating business systems for growing and midsized businesses for over two decades. Our formal methodology, project governance, and experienced consultants ensure your project goes off without a hitch, allowing you to focus on running your business.
Drop us a line below to start a conversation.
Earl Woodman, Delivery Manager, has been creating software and leading development teams for more than 20 years. Earl leads the delivery of multiple ongoing customization projects for permitting and licensing software clients in the eGovernment space.