SAP Business One's real-time reporting gives Native Trails a clear understanding of buyers' behaviors. Watch their SAP B1 success story.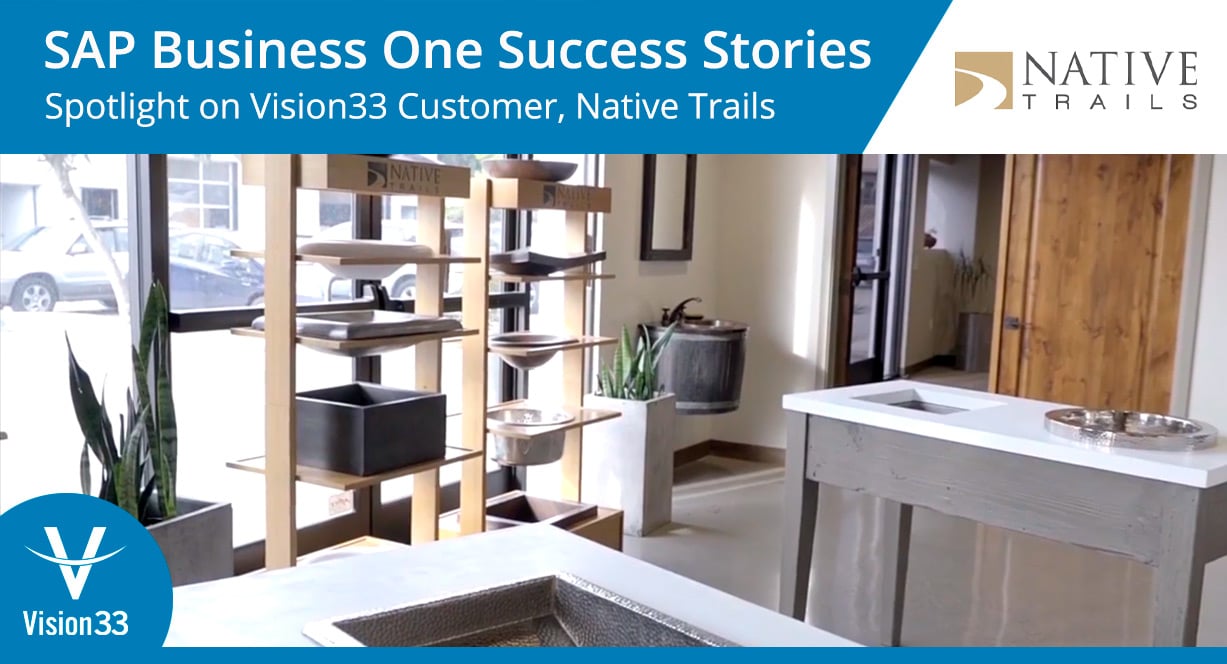 Naomi Neilson's vision was to work with little-known artisans to design high-end, contemporary kitchen and bath products, so she founded Native Trails in San Obispo, California in 1996. Native Trails uses traditional craft technology, sustainability, and fair-trade practices to manufacture one-of-a-kind works of art for kitchens and bathrooms. Its unique products include sinks and bathtubs made from recycled copper, concrete sinks, vanities crafted from reclaimed wood, and eco-friendly furniture.
In 2005, Naomi was named Manufacturing Professional of the Year by the Decorative Plumbing and Hardware Association in recognition of her passion, innovation, and Native Trails' rapid growth. SAP Business One success stories like that of Native Trails demonstrate how concrete plans to support continued business growth can be achieved with robust enterprise resource planning (ERP) software.
Manufacturing Challenges
Native Trails sells its wares through a network of 1,400 showrooms and online dealers. A business of its size requires robust technology, but Native Trails' legacy software wasn't up to the task. Increasing demand for its distinctive pieces required products to be in stock at all times, but the company struggled with poor inventory management. Complicating matters, Native Trails grew from 300 SKUs to over 2,000 and had difficulty deciding when to purchase raw materials from its vendors. Frustrated by these challenges, Native Trails needed a new business management system to streamline its operations.
SAP Business One Simplifies Manufacturing
Native Trails partnered with Vision33, an IT professional services company, to implement SAP Business One. This powerful enterprise resource planning (ERP) solution provides full visibility into all aspects of Native Trails' business. SAP B1's material requirements planning (MRP) feature creates recommendations for purchase and production orders based on the status of transactions in the system, and the customer portal add-on creates a simple purchasing process for Native Trails' customers.
With SAP Business One's real-time reporting, Native Trails has a clearer understanding of buyers' behaviors and can provide better information and products for a satisfying buying experience.
How Does Native Trails Feel About SAP Business One?
Naomi and her team want to tell you their SAP Business One story, which is just one of many SAP Business One success stories. Watch their short video to learn how SAP Business One Manufacturing will help Native Trails more than double their sales within five years. You'll understand how SAP Business One is the solution that will help your growing business manufacture success.
Sign Up For an SAP Business One Demo Today
Interested in learning more about SAP Business One? See for yourself why over one million businesses in dozens of industries trust SAP Business One to drive profitable growth for their businesses. Sign up for a free demo today.