We all remember the toilet paper shortage at the start of the pandemic. But two years in, why is there still global supply chain crises? And how can we fix it?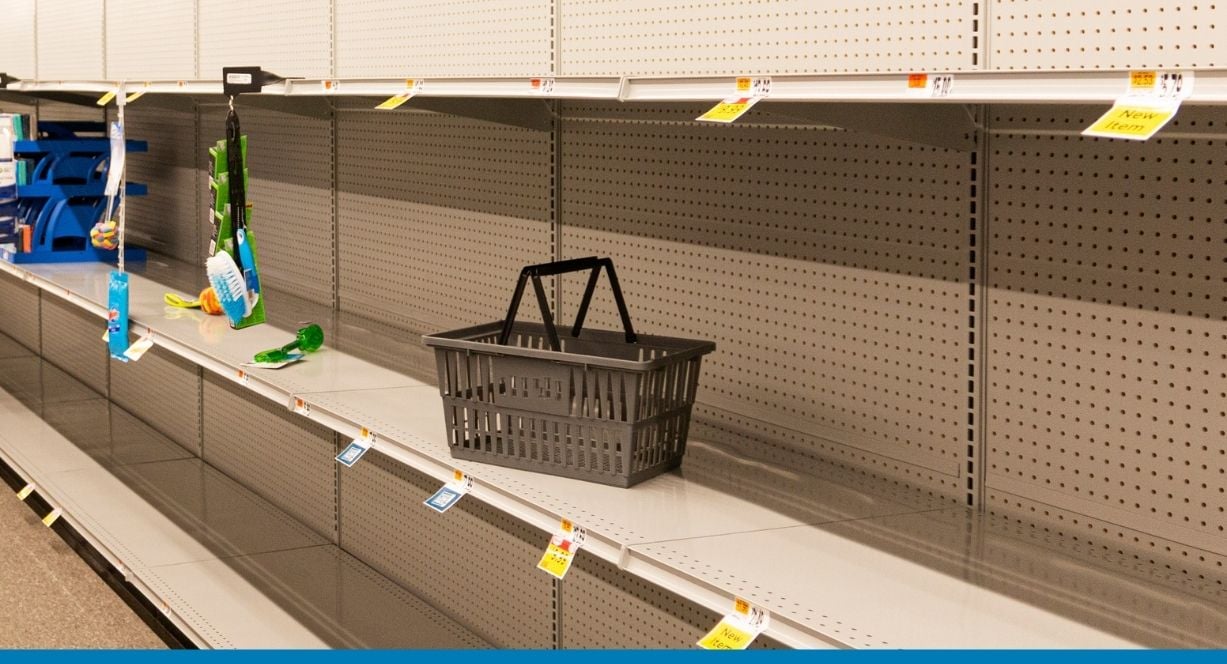 As host David Strausser explains, the Shark Bite Biz podcast is a place to learn how to grow your business during "complete global chaos." He recently welcomed Lisa Anderson, founder and president of LMA Consulting Group, Inc., to discuss empty store shelves and supply chain disruptions.
Lisa is a former vice president of operations and supply chain for a mid-market manufacturer. Her consulting firm specializes in manufacturing, strategy, and end-to-end supply chain transformation that maximizes the customer experience and enables profitable, scalable business growth. She's also the author of I've Been Thinking: Turning Everyday Interactions Into Profitable Opportunities and an eBook about how to thrive post-pandemic. As David says, "If you make or move a product, Lisa can help you."
Why Are Store Shelves Still Vacant?
We all remember the toilet paper shortage at the beginning of the pandemic. But two years in, why are we still unable to find everything on our shopping lists?
Lisa says the problem was brewing before the pandemic when we were outsourcing materials to Asia. It was cheaper, but no one paid attention to the total equation. Even when manufacturers analyzed the risk, they didn't always pay attention to what it said. And while many tracked their inventory, they failed to establish backup suppliers.
The pandemic brought the underlying supply chain problems to light. By the time we were in the throes of it, the wrong products were in the wrong place at the wrong time. Ports were shut down, and incoming container ships got backed up. There are still ships waiting on the horizon, but people are talking about it less because the holidays are over.
You Need a Plan B
"No matter what industry you're in," Lisa says, "no matter what product you sell, no matter who your customers are, no matter who your suppliers are, what you can be assured of is that there's going to be supply chain disruptions."
Successful businesses have a plan B with backup suppliers in different geographies. That way, if a hurricane strikes at your primary supplier's warehouse in Florida, you can turn to your secondary supplier in North Carolina (for example). But you must use your backup suppliers regularly—about 10-20% of your stock—to maintain a relationship and build trust. That way, when you're in a jam with your primary supplier, your secondary supplier will be more likely to help.
Technology Matters
When he's not fulfilling his duties as a self-proclaimed "wannabe rockstar host," David Strausser spends his days as the general manager of the Northeast region for Vision33, where he helps small and midsized businesses achieve growth through technology. And when it comes to the supply chain, the right technology makes all the difference. If you make it or move it, it's essential to have an enterprise resource planning (ERP) solution to automate your processes and alert you if inventory is low, your lead time increased, etc.
Listen to the Podcast
According to Lisa, the global supply chain crisis isn't over—but businesses can solve their own supply chain crises. Listen to the podcast for more insights from Lisa and how to contact her. You can also share a story about how supply chain issues have affected you personally or professionally.
Learn More
Download our free eBook Inventory Management in a Changed Marketplace to learn the top issues facing distributors right now—and critical considerations that can help you significantly improve operational efficiency.