Read this how-to guide to find out how you can perform inventory counting and tracking in SAP Business One.
Counting inventory usually consists of two steps:
Counting the actual inventory
Identifying inconsistencies and taking respective action
Regardless of how often you count your stock, inventory tracking or inventory counting is an essential management activity required to determine profit, optimize production and purchasing and prevent shrinkage.
When you use SAP Business One, you can perform these tasks using the inventory counting transactions. This feature can be found under Inventory > Inventory Transactions > Inventory Counting Transactions.
The Inventory Counting window allows you to initiate a dynamic inventory counting process performed by single or multiple counters. The option of multiple counters allows you to validate results by comparing different counters, or summing up results of several counters.
You can conduct the counting for a selected range of items – either by choosing items recorded in SAP Business One or importing items from a pre-prepared Excel file, adjusting counted quantities, and much more.
Inventory Posting in SAP Business One
If gaps are found during the inventory count, use the inventory posting function to create a document that notes the discrepancy and reconciles the quantities.
To create an inventory posting document based on the current inventory counting document, in the Inventory Counting

window, choose the

COPY TO INVENTORY POSTING

To start on a blank inventory posting document (by choosing items recorded in SAP Business One or importing items from pre-prepared Excel file), open the INVENTORY POSTING

window directly.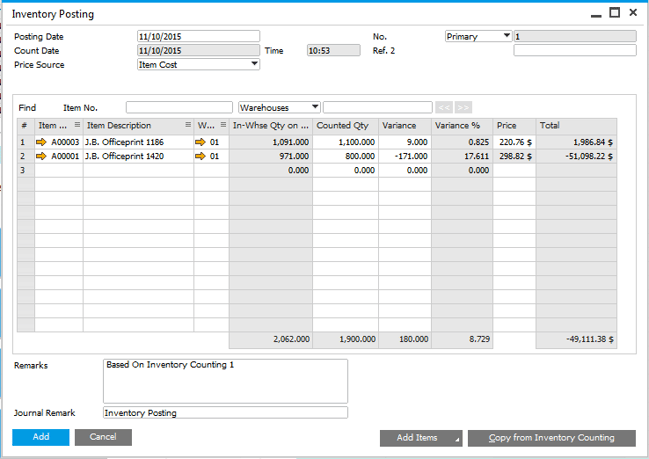 Inventory counting is available for SAP Business One 9.0 or newer for either MS SQL or HANA platforms.
Download "The Year Ends and inventory Counting Starts" to find out how you can streamline your inventory counting and management with SAP Business One. Our customers get a weekly dose of tips and tricks documents and this is just one out of the many that we have taken from our library of resources.
Whether you are an existing SAP Business One customer or a growing business that is considering SAP Business One as your business and inventory management system, Vision33 has the world's largest and most experienced team of SAP Business One consultants located around the globe.
We can help you leverage the best of technology to meet your business vision and goals. In addition, we help growing businesses get the most value from their SAP Business One investment by providing ongoing training, tips, and tutorials for both business owners and their key employee users. Contact a local Vision33 consultant today.