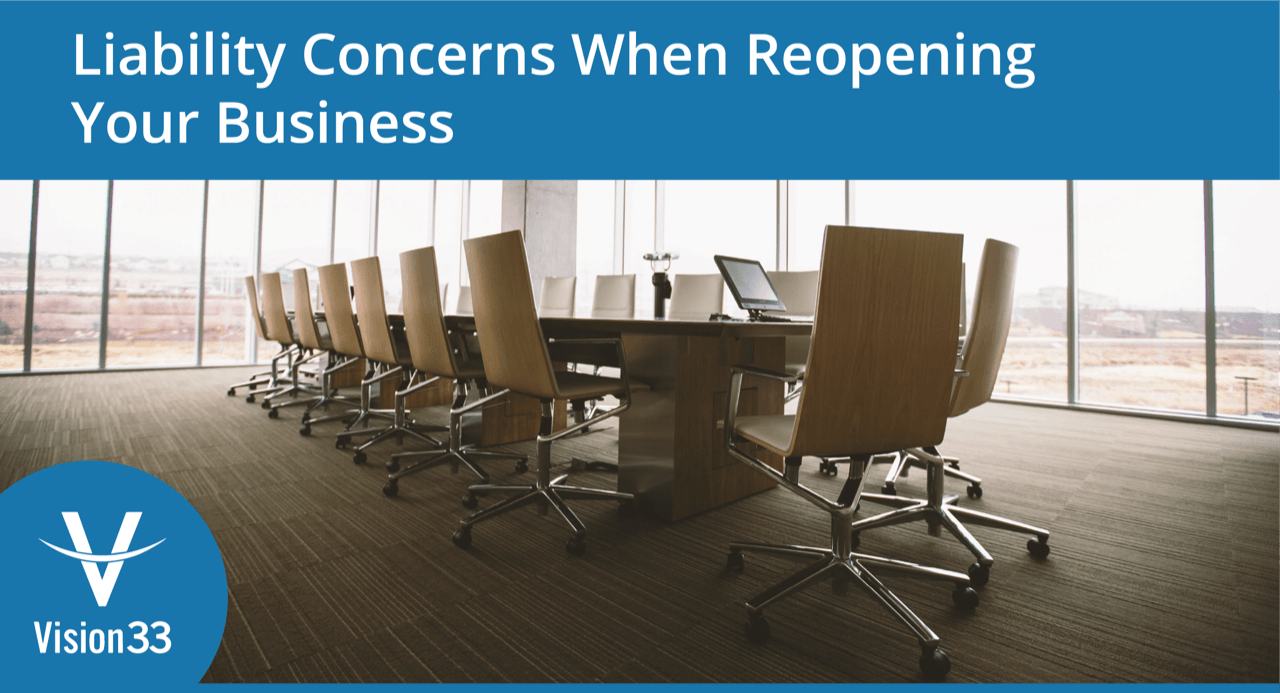 As businesses reopen, owners have questions about adapting to this post-pandemic world. In this post, Kelly Jesson, a partner at the law firm Jesson & Rains and guest writer on the Vision33 blog, shares ways to limit your liability when reopening your business.

Business owners around the United States are reopening to employees and customers. However, regardless of what local governments allow you to do, businesses owe a duty to their employees and customers to keep them safe while on the premises. Lawsuits are popping up, according to Market Watch.
What can you do to limit your potential liability?
Businesses should follow healthcare and government recommendations, including wiping down surfaces, frequent hand washing, wearing masks, social distancing, etc. These recommendations change, so business owners should stay abreast of updates. Preventing your employees from getting sick on the job is critical: in worker's compensation cases, generally (depending on the state), the worker has only to prove they were injured on the job and that there's a causal connection between the two. For example, a grocery store cashier may have a claim due to exposure to the public. A worker's compensation claimant typically doesn't need to prove the business was negligent.

For businesses without much public traffic (such as law firms), owners may ask patrons to sign a document before entering the premises stating they don't have COVID-19, aren't experiencing symptoms, and haven't been around anyone with COVID-19 or who has been experiencing symptoms. While patrons can lie on these forms, it's one step business owners can take to show they're protecting their employees and other customers. Proof that you're trying to keep people safe is essential in defense of personal injury lawsuits because the plaintiff must show not only causation (that they caught COVID-19 at your business) but negligence (that you failed to act with reasonable care).

In most states, a defense to a negligence action is "assumption of risk." Some business owners may ask patrons to sign waivers of claims, saying that the patron is "assuming the risk" of contracting COVID-19 by coming to their establishment. For example, someone who voluntarily eats at a restaurant or goes to a nail salon knows there's a risk of infection, and no business can guarantee patrons won't be infected because that's impossible.

Kelly is available for questions related to NC or FL specifically in NC and can be reached at 704-496-2770.
-------
The materials in this blog have been prepared by Jesson & Rains, PLLC for informational purposes only and are not legal advice or a substitute for legal counsel. Views expressed in this blog by Kelly Jesson are her own and not necessarily a representation of the thoughts and opinions of Vision33.