Vision33 enables growing businesses to run SAP Business One in an affordable multi-tenant environment (MTE) to help get through this bump in their cycle.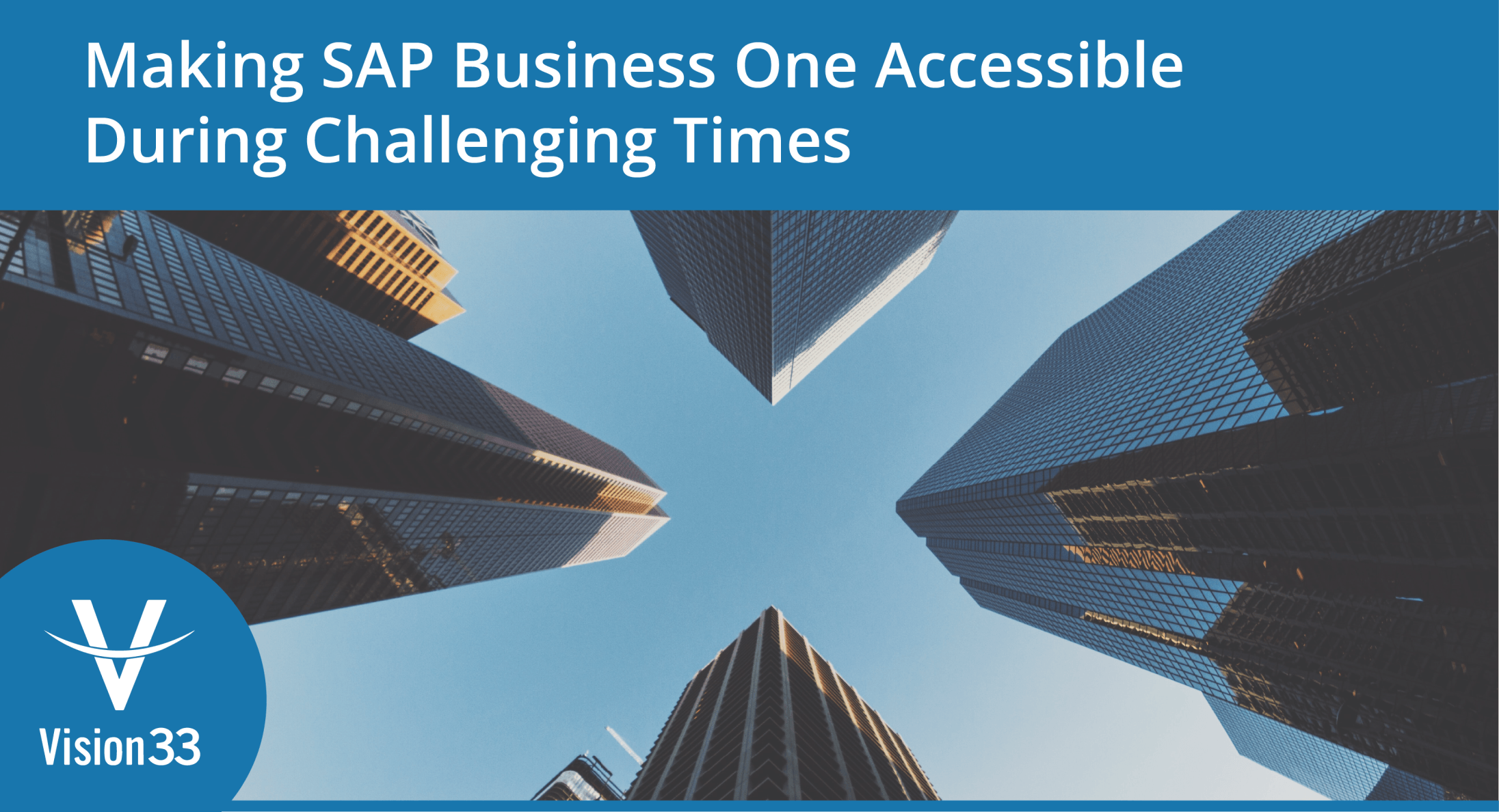 The past eight weeks have taught us how challenging it is to operate a business with remote staff and social distancing. Without the right systems, it's virtually impossible.

Our team has been busy fielding calls from customers who want to accelerate their projects and get new systems up and running faster. We're also hearing from prospective customers who are hitting the wall with access, integration, and reporting limitations from old systems or basic accounting software packages. It's challenging to make do with "okay" tools – especially when you need data from multiple systems and can't yell over the cubical wall to ask for help.

Our team at Vision33 wants to address the challenge for companies that should be running an integrated ERP package but have struggled with the cost. Our staff put together a package that includes SAP Business One Cloud, critical add-ons, integration technology, and Amazon Web Services (AWS) hosting. The package will enable growing businesses to run SAP Business One in a multi-tenant environment (MTE), which is more affordable because hardware and hosting costs are split among multiple businesses.

Our current SAP Business One customers leverage the software to understand their cash flow, inventory, and the fluctuating demand of the current economy. This daily insight into their data allows them to make smarter decisions and pivot with suppliers and customers to keep their competitive edge.

We're committed to helping growing businesses get through this bump in their business cycles, so our executive team took this offer a step further. Vision33 will provide software and hosting services free to any business that signs up before July 1, 2020 and fits the offering's profile. Our goal is to remove the cost barriers during this unprecedented world event when you need the right technology the most.

We know not every growing business is the right fit for this cloud MTE offer, so we designed an online evaluation to help you decide before speaking to a sales representative. If you'd like to see if your business will fit SAP Business One Cloud MTE, go here and take this short online evaluation.