Managing Value-Added Manufacturing with the Enterprise Resource Planning (ERP) solution SAP Business One.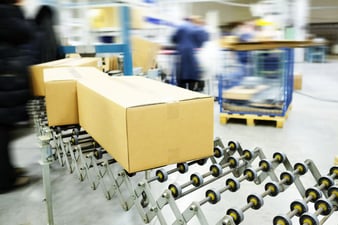 Offsite manufacturing can be difficult to manage correctly from an accounting and systems perspective. Typically, the raw materials are still owned by you, but the manufacturer is simply adding value by "doing stuff" with your raw materials. You need the raw material value to remain on your books, but you still need to track the materials as they move from your warehouse to your vendor's warehouse and back again as finished goods with added value.
The best method to tracking these materials is to set up a new warehouse in your SAP Business One system and designate it specifically for material at a vendor's location. Now when you move inventory into this warehouse, it is considered 'at the vendor'. The value remains on your books, but you can track specific detail about your inventory such as batch numbers, serial numbers, or even bin locations. The inventory transfer and inventory transfer request serve well as vehicles to move inventory between these warehouses and can also produce print layouts to serve as BOLs (bills of lading) if a truck driver needs legal documentation to transport the materials.
If you need to consolidate multiple vendors into a single warehouse, using bin locations is a clean solution. Standard bin reports can give you a complete breakdown of inventory status across all of your facilities and your vendors in real time.
Once the material is on-site with a vendor, it typically goes through a transformation as the vendor adds their value. The most effective way to track this inventory and the cost associated with the process the vendor completes is to use standard Production Orders with raw materials and finished goods being drawn and deposited into the vendor warehouse. By designating a non-inventory item for the type of service provided by the vendor, you can designate a clearing account to offset the value added to the finished goods.
Of course, the level of detail you put into the process in SAP Business One will likely be dictated by the amount of data you can gather from your vendors. Therefore, use a product like the Boyum Usability Package to streamline the process and automate repetitive steps.
Once the vendor's invoice arrives, post the AP Invoice with an offset to your clearing account to zero the net balance. This leaves the value with the Finished Good so that it can be posted to COGs upon shipment to the customer.
With your finished goods completed and located in your vendor warehouse, you can simply create an inventory transfer to move those finished goods back to your distribution warehouse and finally on to your customer.
Vision33 can help your business leverage the best of technology to meet your business vision and goals. To find out more about managing value-added manufacturing in SAP Business One, contact a local Vision33 Consultant at contact@vision33.com