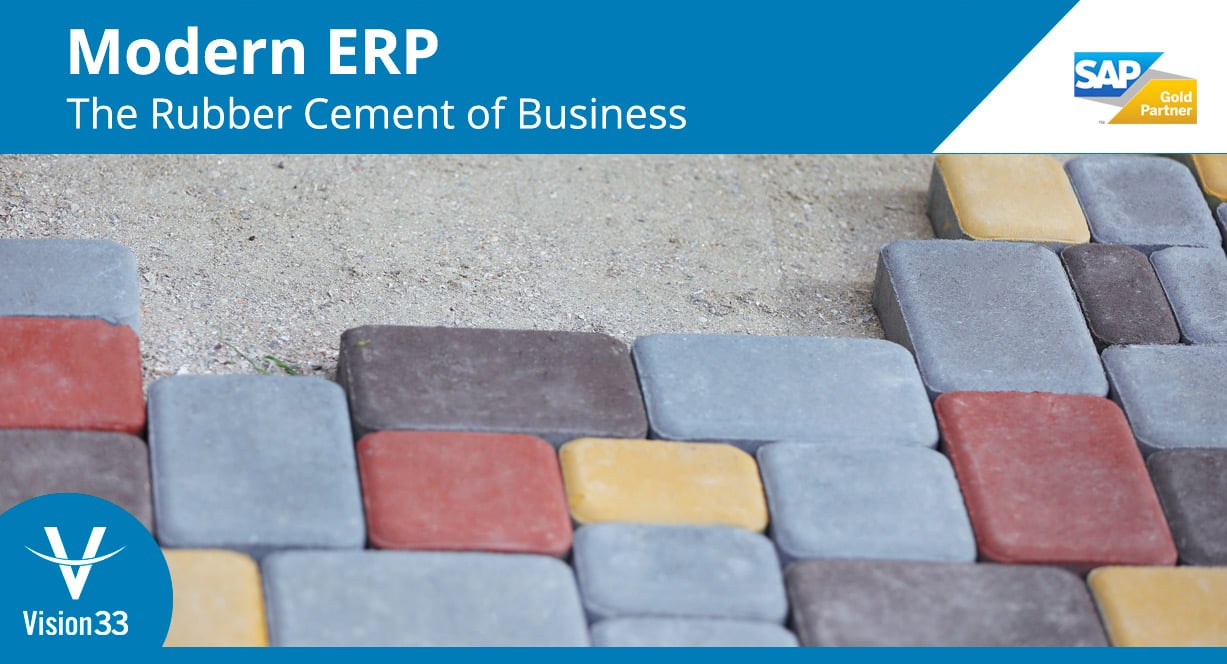 In 1990, Gartner coined the phrase ERP. Before then, businesses had selected "best-of-breed" applications for individual work processes and departmental requirements. Then, suddenly, suites or bundles of those applications emerged; instead of searching for the best inventory management application, you could choose the best ERP and use its inventory management application – all the applications came "glued" together.
Some providers or publishers included every business function and process one could imagine in their ERPs – including the kitchen sink! Other publishers allowed you to choose the modules or applications you wanted, preventing cluttered systems with unnecessary extras.
The 1990s was crowded with business software companies of all sizes. Some cast their nets far and wide, claiming they had solutions for every industry under the sun. Others aimed at unique audiences, developing solutions for vertical lines of business, such as cardboard box manufacturing or pharmaceuticals. They knew those industries well and brought true expertise to these offerings. Not everybody survived the decade. (If you're a history buff, check out The ERP Graveyard Scorecard.)
One thing every ERP suite has is a database. Some early players created their systems on a proprietary database (i.e., only that ERP had that database); others thought their ERP applications should be operable on any database. Each discovered the same thing: limitations. Proprietary databases were too rigid and limited – the glue became brittle and showed cracks. Finding support for those databases and managing them was nearly impossible; you were held hostage by the publisher of the ERP/database and their services. Multi-purpose databases had limitations of commonality; it was nearly impossible – not to mention cost prohibitive – to develop, implement, and support seven database designs and structures with the same code base.
The best thrived, including Microsoft SQL. Many ERP suites, e-commerce stores, and other desktop solutions have focused their endeavors on MS SQL and the technologies Microsoft brought to the market place – and it was a good choice. Microsoft SQL delivered a quality product with a commitment to long-term, continuous improvement. It wasn't free, but the investment was sound, and the database was the best technology available; even as new technologies enter the marketplace, Microsoft SQL has (for the most part) adapted and grown, allowing ERP software to deliver greater value since its inception. Most industry experts would give MS SQL high marks.
Still, databases are a product of their generation. It's hard to escape their DNA and the cultural overtones that shaped them. Like you and me, databases carry baggage, and some baggage is forever. Where once they had considerable flexibility to adapt freely to new ideas, today's ideas ask too much – these mature databases can't be recreated. So what do they do? They make the most of it.
Mature databases were the glue that bonded a business's data together for easy access, investigation, and decision making. Unfortunately, your database may have lost its appetite for new things, and the connections have lost their flexibility while their old bones have become brittle.
Modern databases, like SAP HANA, were created with new paradigms. When Microsoft SQL version 1.0 was first published in 1989 (30 years ago), our current expectations didn't exist. SAP HANA incubated under the influence of cloud computing, mobility, smartphones, tablets, big data, high-speed internet access, device neutrality, in-memory computing, artificial intelligence, machine learning, the internet of things, digital transformation, and more.
These influencers massively affected modern databases and their corresponding ERP systems. Our expectations, business requirements, and the global nature of today's economy demand provisions and functionality capable of delivering higher value for the investment. Buyers won't settle for workarounds, mediocre productivity, and subpar speed; new ERPs must deliver instantaneously, and it's not enough to talk about real time – it must be experienced.
ERP is the platform upon which businesses build their future, and because the database is the glue that holds everything together, ERP purchasers must be mindful of the database the ERP utilizes. Avoid dry, brittle glue and find an ERP with the qualities of rubber cement.
Rubber cement remains flexible; two pieces of paper, bonded by rubber cement, can be separated – just lift one piece off the other. It does the job while making room for change and allowing decisions to be reversed for better ones.
Modern ERP is the rubber cement of business – is your ERP rubber cement or is it the glue that won't let you go?
Learn More in the Beginner's Guide to ERP
Access Vision33's Beginner's Guide to ERP to ensure your next business management solution offers your business the right mix.
For fast-growing businesses, the time to shift from small business accounting software (e.g. QuickBooks) to an ERP platform may already be upon you. But how do you know for sure and where do you begin sorting through your options?
These are challenging and often complicated questions to answer, and in most cases, the available resources online don't clarify anything. For that reason, we consolidated all our early stage ERP resources in one place.