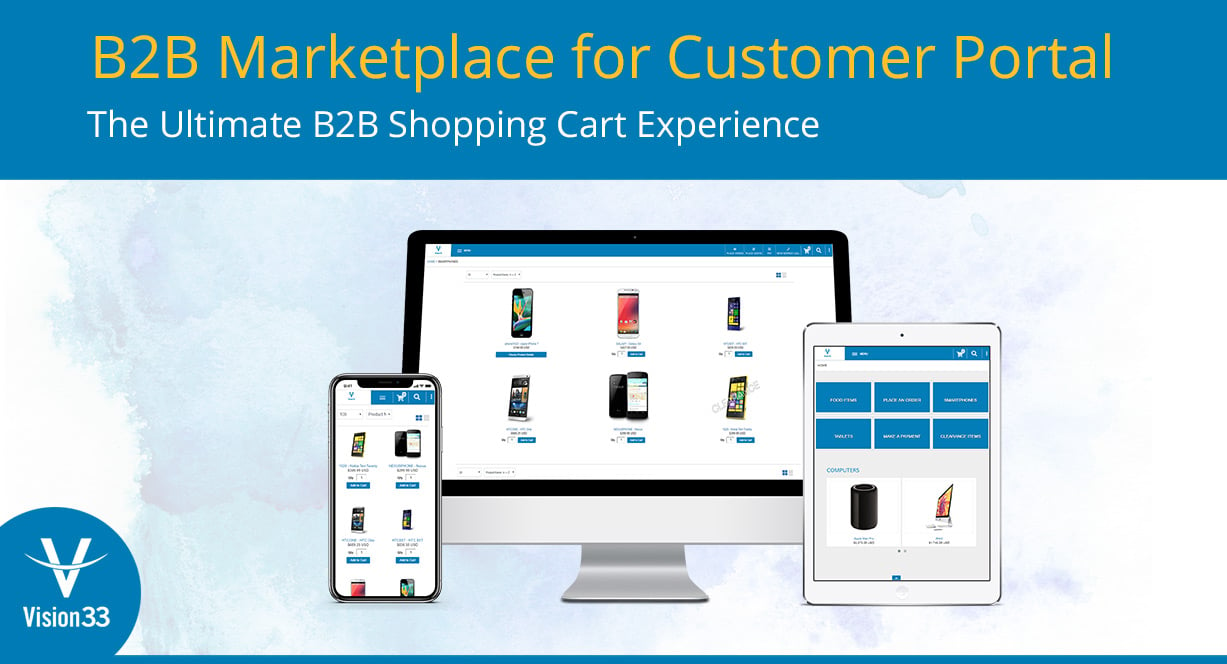 When your business adopts an ERP solution, there's a lot to consider. It's important not to forget building customer loyalty and delivering exceptional customer service. By empowering customers with a secure, flexible, and personalized self-service gateway you can ensure that your customers are well taken care of, so you can focus on running your business more efficiently.
To that end Vision33 offers ERP users the Customer Portal. By pulling information from SAP Business One in real-time, customers have flexible access to billing, quotes, orders, service calls and reports. They can pay their bills online, look at their sales history, track deliveries, review quotes, check open service calls and view invoices, 24/7.
With B2B Marketplace, a powerful extension for Customer Portal for SAP Business One, companies can provide customers with a streamlined buying experience and self-service access to all the products and account information they need. This allows you to reduce administrative efforts and eliminate order entry mistakes with real-time updates for your customers and distributors. Here's five additional reasons why you need a customer portal:
Empower Your Customers to Manage their Account Activities
Giving customers access to their account details gives them the ability to view reports on bill payments, recent orders and support requests. Customer Portals are extremely important in providing a satisfying customer experience. They allow you to better manage expectations by giving your customers access to their account, at all times.
Reduce Administrative Efforts/Cost
Decrease the amount of employee time spent on managing customer inquiries. Giving customers access to important account information via B2B Marketplace allows them to view reports, place orders, and manage payments.
Provide Clear Communication with Personalized Information
Reduce the amount of calls you need to address by clearly communicating personalized account information based on a customer's record in SAP Business One.
Let Customers Know You Care and Increase Retention
By providing customers with the tools they need to be more self-sufficient, you let them know you care and offer a shopping experience that is designed just for them.
Drive Revenue Outside of Regular Business Hours
Who doesn't want to make money past the usual 9-5 day? With B2B Marketplace, your customers can access your product catalogs, browse as they please, and place orders anytime they want.
Watch the Webinar
B2B Marketplace is a powerful extension for Customer Portal. Together your business can provide your customers with online access to order and account information they need in a familiar shopping cart format. To learn more, watch the recent webinar recording and see the portal in action.