Watch the McRoskey Mattress SAP Business One Success Story to find out how a tailored ERP solution from Vision33 put the spring back in their business.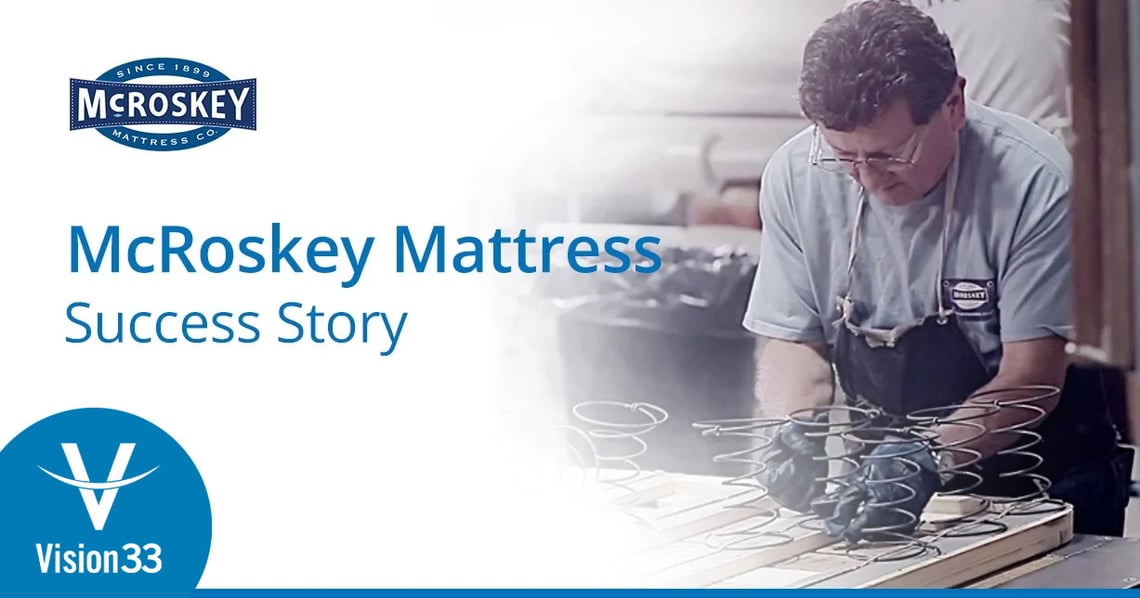 Furniture manufacturers have to manage many variables in their day to day operations. They need to have complete visibility into their inventory, issue the right amount of material to production lines, and ensure on time delivery to customers. Not only do they need to manage all facets of their operations, they need to do so timely and efficiently. With custom furniture, this process becomes even more complicated. Strong inventory control is needed to make sure that when products are promised to customers, they can be delivered on. No matter the size of the company, when dealing with custom, bespoke products, manufacturers need to provide customers with an accurate quote based on available stock options. McRoskey Mattress was able to do all of these things and more - here's their SAP Business One success story.
Focus on Quality
For McRoskey Mattress, their custom quality mattresses and hands-on approach to customer service help them stand out against some of the competition. They take pride in their intricate production process and attention to detail. While many mattress companies spend just 5-10 minutes on a production of a product, McRoskey spends 12 hours. In business for 111 years, McRoskey needed a system that could elevate them above their competitors and help maintain their business longevity for another 100 years.
SAP Business One – A Tailored Solution
To uphold their level of service and allow them to continue providing quality mattresses, McRoskey adopted SAP Business One. They needed a solution that was simple to use, cost effective, and one that could manage all aspects of their operations. With SAP Business One, McRoskey is now able to determine exactly what they have in stock, and what is scheduled to be delivered. It has helped them manage their bill of materials, accounting, fulfillment - tracking their orders from point of sale to delivery.
You don't have to be a large, Fortune 500 company to take advantage of the benefits of SAP Business One. It's a system that can be scaled to any business size, and a tailored solution that has allowed McRoskey Mattress to focus on their continued growth.
Watch the McRoskey Mattress customer success story to learn more about their adoption of SAP Business One.